Choppy start to Q4
Market snaps four-week skid, small caps lead
Gold reclaims $1,900, oil slides
This week: FOMC minutes, stimulus watch
A late-September bounce that spilled into the first day of October took a step back on Friday after news that President Trump and First Lady Melania Trump tested positive for coronavirus, and the release of a so-so monthly jobs report.
Even so, the S&P 500 (SPX) battled back to trim an early 1.7% intraday loss, holding on to enough of the gains it had racked up through Thursday to post its first up week since August 28:
Source: Power E*TRADE
---
The headline: Stocks end skid, but Friday's whipsaw trading keeps volatility front and center.
The fine print: Fiscal stimulus continues to be a wild card for the market. Stocks enjoyed gains last week thanks in part to hopes that Congress and the White House could hammer out a new coronavirus-relief package (the market rallied off Friday's lows following House Speaker Nancy Pelosi's "We'll get the job done" comments1), with intermittent reports of impasses weighing on the market.
The number: 661,000, the number of jobs the US economy added in September—well below the 859,000 estimate. On the plus side, the August jobs number was revised higher from 1.37 million to 1.49 million, and the unemployment rate dipped from 8.2% to 7.9% last month (although the labor-force participation rate also dropped).2
The scorecard: The small-cap Russell 2000 (RUT) led the pack last week: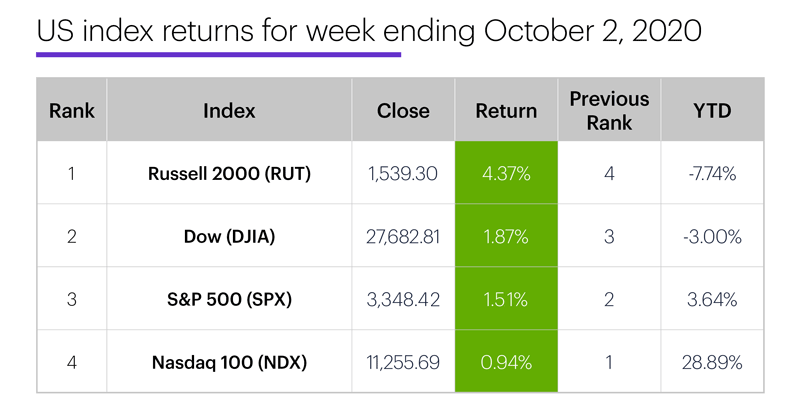 Source (data): Power E*TRADE
---
Sector roundup: The strongest S&P 500 sectors last week were real estate (+4.9%), financials (+3.5%), and utilities (+3.5%). The weakest sectors were energy (-2.8%), information technology (+1.2%), and communication services (+1.3%).

Highlight reel: In some Friday fireworks, Nano X Imaging (NNOX) jumped 56% to $37.44, while Mesoblast (MESO) tumbled 35% to $12.03.
Futures action: December gold (GCZ0) reversed to the upside last week, gaining around $40 and climbing back above $1,900/ounce for the first time since September 22. A sharp Thursday-Friday sell-off dropped November WTI crude oil (CLX0) a little below $37/barrel to a test of its mid-September lows. December US dollar index futures (DXZ0) bounced early on Friday but still retreated around 0.9% the week, closing below 94.
Last week's biggest futures up moves: December hard red wheat (KWZ0) +7.2%, October milk (DCV0) +6.6%, November orange juice (OJX0) +5.7%. Last week's biggest futures down moves: November natural gas (NGX0) -12.2%, November WTI crude oil (CLX0) -8.2%, December Brent crude oil (BZ0) -7.7%.

Coming this week
Traders will get a look at the minutes from the Fed's September FOMC meeting, but it may be an item not on this week's calendar—fiscal stimulus negotiations—that they watch most closely.
●Monday: Markit Services PMI, ISM Non-Manufacturing Index
●Tuesday: Balance of Trade, Imports and Exports, JOLTs Job Openings
●Wednesday: Mortgage Applications, FOMC minutes, Consumer Credit, EIA Crude Oil Inventories
●Thursday: NFIB Business Optimism Index, Weekly Jobless Claims
●Friday: Wholesale Inventories
This week's earnings include:
●Tuesday: Levi Strauss (LEVI), Paychex (PAYX)
●Wednesday: Lamb Weston (LW), RPM International (RPM)
●Thursday: Acuity Brands (AYI), Delta Air Lines (DAL), Domino's Pizza (DPZ), Helen of Troy (HELE)
Go to the E*TRADE market calendar (login required) for an up-to-date earnings schedule and a complete list of splits, dividends, IPOs, and economic reports. The Active Trader Commentary also lists earnings announcements, IPOs and economic report times each morning.
What may be in store for Q4?
We're in the final stretch of 2020—the fourth quarter of a year that, even if the market sat on its hands until December 31, has already guaranteed its place in the history books.
But with the November election now less than a month away, potentially trillions of dollars in fiscal stimulus still up for debate, and second-wave COVID concerns pushing to the fore as we get deeper into fall, it's hardly shaping up to be a quiet Q4.
Given the magnitude of the COVID sell-off earlier this year—and the market's September pullback—many market watchers may be surprised to learn that the S&P 500's (SPX) year-to-date return through Q3 was 4.1%—just a little less than the 4.4% average from 1960–2019.
There have been eight other years since 1960 with YTD returns through Q3 similar to this year's (positive but modest—say, 5% or lower). That's not a lot to go on, but it's nonetheless interesting that:
1. The SPX had positive Q4 returns in all eight of these years, although 1984 was a squeaker—the index gained just an additional 0.7% in the fourth quarter.
2. The SPX's 8.3% average Q4 return for these years was much higher than the 3.1% average for all other Q4s.3
Finally, from the For-What-It's-Worth-Department: The SPX's -3.9% return last month was the index's worst September since 2011 and its 13th-worst since 1960. The SPX posted a net gain in October after eight of the 12 Septembers that were worse than last month.
Click here to log on to your account or learn more about E*TRADE's trading platforms, or follow the Company on Twitter, @ETRADE, for useful trading and investing insights.
---
1 CNBC.com. Stocks fall after Trump tests positive for coronavirus, stimulus hope adds some support. 10/2/20.
2 Bloomberg.com. U.S. Jobs Rise Less Than Forecast as Economic Rebound Downshifts. 10/2/20.
3 Years referenced are 1959, 1984, 1992, 1998, 1999, 2004, 2005 and 2010. Based on S&P 500 (SPX) monthly closing prices, 12/31/58–9/30/20.. Supporting document available upon request.
What to read next...
10/02/20
Traders lean toward energy stock's put options as crude oil market approaches key level.
---
10/01/20
Semiconductor stock's recent underperformance may be attracting the attention of opportunistic contrarians.
---