Processing a chip rally
Semiconductor stocks have surged since mid-March
Boosted by stay-at-home tech demand during lockdown
Recent momentum move susceptible to pullback?
Strange how a sector can get punished by one market calamity and boosted, sort of, by another.
Semiconductor stocks, which were repeatedly whipsawed by the twists and turns of the US–China trade war, have been a bright spot over the past few weeks—even though they suffered with the rest of the market in the first half of March when investors were selling everything but toilet paper.
At its lowest point in mid-March, the PHLX semiconductor index (SOXX) had tumbled 37.6% since February 19 (more than the broad market), but it's bounced back with gusto. As of yesterday the PHLX SOXX had rallied nearly 25% since March 16, compared to a roughly 16% gain for the Nasdaq 100 (NDX) and a 14% increase for the S&P 500 (SPX).
The following chart shows the SOXX performance in recent weeks, along with a few high-profile chip names—Micron Technology (MU), Nvidia (NVDA), Intel (INTC), and Advanced Micro Devices (AMD):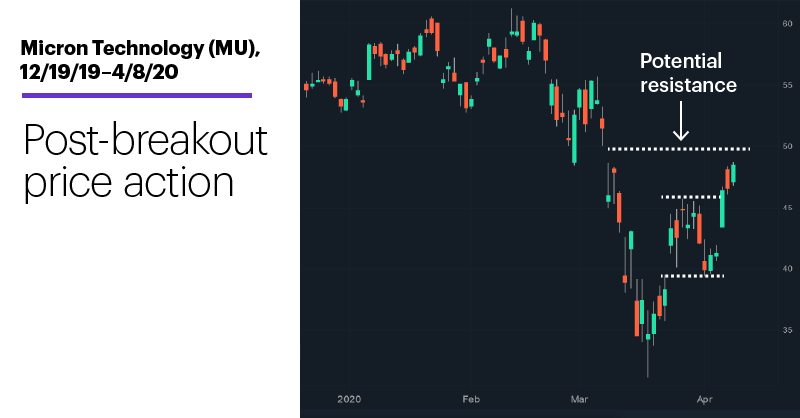 Source: Power E*TRADE
---
With remote working, shopping, studying, and playing being the rule of the day—and all those activities being powered by computer technology—chip stocks have occupied a market sweet spot recently.1
Some more than others? While AMD has more or less kept pace with the SOXX during this period, INTC and (especially) MU and NVDA have been off to the races, each rallying more than 30%. NVDA has reportedly been making an aggressive push into the processors that are especially in demand during the lockdown (for gaming, etc.),2 while MU is the one stock of this bunch to break out of its late-March/early-April consolidation: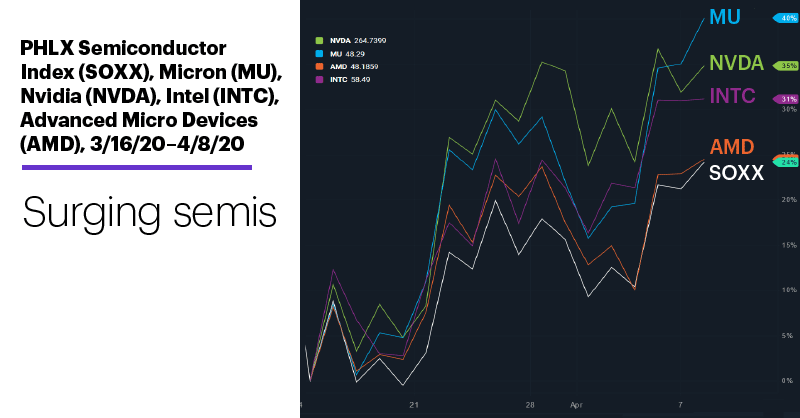 Source (data): Power E*TRADE
---
Experienced traders know not to chase hot price moves, especially in a market that is susceptible to sharp pullbacks, but one of the upsides to volatile trading environments is that you'll often get a second (or third) chance to trade at a price level you thought was forever in the rear-view mirror.
In the case of MU, given the tendency for prices to pull back after a consolidation breakout, many short-term traders may be looking for the stock to retreat to one of three general levels relative to its recent trading range: the top (the breakout point, around $45.75), somewhere within it (the middle is around $42.60), or the bottom (roughly $39.50). A close below the bottom of the range would potentially signal a challenge to the March low.
The other technical touchstone that may factor into this scenario is the potential resistance level around $50, which is both the top of the March 6–7 down gap and the approximate 61.8% Fibonacci retracement level of the February–March sell-off.
There's no law requiring prices to obey this or that technical level, but knowing where they are is sort of like knowing where the rest stops are on a highway: Nobody has to pull off at these points, but they're there for a reason.
Market Mover Update: Health care products provider Henry Schein (HSIC) has put in back-to-back up days for the first time since spiking 22% on March 26 when it announced plans to distribute rapid (15-minute) coronavirus test kits (see "View from the market trenches").
Traders waiting for a dip in Ross Stores (ROST) didn't catch a break yesterday, as the stock jumped more than 7% intraday (see "Puts for more, stock for less").
Another sign of the times. Tuesday was only the seventh time since 1960 that the S&P 500 rallied more than 3% intraday but reversed to close in the red. Four of the other six times were in October 2008—a reminder that the recent rally doesn't necessarily mean the market is out of the woods yet.
Today's numbers (all times ET): Weekly jobless claims (8:30 a.m.), Producer Price Index, PPI (8:30 a.m.), Consumer Sentiment (10 a.m.), Wholesale Trade (10 a.m.), EIA Natural Gas Report (10:30 a.m.).
Today's earnings include: WD-40 (WDFC).
Click here to log on to your account or learn more about E*TRADE's trading platforms, or follow the Company on Twitter, @ETRADE, for useful trading and investing insights.  
---
1 Bloomberg. Working From Home Gives Chipmakers Boost While Others Suffer. 3/31/20.
2 Zacks Equity Research. NVIDIA (NVDA) Expands in Gaming GPU Space With New Chips. 4/3/20.
What to read next...
04/08/20
Retailer's rally and options volatility give traders more than one way to play potential upside.
---
04/07/20
Housing stock seeks to build on foundation, while gold regains its shine.
---
04/06/20
Modest losses for US stocks last week despite historic job-loss numbers.
---