A chip off the old momentum block
Chip stocks surprisingly strong Monday despite sharp market sell-off
Semiconductors outpaced most of tech last year
Group's recent leaders also had heavy call options activity
When the US stock market slid from positive to negative territory yesterday morning, one area of the market that fought the red tide was the chip space. The PHLX Semiconductor Index (SOX) broke out of a nearly one-month consolidation in early trading, rallying more than 2.5% to a record high: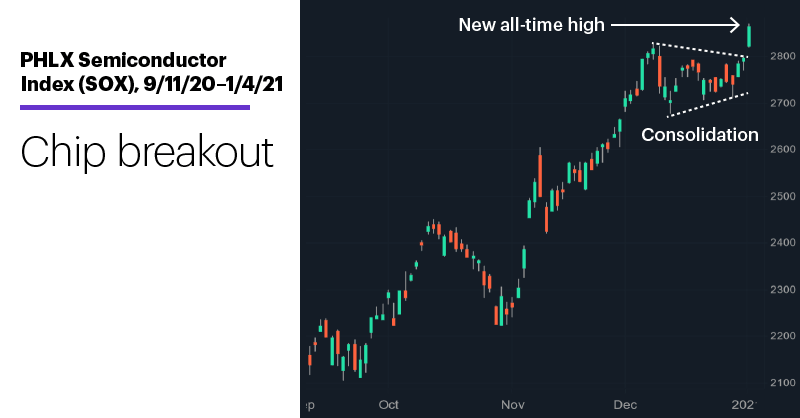 Source: Power E*TRADE
---
Sure, the SOX gave up its gains as the broad market continued to unravel, but even when the S&P 500 (SPX) was down around 1.5% later in the morning, the chip index still had its feet in positive territory.
Some traders may view that resilience as an extension of the group's relative strength throughout much of last year—the SOX roughly doubled the Nasdaq 100's (NDX) gain in Q4, and really pulled away in the final six weeks of the year.
Individual leadership in the group ebbed and flowed throughout 2020. While stocks like Nvidia (NVDA) and Advanced Micro Devices (AMD) helped lead the chip charge early in the rebound off the March lows, the following chart shows Taiwan Semiconductor (TSM) and Micron Technology (MU) grabbed the baton toward the end of the year: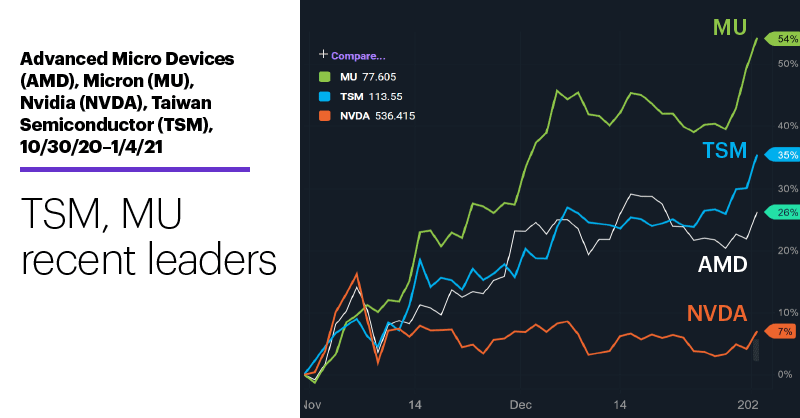 Source: Power E*TRADE
---
Both TSM and MU (the latter is scheduled to release earnings on Thursday) carried that momentum into the new year by jumping to new record highs yesterday, even though both pared their gains significantly as the session progressed.
Also, both names had noticeably salty call option activity, landing them on the LiveAction scan for high call-put ratios: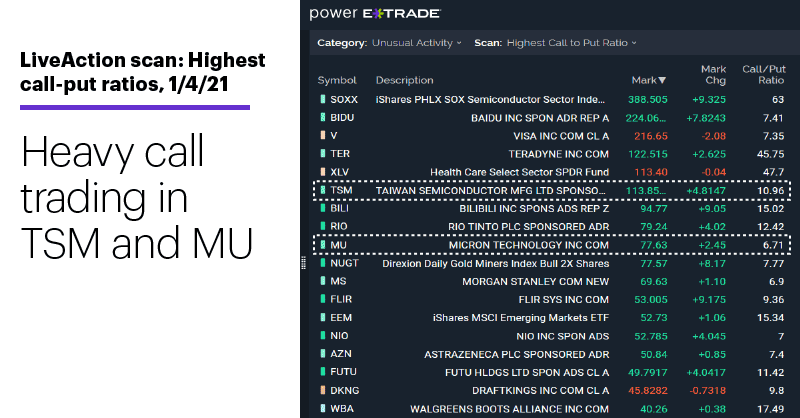 Source: Power E*TRADE
---
While yesterday's broad-market dive was a quick reminder that traders can't take things like "New Year's Rally" for granted, those who expect semiconductors to maintain their relative strength—even in the face of a near-term pullback—may be taking an especially close look at recent momentum leaders.
Because if and when forces realign to the upside, strong stocks in strong sectors are often the ones that lead the next leg of an uptrend.
Market Mover Update: February gold futures (GCG1) celebrated the new year with its biggest up day in a month, jumping more than $50 intraday to $1,948.70/ounce. The dollar picked up where it left off in 2020—by making fresh lows. March US dollar index futures (DXH1) slid to a new contract low of 89.39 on Monday (see "An eye on the futures").
Today's numbers (all times ET): ISM Manufacturing Index (10 a.m.), Motor Vehicle Sales.
Today's earnings include: Smart Global Holdings (SGH).
Click here to log on to your account or learn more about E*TRADE's trading platforms, or follow the Company on Twitter, @ETRADE, for useful trading and investing insights.  
---
What to read next...
01/04/21
Stocks close out a historic year with more records, enter new year at all-time highs.
---
12/31/20
Ready for a new year of trading? Start by checking in on how the stock market tends to perform in January.
---
12/30/20
Keeping track of sector momentum may help traders identify areas of the market poised to move in the upcoming year.
---