Chip squeeze facing resistance?
Chip shortage felt throughout global economy
Semiconductors up 10% in 12 days
SOX hit new all-time high on Thursday
Although tech has been a so-so performer lately, one corner of the sector has been pushing the pedal to the metal—semiconductors, which quickly rebounded from a late-January pullback to challenge record highs amid a global semiconductor shortage.
Although much of the news has centered on the automotive industry—GM's CEO said the chip crunch could cost the company $2 billion this year,1 some analysts expect the shortage could slow production of everything from smartphones to gaming platforms.2
Of course, when your product is in demand and supply is tight, prices tend to rise—including your stock price. Many high-profile chipmakers have taken off over the past couple of weeks, including Taiwan Semiconductor (TSM), Micron Technology (MU), ON Semiconductor (ON), Advance Micro Devices (AMD), and Nvidia (NVDA):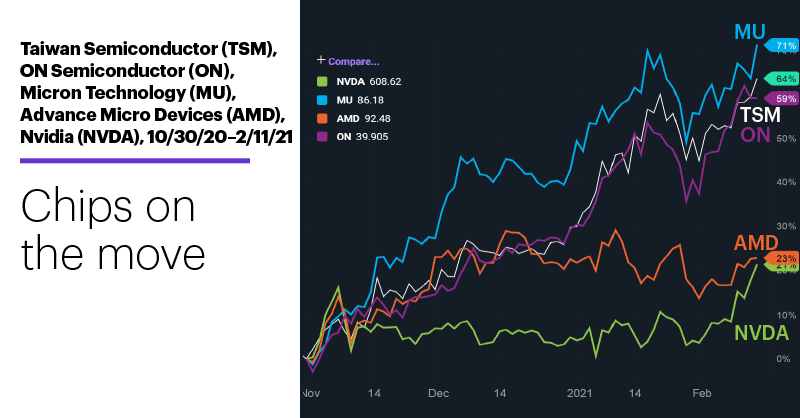 Source: Power E*TRADE
---
All these names have outperformed the S&P 500 (SPX) and Nasdaq 100 (NDX) since 2016, although leadership among them has repeatedly changed hands over time. Just focusing on the past year or so, ON and TSM (and to a lesser degree, NVDA) have been the biggest gainers since the March 2020 lows; the chart shows MU joined this pair during the most recent leg of the rally (see "A chip off the old momentum block"). Meanwhile, AMD and NVDA have trailed a bit over the past three months, although the latter broke out to new highs this week.
Taking a step back to look at things from a composite perspective, the following chart shows the PHLX Semiconductor Index (SOX) had pushed a little above its January 21 all-time high by noon ET yesterday, capping a 10% rally off its January 27 low: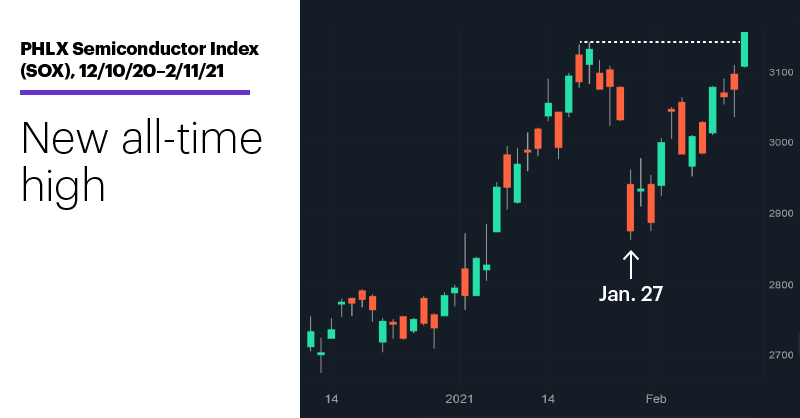 Source: Power E*TRADE
---
Chip stocks don't trade in a vacuum, however, and no sector is entirely immune to market-wide forces (if you need a reminder, just reflect on the past 12 months). In other words, the SOX could certainly keep accelerating to the upside, but it could also be slowed, at least temporarily, by the typical ebb and flow of price action—for example, what sometimes occurs when prices meet resistance after a high-momentum up move.
While it would appear to be logical to expect continued shortages to keep a bid under chip stocks, there's no way to predict how this still-evolving story will play out. Like most, it will probably have a few unexpected turns—like the markets themselves.
Market Mover Update: After a six-day, 22% rally leading up to Wednesday's after-hours earnings release, Spirit Airlines (SAVE) pulled back more than 10% intraday yesterday (see "Charting its own course?").
Holiday reminder: Monday is Presidents Day—US stock exchanges will be closed, and financial futures will trade limited hours.
Today's earnings include: Dominion Energy (D).
Today's IPOs include: Talis Biomedical (TLIS), LONGEVERON (LGVN), Decibel Therapeutics (DBTX), NexImmune (NEXI).
Today's numbers (all times ET): Consumer Sentiment (10 a.m.).
Click here to log on to your account or learn more about E*TRADE's trading platforms, or follow the Company on Twitter, @ETRADE, for useful trading and investing insights.  
---
1 Reuters. GM CEO says chip shortage could hit profits by $2 billion. 2/9/21.
2 Bloomberg.com. Chip Shortage Spirals Beyond Cars to Phones and Consoles. 2/5/21.
What to read next...
02/11/21
Two things savvy energy traders may be monitoring—the path of crude oil, and the relative strength of stocks within the sector.
---
02/10/21
A couple of recent breakouts show why you don't necessarily need to rush in with the crowd to capture momentum moves.
---
02/09/21
Traders jumped into this soaring fintech stock's put options in the wake of its earnings-beat price surge.
---