Eastern exposure: The China trade
Many stocks with high exposure to China have suffered during the trade war
Is the "smart money" pointing to a possible trade-deal rally?
Traders may look for setups in stocks with potential bottoms, breakouts
With many market watchers expecting some sort of US–China trade agreement to be hammered out sooner rather than later ("sooner" being a very fluid concept, of course), some traders have turned their attention to stocks with high exposure to China, on the assumption that such names could get an outsized bump when news of a deal crosses the wire.
In fact, recent reports have suggested hedge funds have been increasing their China exposure in Q4 to take advantage of an agreement.1
Semiconductors are typically near the top of any list of stocks expected to rally on the announcement of a trade-war settlement.
Many shorter-term players, though, may be looking at more than a stock's ties to China. After all, some of these names may be potentially overextended—trading at or near all-time highs despite the trade war—while others may have separate issues that could limit their upside in the event of a trade-deal announcement.
What some of these traders could be looking for are stocks with high China exposure that have pulled back in recent months as the trade war dragged on, but which have also shown some resiliency in holding above recent lows, or have set up potential breakout moves.
With that in mind, let's get chip stocks out of the way. Semiconductors are typically near the top of any list of stocks expected to rally on the announcement of a trade-war settlement, since many of them have extremely high exposure to China. Overall, though, the chip sector has been doing pretty well lately, and many of its big names are near long-term highs—the PHLX Semiconductor Index (SOX) has hit multiple records since late October.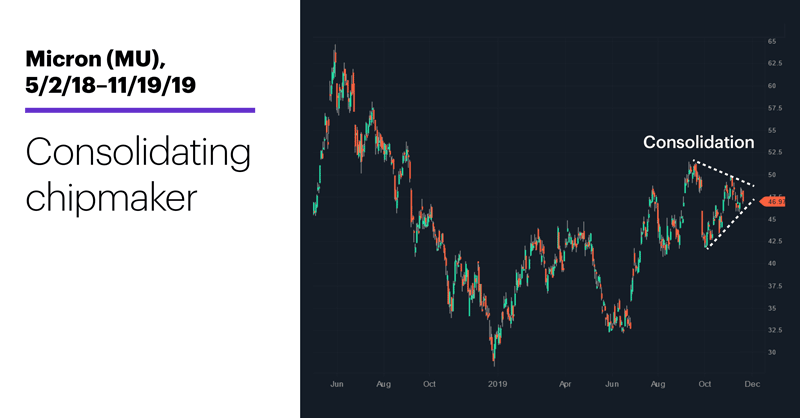 Source: Power E*TRADE
---
But one chip stock that is still some distance from its all-time peak is Micron Technology (MU), which also has some of the highest exposure to China in its group (chart above). The stock has consolidated in recent weeks after pulling back from its September high, but has also made a series of higher lows (in June, August, and October) since dropping below $30 last December.
Chips aren't the only stocks with a lot riding on China, though. Certain gaming (casino) companies, including Wynn Resorts (WYNN), have a great deal of exposure to the Middle Kingdom. The following chart shows WYNN recently pulled back after a second test of a support level (roughly $102.50) initially established by the early-June low: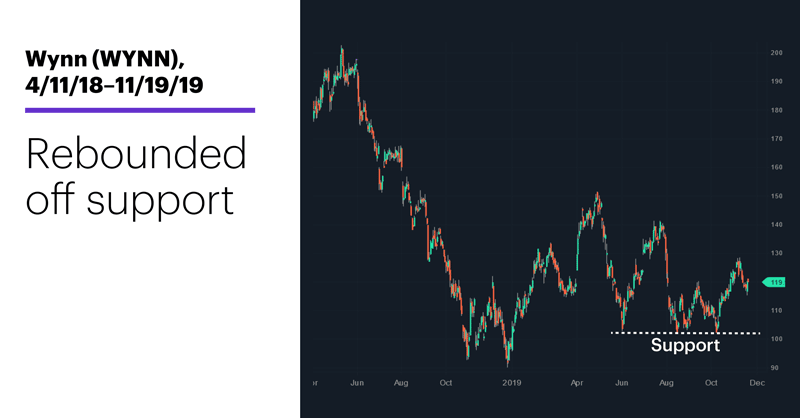 Source: Power E*TRADE
---
Finally, for full-on China exposure, it's tough to get more exposed than Yum China (YUMC), the exclusively Chinese offshoot of the fast-food conglomerate that operates brands such as KFC, Pizza Hut, and Taco Bell.
YUMC is a bit closer to its all-time highs than MU or WYNN, but it's been in a choppy holding pattern for the past few months: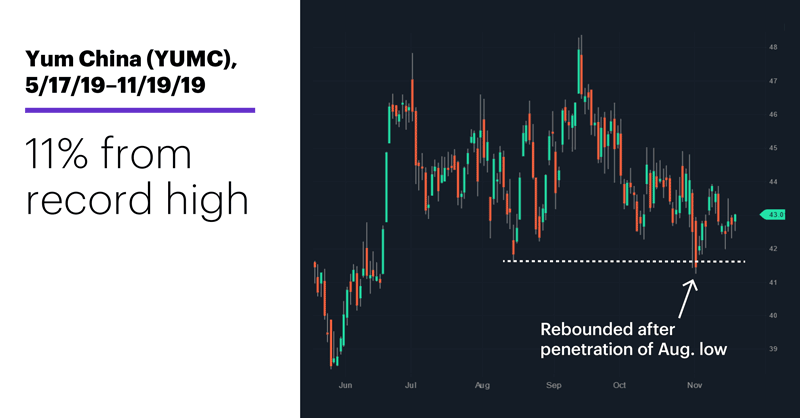 Source: Power E*TRADE
---
The stock rebounded the past couple of weeks after an intraday penetration of its August low, and as of yesterday it was trading roughly 11% below its September high of $48.36 (just a hair below the stock's January 2018 all-time high), a target some traders may look for the stock to challenge on a trade-agreement breakthrough.
If and when that agreement materializes—and whether it has anything more than a short-term market impact—prudent traders will hunt for opportunities that offer potential upside while limiting downside.
Today's numbers (all times ET): EIA Petroleum Status Report (10:30 a.m.), FOMC minutes (2 p.m.).
Today's earnings include: Jack in the Box (JACK), L Brands (LB), Target Corp (TGT), Lowe's (LOW), NetEase (NTES), Pinduoduo (PDD), Sonos (SONO).
Click here to log on to your account or learn more about E*TRADE's trading platforms, or follow the Company on Twitter, @ETRADE, for useful trading and investing insights. Online stock, ETF, and options trades1 are now commission-free.
---
1 CNBC.com. Hedge funds are buying stocks exposed to US-China trade on hopes for a deal. 11/14/19.
What to read next...
11/19/19
Retail stocks may be about to show whether the consumer is poised to continue carrying the economy—and the market—into the holiday season.
---
11/18/19
Stocks roll to new highs as renewed trade-deal optimism heats Street.
---
11/15/19
Sell-offs in two related Chinese internet stocks may attract the attention of contrarian traders.
---