Checking your FAANGs
Some FAANGs have crushed market this year, some have lagged
FB shares tested near-term technical level
Near-term upside momentum could be fueled by "bear trap"
You don't hear as much about the FAANG stocks anymore—which is probably good, because it never made much sense to lump together five such distinct companies in the first place. But that doesn't mean these stocks—Facebook (FB), Apple (AAPL), Amazon (AMZN), Netflix (NFLX), and Alphabet (GOOGL)—don't still hold interest for traders.
For those keeping score at home, AAPL's been the runaway winner this year (up around 78% YTD as of yesterday), followed by FB (+55%), GOOGL (+29%), NFLX (+20%), and AMZN (+19%).
The following chart of their relative price action in Q4 is especially interesting because it shows NFLX, which gave back almost its entire 2019 gain by late September, has been on a relative tear since—its return so far in Q4 is actually a little bigger than its YTD return: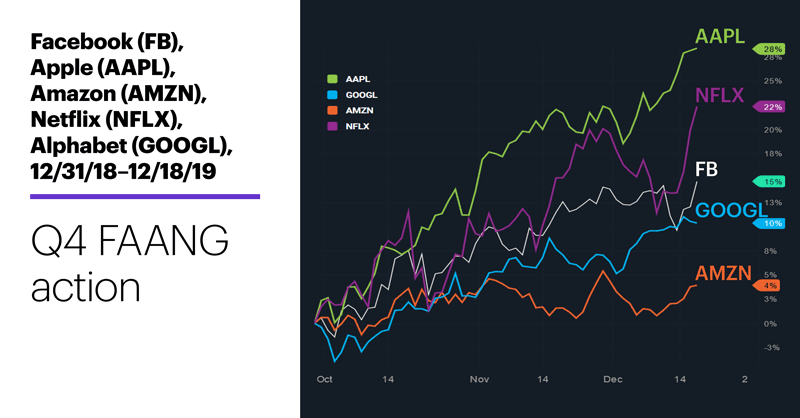 Source: Power E*TRADE
---
Many people may look at this chart and think about the possibility of more near-term momentum in AAPL and NFLX, but the stock in the middle, FB, may be attracting attention from traders because of its price action over the past several days.
The chart below shows FB shares jumped around 3% intraday yesterday to challenge the near-term resistance level defined by the November–December highs around $203.75, part of a three-day upswing that followed a brief downside penetration of the December 3 low: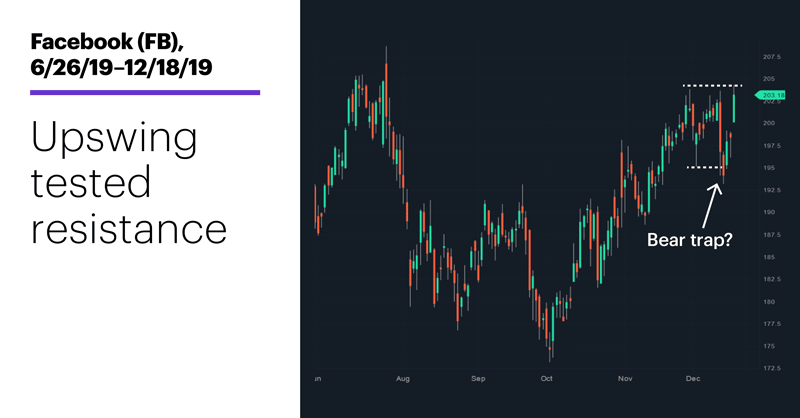 Source: Power E*TRADE
---
It's the kind of price action some short-term traders would call a "bear trap"—a down move that violates a technical level (potentially prompting some traders to sell short) but is quickly reversed to the upside, "trapping" bears who may fuel upside momentum as they scramble to cover their positions.
Yesterday's rally, which occurred in the wake of a bullish call (and $270 price target) from Deutsche Bank,1 lost some of its starch by the afternoon (the stock was still up around 2.3% at 2 p.m. ET, though), but still left shares closer to resistance than support.
Breakout-minded traders may be anticipating additional upside momentum if the stock can close above that resistance level, with the next obvious technical targets on the price chart being the July high around $209, followed by the July 2018 all-time high around $219.
But just as some bears may have gotten their claws clipped by the recent bounce, savvy bulls may attempt to avoid a similar fate by letting some of today's enthusiasm wear off before they make any plays on the long side.
Market Mover Update: It's taken a while to kick in, but the year-end rotation into the energy sector posited in "Untapped potential?" has gained some traction this month. Crude oil is trading at its highest level since May, and the energy sector has led the S&P 500 so far this week. Oil services stock Schlumberger (SLB) is up around 10% since November 7, and the January $35-$40 bull call spread mentioned in "Untapped Potential?" has more than doubled.
Today's numbers (all times ET): Current Account (8:30 a.m.), Existing Home Sales (10 a.m.), Leading Indicators (10 a.m.), EIA Natural Gas Report (10:30 a.m.).
Today's earnings include: Conagra Brands (CAG), Darden Restaurants (DRI), Sanderson Farms (SAFM).
Click here to log on to your account or learn more about E*TRADE's trading platforms, or follow the Company on Twitter, @ETRADE, for useful trading and investing insights. 
---
1 Barron's. Buy Facebook Stock and Stop Worrying About the Noise, Analyst Says. 12/18/19.
What to read next...
12/18/19
An uptrending stock takes a 10% hit, and its put-call ratio surges. What's next?
---
12/17/19
Unusual options activity highlights potential fuel for a price move.
---
12/16/19
Stocks back to record highs amid trade optimism and a hands-off Fed.
---