To catch or not to catch
SCHL fell sharply last Friday after releasing financial results
Stock has often lost ground after releasing numbers
Pattern changes with first-day follow-through?
Sharp sell-offs sometimes attract bargain-hunting investors as well as traders anticipating a potential short-term counterreaction. The difficulty, as always, is deciding whether a "falling knife" has just slipped off the table or if it's already stuck in the floor—that is, whether a big down day signals more selling, or if it represents a here-today gone-tomorrow opportunity.
Last Friday, when the S&P 500 (SPX) was wrapping up its strongest week since late 2020 with a 1.2% gain, children's book publisher Scholastic (SCHL) landed on the LiveAction scan for biggest percentage decliners, ending the day down more than 11%: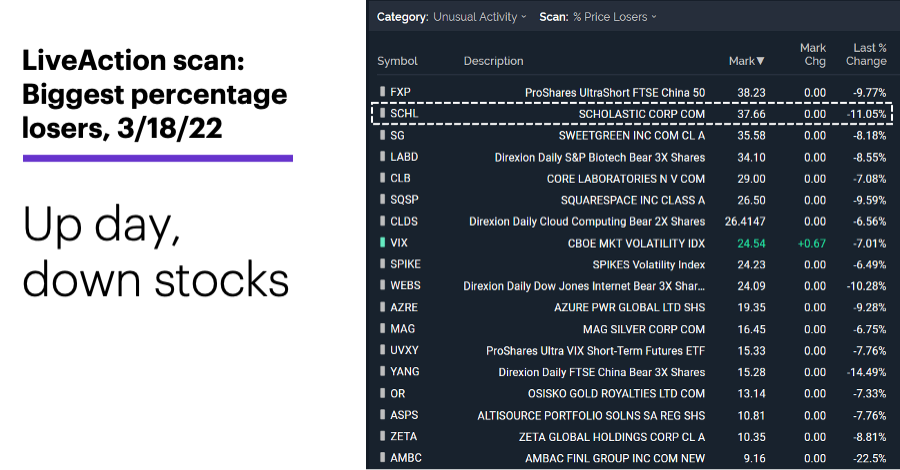 Source: Power E*TRADE. (For illustrative purposes. Not a recommendation.)
---
It was actually the biggest down move among stocks trading above $10/share, and it followed the company's release of fiscal third-quarter financial results. But aside from noting SCHL's historical track record of losing ground (on average) in the week after earnings announcements,1 let's see what factors traders may have been weighing when deciding whether the knife was still falling.
The stock, which had been consolidating near its two-year highs since mid-January after a roughly 120% rally off its November 2020 lows, tagged its lowest level ($36.71) in four months on Friday: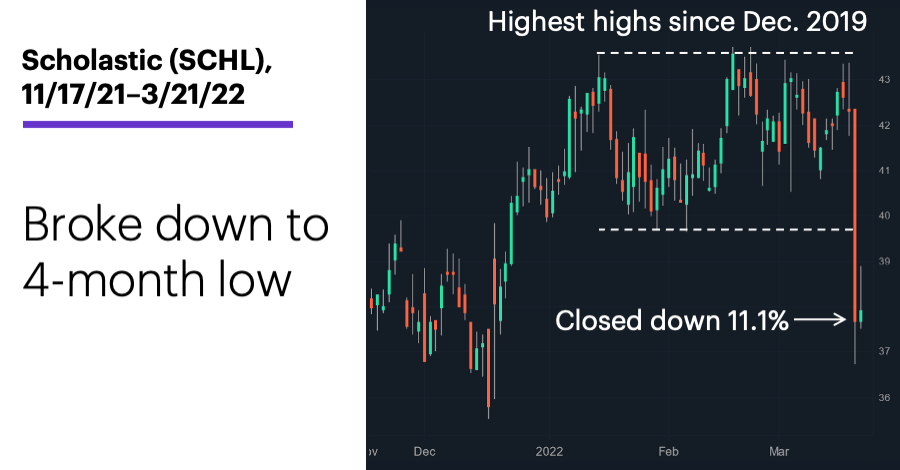 Source: Power E*TRADE. (For illustrative purposes. Not a recommendation.)
---
That was an unusually big down move for SCHL, which has fallen 7.5% or more only 43 other times since 1992. If we ask the most basic question about what happened the week after these days—what was SCHL's one-week return after falling at least 7.5% in a single day?—we find the stock was higher 27 out of the 43 times (63%) and had a median gain of 2.6%.2
That by itself would seem to suggest that—in the absence of any other information—bullish traders may have wanted to buy SCHL on Friday's big sell-off. In fact, those who did found themselves up more than 3% in early trading on Monday.
There's almost never an "absence of any other information," however, and in this case the stock's short-term performance after the big down days differed somewhat based on whether it closed higher or lower the next day:
1. If the stock closed higher the next day, it was higher five days later 71% of the time, with a median return of 2.5%.
2. If the stock closed lower the next day, it was higher five days later only 53% of the time with a median return of 0.4%.
Yesterday, SCHL eventually slipped into negative territory and closed down more than 1%.
Conclusive? Far from it. Other factors—not least the direction of the broad market and the unique catalysts currently driving it—have a role to play. But it's the type of potentially useful information traders can gather if they resist the urge to trade on emotion.
Missed trade opportunities can sting, but they're rarely as painful as losses—especially the unnecessary ones that result from rushing into the market.
Market Mover Update: The crude oil roller coaster continued, with May WTI oil futures rallying more than 7% on Monday to top $110/barrel as the European Union debates whether to embargo Russian oil.3
Today's earnings include: J.Jill (JILL), HealthEquity (HQY), Adobe (ADBE).
Click here to log on to your account or learn more about E*TRADE's trading platforms, or follow the Company on Twitter, @ETRADE, for useful trading and investing insights.
---
1 StreetInsider.com. Scholastic Corporation (SCHL) Earnings. 3/21/22.
2 All figures reflect Scholastic (SCHL) daily closing prices, 1992–2022. Supporting document available upon request.
3 TheGuardian.com. Oil rises as EU mulls Russian ban; UK chancellor hints at fuel duty cut – as it happened. 3/21/22.
What to read next...
03/21/22
Stocks rebound as Fed raises rates, China pledges market support.
---
03/18/22
The Fed didn't surprise anyone on Wednesday, but that didn't prevent the markets from making some big moves.
---
03/16/22
Europe plans to accelerate renewable initiatives to reduce reliance on Russian energy.
---