The China Syndrome, Pt. 2
Many casino stocks fell sharply this week amid threats of Chinese regulation
A further challenge for industry still struggling because of COVID travel restrictions
High volatility levels may inflate options as stocks test potential support
Newsflash: China isn't regulating just tech companies. The People's Republic sent shares of many casino operators lower this week by announcing it may tighten its oversight of the gaming and resort industry in Macau1—the largest gambling destination in the world.
It was hardly unexpected—industry analysts had speculated for months that such a move was possible2—but it still tripped up several stocks that had already been struggling for much this year. After bouncing in late August and early September, two high-profile US casino names with heavy footprints in Macau tumbled the past few days--midday on Thursday, Wynn Resorts (WYNN) was down around 20% from Monday's close, while Las Vegas Sands (LVS) was off roughly 13%: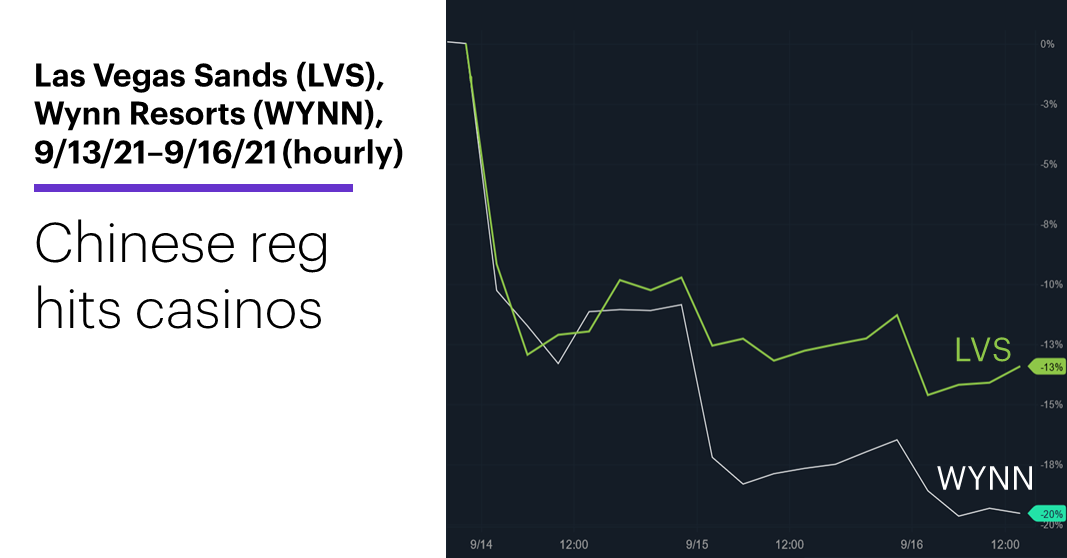 Source: Power E*TRADE (For illustrative purposes. Not a recommendation.)
---
While some analysts have argued the concern about regulation is likely to be more damaging than the reality,3 this week's news certainly added pressure to an industry that is still suffering from pandemic-reduced travel. But whenever headlines batter stocks, some traders and investors will always look for potential "bargains," especially if those stocks appear to be reaching key price levels.
For example, this week's sell-off dropped WYNN below its August low, and more than 40% below its March high around $144. The stock is now roughly $15 above its July–October 2020 support level that provided the base for at least four short-term up moves and the stock's most significant rally since early 2019:
Source: Power E*TRADE (For illustrative purposes. Not a recommendation.)
---
Meanwhile, LVS is near an even more conspicuous price level—its March 2020 COVID sell-off low. The stock actually closed below its March 18, 2020 low close of $37.68 last month (a level it has challenged the past two days), but yesterday it was still more than 10% above that day's low ($33.30):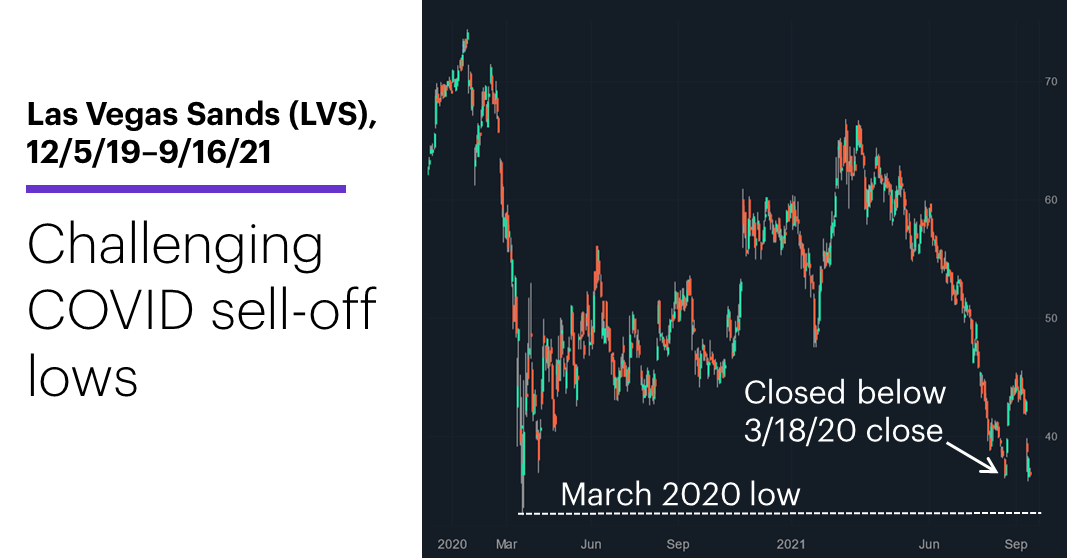 Source: Power E*TRADE. (For illustrative purposes. Not a recommendation.)
---
Not surprisingly, implied volatility (IV) for both stocks has jumped this week—something options traders will want to keep in mind, since it may mean premiums could be on the rich side. When that's the case, traders will sometimes look to sell options instead of buy them, regardless of their outlook on the stock's direction.
Attempting to catch a falling knife is never a good idea, especially in a market getting into the thick of "volatility season." Identifying potential support levels is one way contrarian bargain hunters can increase the odds that the knife will stick in the floor instead of their foot.
Market Mover Update: BlackLine (BL) has rallied roughly 5% over the past two days after pulling back to its recent breakout point (see "The patience edge").
Today's numbers include (all times ET): Consumer Sentiment (10 a.m.), Quadruple Witching expiration (monthly stock options, index options, stock index futures, and single-stock futures all expire).
Click here to log on to your account or learn more about E*TRADE's trading platforms, or follow the Company on Twitter, @ETRADE, for useful trading and investing insights
---
1 Forbes. Macau Casino Stocks Shed $18 Billion In Value As China Moves To Tighten Gambling Rules. 9/15/21.
2 Casino.org. Morgan Stanley Sees Bright Future for Macau Stocks, Mixed on Beijing Regulations. 7/30/21.
2 Barron's. Macau's Review of Casino Operations Sparks a Selloff, and a Buying Opportunity. 9/16/21.
What to read next...
09/16/21
If the market makes another shift, some recently sleepy stocks could return to the momentum spotlight.
---
09/15/21
Stock's test of resistance could have traders with different outlooks trading the same type of strategy.
---
09/14/21
Fintech stock shifts gears after massive post-IPO rally.
---