Laying out the cards
WYNN shares bounced after testing support last week
Volatility pattern signaling potential stock-momentum increase
Company's main source of revenue poised to ramp up activity
One of the nice things about the options market is that it sometimes provides insights into market dynamics you wouldn't necessarily know about if you were just looking at stock action.
On Thursday morning, the 30-day options implied volatility (IV) for casino and resort operator Wynn (WYNN) was around 27 points (55%) higher than its 30-day average historical volatility (HV):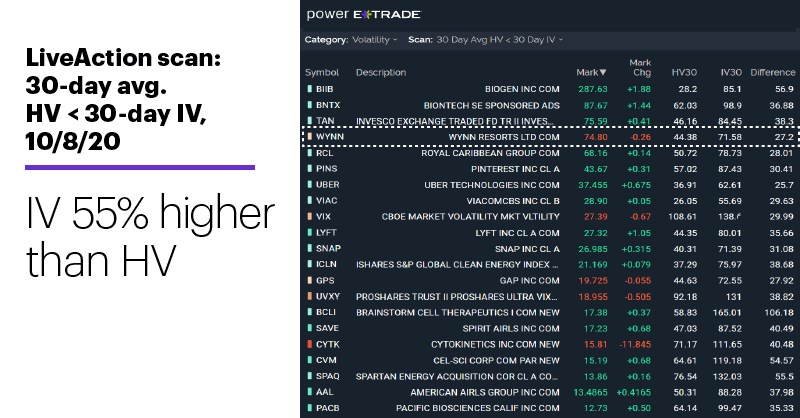 Source: Power E*TRADE
---
When IV is higher than HV, it means options traders think the stock's future volatility could be higher than its past volatility. It doesn't necessarily mean they're right, of course—and it doesn't say anything about which direction the stock may go—but it is the type of information many traders use to identify stocks with the potential to move, especially if other factors are pointing to a similar conclusion.
The chart below highlights the divergence between WYNN's IV and HV in recent weeks—HV declined throughout August and September, while IV has crept higher since mid-September: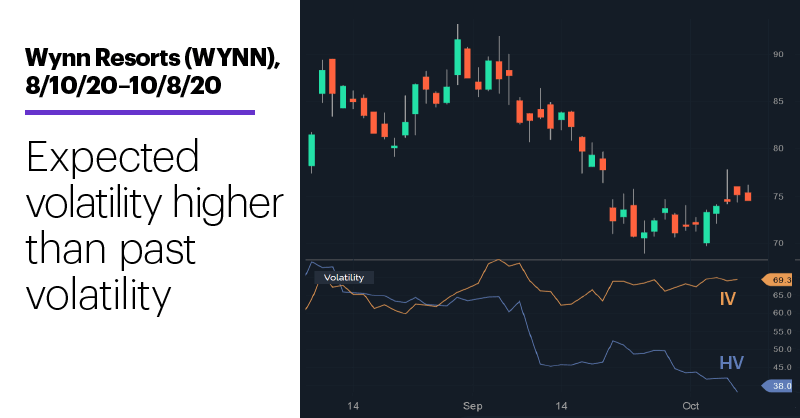 Source: Power E*TRADE
---
If the options market is correct in forecasting more price momentum over the next 30 days, is there anything else going on that would help round out the trading picture?
Hotel and resort stocks, of course, were some of the ugliest casualties of the COVID sell-off, hammered by both travel bans and restrictions on large gatherings. The road to full recovery is expected to be a long one.
That said, some market watchers think the journey may already be underway for the casino industry—especially in Asia, and specifically in Macau, the semi-autonomous Chinese city that just happens to be the largest gambling center in the world. Some analysts expect Macau to rebound faster than Las Vegas because it's easier for its customer base to access1—both because of physical proximity, and the fact that after a multi-month ban, the Chinese government resumed issuing tourist visas.2
Which brings us back full circle to WYNN, which despite its iconic twin resorts in Las Vegas, derives more than 70% of its income from Macau.3 Take a look at the following chart, which puts the upturn at the end of the first price chart into a larger context: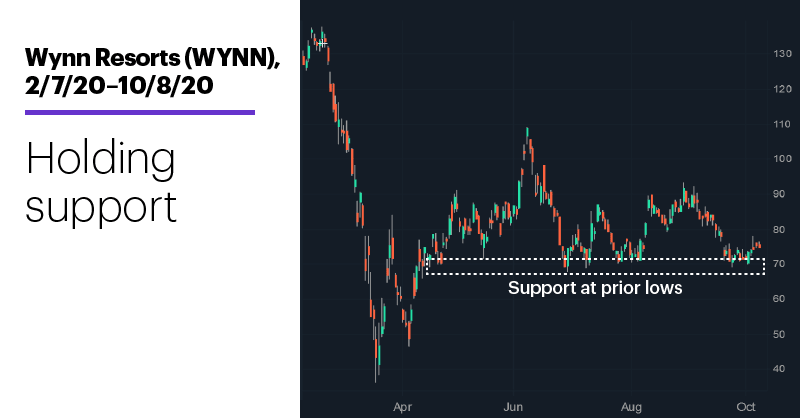 Source: Power E*TRADE
---
Despite pulling back yesterday, the stock was still up around 7% from its October 2 low, which this chart shows was the latest test of a support zone (a little above and below $70) that has been the staging ground for almost every significant up move since May.
While some traders would point out that if WYNN takes out this level, there doesn't appear to be anything (on the chart) stopping it from testing its April or March lows. True enough. On the other hand, the stock has already had a half-dozen opportunities to break down, but has bounced each time.
These are the things many traders will be turning over in their minds as they consider the prospect of increased volatility—also known as "price movement"—in the coming weeks.
Market Mover Update: Micron (MU) rallied for a fourth-straight day, extending its October gain to nearly 6% (see "Contrarian play for chip stock?").
Today's numbers (all times ET): Preliminary Wholesale Inventories (10 a.m.).
Click here to log on to your account or learn more about E*TRADE's trading platforms, or follow the Company on Twitter, @ETRADE, for useful trading and investing insights.  
---
1 FitchRatings. Local Market, Online Exposure Dictates Global Gaming Winners, Losers. 9/16/20.
2 The Straits Times. China resumes tourist visas to Macau, lifting recovery hopes. 8/10/20.
3 Barron's. Wynn Resorts Stock Can Double: Fund Manager. 10/7/20.
What to read next...
10/08/20
Sports-centric gaming stock opens Q4 with a test of a potentially critical technical level.
---
10/07/20
Clouds form over insurance stock, but traders may be forecasting a change in the weather.
---
10/06/20
Stock breaks out to nearly eight-month high, but traders may have noticed something interesting beneath the move's surface.
---