Capitulation watch
ATHM hit 52-week lows on Monday and Tuesday
Stock down nearly 50% after 100%-plus rally to Feb. all-time high
No signs of "panic" in options market
It can be tempting for contrarian traders to test the waters of formerly up-trending stocks that have fallen to 52-week lows—especially in situations (like now) where the broad market doesn't seem to want to budge from its highs and discounted names appear few and far between.
But there are a few reasons bargain hunters should be cautious about reflexively attempting to scoop up stocks at 52-week lows. To find out why, let's take a look at Chinese online auto-marketing and financing hub Autohome (ATHM), which hit 52-week lows Monday and yesterday: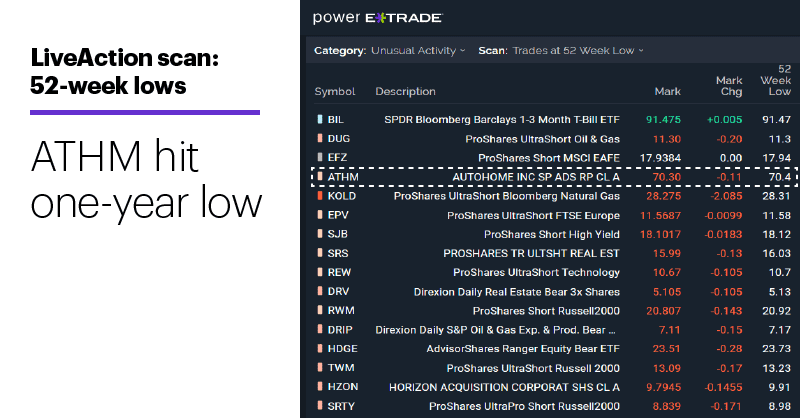 Source: Power E*TRADE
---
Not too long ago, ATHM was on a roll. The stock rallied 116% off its March 2020 low to hit a record high close of $137.92 on February 16. But by midday on Tuesday shares were off more than 49% from that peak, and around 35% below the average Street analyst target of $93.75:1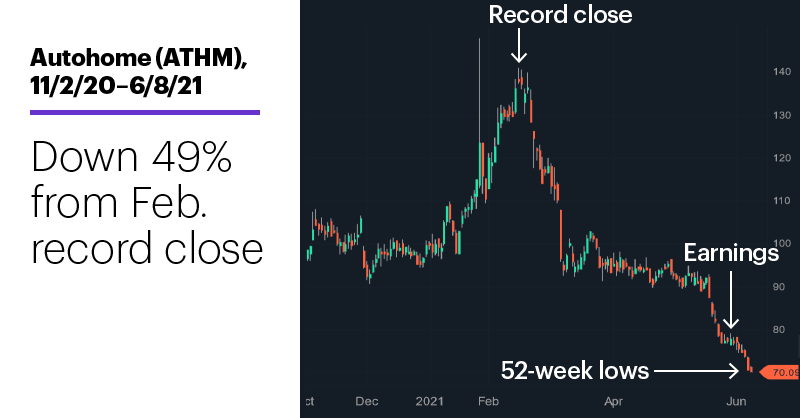 Source: Power E*TRADE
---
On top of a "52-week low" headline, those are the types of discounts that can draw the attention of bargain hunters. But experienced traders know there's nothing magical about a 52-week low—it's simply a convenient benchmark. It can highlight a stock that's been having a rough ride, but it doesn't say much about when that ride may end.
It's always impossible to know when a market will bottom or top, but some traders like to look for signs of "capitulation" in a down-trending stock—extreme trading activity that may signal longs have finally thrown in the towel, or are potentially in panic mode. A few examples:
●The stock makes a longer-term low that is also significantly below the previous day's low (a "spike" low).
●Exceptionally high stock volume, especially on a big down day at or near new lows.
●Exceptionally high options volume or open interest—especially an extremely high put/call ratio when the stock is making a new low.
In this case, the chart above shows ATHM's selling over the past couple of weeks (on either side of its May 27 earnings announcement) has been persistent but not dramatic—in other words, nothing extreme. Also, although one day is never definitive, ATHM didn't appear on any scans for unusual options activity yesterday despite its new 52-week low. Overall options volume, put volume, number of trades, and open interest were all within normal parameters.
Another consideration for some traders would be whether there are any obvious levels the technical crowd may be watching—that is, price milestones that could potentially argue for or against a stock falling further. In this case, a weekly chart shows ATHM is still around 10% above a long-term support zone (roughly $59.50–$61.50) defined by its 2018 and 2020 lows: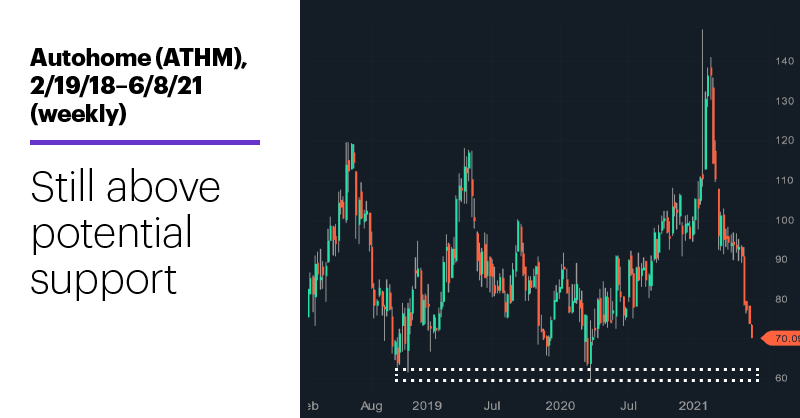 Source: Power E*TRADE
---
The only potential "significance" of this zone, of course, is that the stock has twice staged major rallies after prices dropped to this level, and that some traders may be inclined to wait and see if similar support emerges a third time.
While a market can certainly bottom without any exhibiting extreme capitulation behavior, cautious traders tend to be hesitant to attempt to catch a proverbial "falling knife" until there's some indication that selling may be running its course. A 52-week low may be a good reason to watch a particular stock, but it's not necessarily a good reason to put on a trade.
Market Mover Update: No superstition for the oil market: Monday marked the 13th straight day July WTI crude oil futures (CLN1) hit a new record close or intraday high, as the market topped $70/barrel after an early-session pullback.

Today's numbers include (all times ET): Mortgage applications (7 a.m.), Preliminary Wholesale Inventories (10 a.m.), EIA Petroleum Status Report (10:30 a.m.).
Today's earnings include: Dave & Buster's (PLAY), Vera Bradley (VRA).
Today's IPOs include: Marqeta (MQ).
Click here to log on to your account or learn more about E*TRADE's trading platforms, or follow the Company on Twitter, @ETRADE, for useful trading and investing insights.
---
1 TipRanks. AutoHome Stock Forecast & Price Targets. 6/8/21.
What to read next...
06/08/21
A big acquisition helped place the materials sector front and center to start the week.
---
06/07/21
Friday rally flips first week of the month from red to green.
---
06/04/21
Options activity shines light on airline stock as it cruises to potentially key altitude.
---