Stocks weather tax jolt
Stocks stumble—then rebound—after reports of capital gains tax increase
Small caps firm, clean energy gets Earth Day boost
This week: GDP, Fed meeting, Big Tech earnings
The US stock market will open the final week of April attempting to "bounce back" from its first down week since mid-March, although losses were fairly light despite some day-to-day volatility.
Roughly halfway through Thursday's session it looked like the market was on track to extend its winning streak to five weeks, but it wasn't meant to be: The S&P 500 (SPX) was adding to Wednesday's rebound when news broke that the White House was considering a potential doubling of the current capital gains tax,1 wiping out the day's gains.
The market rebounded strongly on Friday—hitting a record intraday high—but it wasn't quite enough to propel the SPX into the plus column for the week: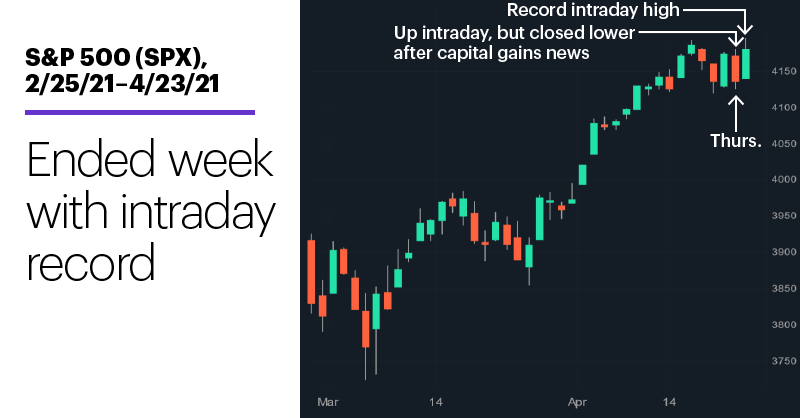 Source: Power E*TRADE
---
The headline: Stocks shrug off new market "jitter."
The fine print: The capital gains story is just beginning, but Friday's recovery may have signaled traders brought some perspective to Thursday's news: Even if the tax does increase—a political battle the White House is by no means guaranteed to win2—the bump may not be as large as the administration's opening-bid number, and in any case nothing is likely to happen earlier than next year.
The numbers: 547,000, the number of weekly jobless claims reported last Thursday—the second-straight pandemic-era low. On the housing front, after a small miss by the existing home sales number on Thursday, Friday's new home sales tally blew past expectations, 1.02 million vs. 890,000.
The scorecard: The small-cap Russell 2000 (RUT) returned to the front of the line last week, while the Nasdaq 100 (NDX) rotated to the back after three weeks of outperformance: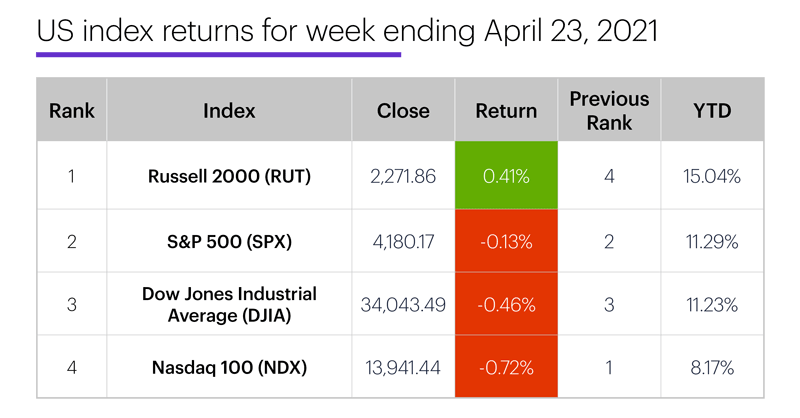 Source (data): Power E*TRADE
---
Sector roundup: The strongest S&P 500 sectors last week were real estate (+2.1%), health care (+1.8%), and industrials (+0.5%). The weakest sectors were energy (-1.8%), consumer discretionary (-1.1%), and utilities (-0.9%).
Highlight reel: Marlin Business Services (MRLN) +51% to $21.46 on Monday, Welbilt (WBT) +44% to $22.58 on Wednesday. On the downside, Haemonetics (HAE) -36% to $74.68 on Monday, Futu (FUTU) -23% to $136.24 on Tuesday.
Futures action: June gold (GCM1) rallied to a two-month high of $1,798.40/ounce last Tuesday but pulled back to end the week just below $1,778 (see "Gold holds its ground"). June WTI crude oil (CLM1) traded as low as $60.61/barrel last Thursday before rebounding above $62 on Friday.
Coming this week
There's no shortage of star power in this week's earnings lineup, but Big Tech is poised to command the spotlight:
●Monday: NXP Semiconductors (NXPI), Crispr Therapeutics (CRSP), Check Point Software (CHKP), Tesla (TSLA), MicroStrategy (MSTR), Lennox (LII)
●Tuesday: Alphabet (GOOGL), Eli Lilly (LLY), Advanced Micro Devices (AMD), General Electric (GE), Starbucks (SBUX), Raytheon (RTX), Microsoft (MSFT), Waste Management (WM), Visa (V), Pinterest (PINS)
●Wednesday: Apple (AAPL), Rockwell Automation (ROK), Boeing (BA), Yum Brands (YUM), Ford (F), Ultra Clean Holdings (UCTT), Waste Connections (WCN), General Dynamics (GD), eBay (EBAY), Facebook (FB), Teladoc Health (TDOC), Qualcomm (QCOM), Shopify (SHOP), Spotify (SPOT)
●Thursday: Amazon.com (AMZN), Bristol-Myers Squibb (BMY), Baxter (BAX), Merck (MRK), Hershey (HSY), McDonald's (MCD), Caterpillar (CAT), Newmont (NEM), Northrop Grumman (NOC), Keurig Dr. Pepper (KDP), First Solar (FSLR), Mastercard (MA), Nio (NIO), Twitter (TWTR)
●Friday: Phillips 66 (PSX), AbbVie (ABBV), Exxon Mobil (XOM), Colgate-Palmolive (CL), Clorox (CLX), Chevron (CVX)
This week's economic calendar includes the initial Q1 GDP reading, an FOMC meeting, and more housing data:
●Monday: Durable Goods Orders
●Tuesday: S&P/Case-Shiller Home Price Index, FHFA Housing Price Index, Consumer Confidence
●Wednesday: Wholesale Inventories (advance), Retail Inventories (advance), Goods Trade Balance (advance), Fed interest rate announcement
●Thursday: GDP (Q1 initial), PCE Prices (advance), Pending Home Sales
●Friday: Personal Income and Spending, Employment Cost Index, PCE Price Index, Chicago PMI, Consumer Sentiment (final)
This week's IPOs include:
●Tuesday: Protagenic Therapeutics (PTIX)
●Wednesday: FTC Solar (FTCI), Aveanna Healthcare (AVAH)
●Thursday: Endeavor Group (EDR), Fortegra Group (FRF)
Check the Active Trader Commentary each morning for an updated list of earnings announcements, IPOs, economic reports, and other market events.
Commodity watch
Coca Cola (KO) and other companies warning of price hikes may have brought rising commodity prices to the attention of some investors, but the following chart, which shows the Refinitiv/CRB Commodity Index (CRY) having just wrapped up its best one-year stretch in a decade, will come as no surprise to many futures traders: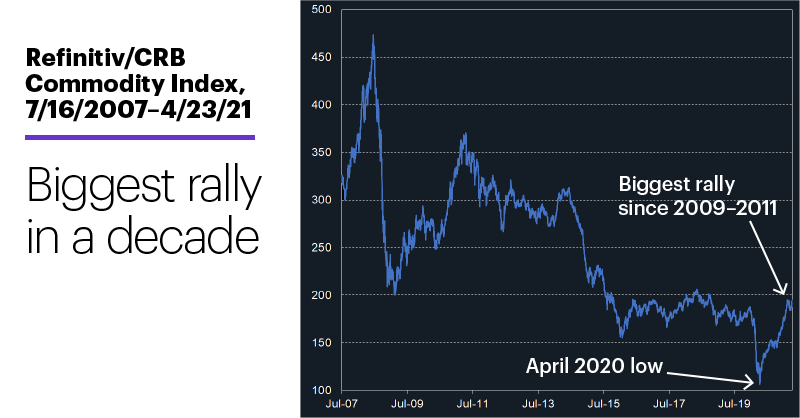 Source: Refinitiv/CRB
---
The CRY, which reflects the performance of 19 commodities, recently climbed above its pre-pandemic high after hitting (in April 2020) its lowest level in nearly 20 years.
Similar to the recent increase in long-term interest rates, the recent commodity upswing—which has some market watchers sounding the "inflation" bell—needs to be put in context. Yes, the rally over the past year has been significant—the biggest since 2009–2011, in fact—but as the chart shows, the CRB is still much closer to its 14-year low than its 14-year high.
High commodity prices—and significant inflation—may indeed be in store (Morgan Stanley shares some thoughts on this point in "Rising Rates May Signal Market Shifts Ahead"). In the meantime, traders may be watching to see whether the CRY and other commodity benchmarks can push above the highs of their 2016–2020 consolidations and turn what is still a rebound into the kind of rally trend-following futures traders haven't seen in quite a while.
Click here to log on to your account or learn more about E*TRADE's trading platforms, or follow the Company on Twitter, @ETRADE, for useful trading and investing insights.
---
1 Bloomberg. Biden Eyeing Tax Rate as High as 43.4% in Next Economic Package. 4/22/21.
2 Reuters. Biden to float historic tax increase on investment gains for the rich. 4/23/21.
What to read next...
04/23/21
Renewable energy stocks get Earth Day boost as White House sets ambitious greenhouse gas target.
---
04/22/21
Why some traders may see opportunities than others in price consolidations.
---
04/20/21
Outperforming semiconductor support stock pulls back—reversal or pullback?
---