Calls take flight
ALGT call volume more than 400 times put volume Tuesday morning
Trades concentrated in two out-of-the-money strikes
Stock rallied 8% intraday after hitting YTD low Monday
Airline stocks got hammered on Monday over fears a COVID resurgence could trip up the economic recovery—especially in the travel industry, which has still not fully escaped from the shackles of global lockdown restrictions.
And although airlines helped lead the market to the upside yesterday, as of noon ET, Allegiant Travel (ALGT), an ultra-low-cost carrier specializing in smaller cities, was the only one with an exceptionally high call-put ratio, with the former outpacing the latter more than 400 to 1:
Source: Power E*TRADE
---
Allegiant shares also outperformed those of most other airlines yesterday, rallying as much as 8% intraday. It isn't a heavily traded stock—average daily volume is approximately 216,000 shares—and options volume is similarly light, so the big prints were easy to spot: 694 contracts in the August $195 calls and 1,900 in the August $200 calls—both strikes well above the stock's range yesterday (roughly $175–$189).
Yesterday's rally was a bit of an exception to ALGT's recent rule, though. When it closed at $174.94 on Monday, the stock was down 35% from its mid-March record high and had hit a new low for the year:
Source: Power E*TRADE
---
As always, it's impossible to know what unusual options activity signifies. In this case, for example, bearish traders could have been short-selling calls. But aside from the fact that calls are generally used more to take bullish positions than bearish ones, the stock's steep sell-off in recent months may provide context: Yesterday calls were trading much closer to their recent lows than their highs—not necessarily the ideal scenario for short sellers interested in collecting fat options premiums. For example, while the August $200 calls roughly doubled yesterday (from $2.10 to $4.20), they were still down more than $10 from where they were on June 21.
But even the most bullish interpretation of yesterday's ALGT call activity—that it represents some large trader or traders betting on a rally, and that those traders are likely to be correct—has to account for the fact that this outlook extends only a few weeks, since August options will expire in about a month.
Finally, the broad market may offer some insight into the price dynamics that can sometimes follow pivots like the one ALGT made yesterday. If the stock market's behavior over the past couple of days has felt familiar—an especially sharp one-day sell-off followed by an equally sharp one-day rebound—that may be because this basic pattern has occurred near several of the S&P 500's (SPX) recent pullback lows, including March 4–5, May 12–13, and June 18–21: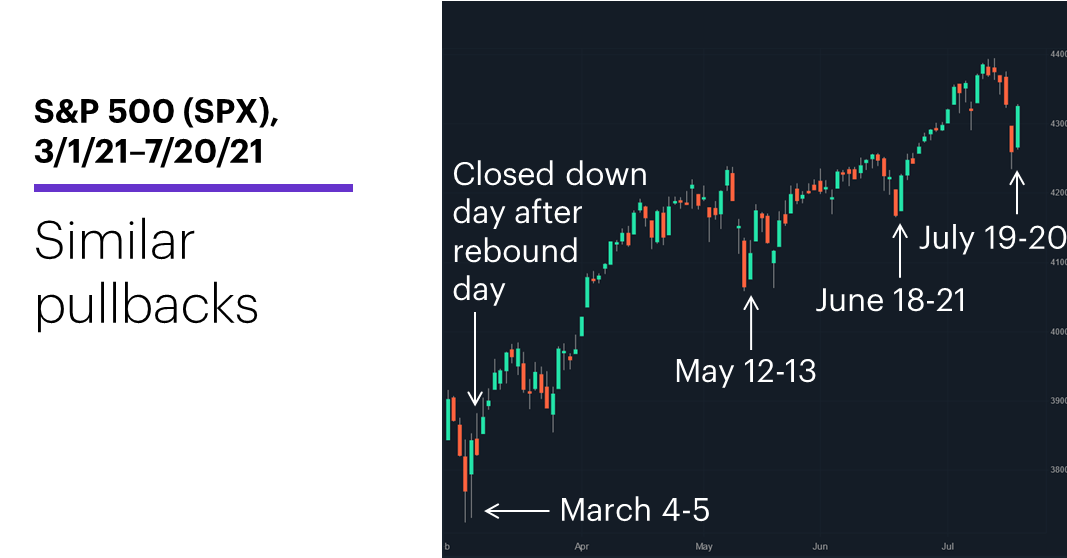 Source: Power E*TRADE
---
These episodes all fit a simple pattern: a day the SPX closes at least 1% higher immediately after a day that made at least a three-week low and closed at least 1% lower.
One interesting detail: The May and June examples were somewhat unusual in that they—unlike the March example—weren't followed by a down day immediately after the big rebound day. That post-pivot down day is something the SPX has done 53% of the time since 20001—highlighting the giveback that often occurs after a high-momentum up day.
Market Mover Update: And speaking of givebacks, DigitalOcean (DOCN) dropped 4.2% intraday Tuesday before rebounding to close in positive territory (see "Stocks that swim against the tide").
Signature Bank (SBNY) made good on its tendency to rally on earnings day, jumping more than 8% intraday yesterday (see "Beyond the bigs").
Today's numbers include (all times ET): Mortgage Applications (7 a.m.), EIA Petroleum Status Report (10:30 a.m.).
Today's earnings include: Baker Hughes (BKR), Coca-Cola (KO), Whirlpool (WHR), Verizon (VZ), Crown Castle (CCI), Citrix Systems (CTXS), Scientific Games (SGMS), Texas Instruments (TXN), Johnson & Johnson (JNJ).
Today's IPOs include: CS Disco (LAW), Kaltura (KLTR), PAYCOR (PYCR).
Click here to log on to your account or learn more about E*TRADE's trading platforms, or follow the Company on Twitter, @ETRADE, for useful trading and investing insights.
---
1 Based on S&P 500 (SPX) daily prices, 10/1/2000–7/20/21. All figures represent outcome of 77 pattern examples. Supporting document available upon request.
What to read next...
07/20/21
Stocks that buck the market can sometimes underscore pockets of market strength or weakness.
---
07/19/21
Market slips as traders mull inflation, earnings, and signals from the options market.
---
07/16/21
nverting a popular call spread shows how traders use puts to make limited-risk bets on possible down moves.
---