Call traders lighten load
GDOT calls outtraded puts nearly 680-to-1 yesterday morning
Traders appeared to liquidate some positions in advance of Aug. 4 earnings
Fintech stock top-heavy after 220% rally?
The natural reaction when learning that a certain stock has call options volume more than 600 times its put volume is probably something along the lines of, "I wonder who's buying, and why?"
Yesterday morning, for example, financial tech firm Green Dot (GDOT) had traded 678 calls for every put, landing it near the top of the LiveAction scan for highest call-put ratios: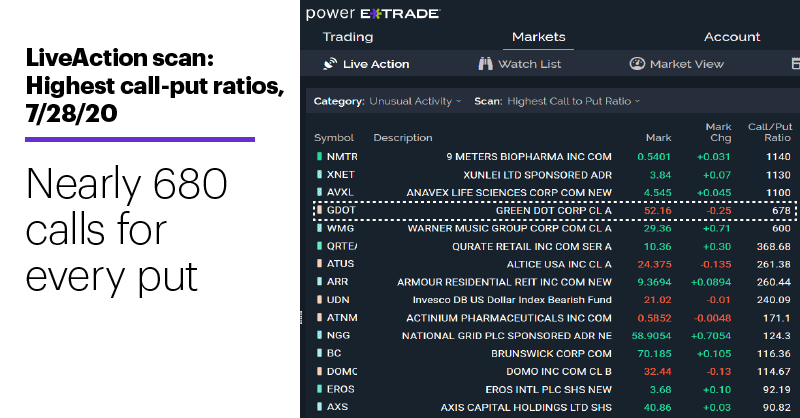 Source: Power E*TRADE
---
But were traders really on a GDOT buying spree? Aside from the fact that the stock was down on the day, another piece of evidence that may have tipped off inquisitive traders that this call explosion wasn't necessarily a straight-up bullish feeding frenzy appeared in GDOT's options chain.
The big fish in the options pond were two 1,000-contract trades in the August $55 and $65 calls—which, judging by the low open interest (OI) in the $65 calls, consisted of a lot of position liquidations, since OI can be lower than volume only if traders are getting out of existing positions:
Source: Power E*TRADE
---
With four trading days left until GDOT reports earnings next Tuesday, position adjustments should come as no surprise—reducing exposure before uncertain events happens all the time, especially among traders who have existing profits to protect.
Some call holders may have chosen to lighten their loads in light of the stock's epic rally (+220%) off its March lows—a move that pushed shares well past the average analyst price target (around $43)1 that emerged after GDOT topped its numbers on May 11:
Source: Power E*TRADE
---
Although GDOT put together the bulk of its recent rally after that earnings release, it's worth noting the stock pulled back immediately after it—hinting at its tendency to lose ground in the first five days after it posts its numbers.2 (If that sounds familiar, it's because it's similar to the pattern exhibited by Laboratory Corporation of America, which fell yesterday despite reporting a huge earnings beat.)
Being a contrarian is a tricky game. While going against the crowd can sometimes produce outsized gains if you catch the market at an important turning point, it can also be a trap: a temptation to buck the crowd just for the sake of bucking it—or, to paraphrase an old saying, trying to "look smart instead of make money."
Experienced traders know the truly smart approach is to let the evidence do the talking. Sometimes that will point in the opposite direction of the prevailing trend, other times it will have you going with it. Either way, you need to make sure to dig far enough below the surface to reveal what the market may be hiding, not just its potentially misleading first impressions.
Market Mover Update: Now that gold has new all-time highs out of the way, market watchers are eyeing the next conspicuous milestone—the $2,000 mark, which the market came within $24 of yesterday.
Today's numbers (all times ET): International Trade in Goods (8:30 a.m.), Advance Retail Inventories (8:30 a.m.), Advance Wholesale Inventories (8:30 a.m.), Pending Home Sales (10 a.m.), EIA Petroleum Status Report (10:30 a.m.), FOMC meeting announcement (2 p.m.).
Today's earnings include: Archer-Daniels-Midland (ADM), O'Reilly Automotive (ORLY), Boeing (BA), General Electric (GE), General Dynamics (GD), Teladoc (TDOC), PayPal (PYPL), Qualcomm (QCOM), Qorvo (QRVO), Shopify (SHOP), Spotify (SPOT).
Click here to log on to your account or learn more about E*TRADE's trading platforms, or follow the Company on Twitter, @ETRADE, for useful trading and investing insights.  
---
1 TipRanks.com. Green Dot Price Target & Analyst Ratings. 7/28/20.
2 StreetInsider.com. Green Dot Corporation (GDOT) Earnings. 7/28/20.
What to read next...
07/28/20
A falling dollar may favor certain types of stocks, but traders can't rely too heavily on a single "macro" theme.
---
07/27/20
The market's leading sector gave back gains for a second-straight week as US–China tensions re-escalated.
---
07/24/20
Hydrogen fuel cells are the latest alt-energy tech to capture the market's attention. One player was certainly in play yesterday.
---