Call action, put play
Heavy GDDY call volume early Tuesday; traders mostly got out, not in
Stock pushed to 13-month high after pausing near Feb. top
Contrarians could use put strategy to capitalize on potential pullback
Given that website-hosting company GoDaddy (GDDY) has jumped around 90% off its March lows and is less than 7% below its October 2018 all-time high, the fact that its call options volume jumped yesterday morning as the stock was pushing to its highest level since May 2019 seemed pretty…normal.
As so often happens, though, initial impressions of trading activity can be misleading. And in this case, it may point to the possibility of using put options in a contrarian setup.
The following options chain shows that while most of the action was in the July $80 calls, traders weren't getting into new positions, they were mostly getting out of old ones:
Source: Power E*TRADE
---
How do we know that? While 463 of the July $80s changed hands, the contract's open interest (the number of unclosed trades) was only 52. If the volume had consisted entirely of traders establishing new positions, the open interest would have to be at least 463. That means at least some traders who had been long July $80 calls were cashing out.
Just because this reality appears to be less bullish than it may have at first glance, it doesn't mean the bears are guaranteed to dominate. In this case, though, given the combination of liquidated call positions, a hyperbolic rally and potential price exhaustion (both in the stock and the broad market), some contrarian short-term traders may have seen the opportunity to use put options to take advantage of a potential GDDY pullback—even if they felt the longer-term play was to the upside.
The price chart shows yesterday's rally pushed the stock above its February highs, a level the stock had paused at for the past couple of weeks after GoDaddy beat its earnings numbers last month: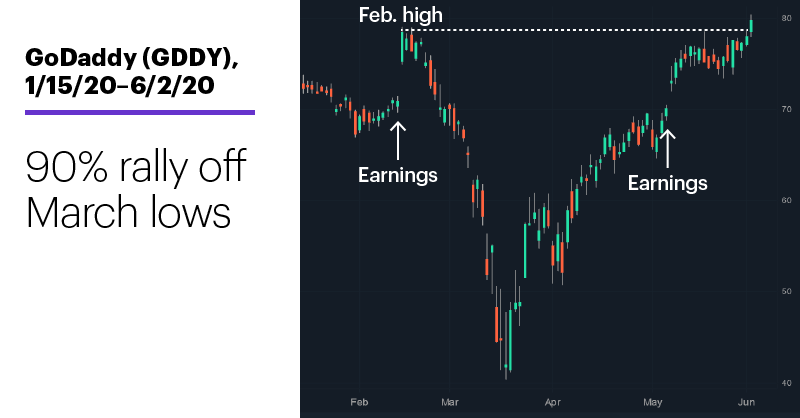 Source: Power E*TRADE
---
A trader who expected a pullback after this momentum burst ran its course could simply buy put options (which have been getting cheaper as the stock has rallied), or execute a more conservative "bear put spread"—the combination of a long at-the-money put and a short out-of-the-money (lower strike price) put with the same expiration.
This trade has limited upside risk (the maximum loss is the cost of the spread), but its potential profit is also capped (at the difference between the strike prices, minus the cost of the spread). The following chart shows the profit-loss profile for a bear put spread consisting of buying an August $80 GDDY put and selling an August $70 GDDY put—the lower strike price being the possible selection of a trader who thought the stock could pull back to its post-earnings up gap: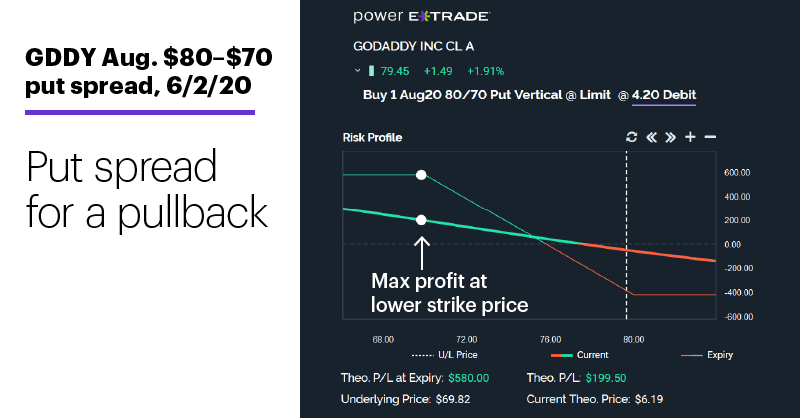 Source: Power E*TRADE
---
Notice the trade's profit maxes out at $580 per position even if GDDY keeps falling below $70. But the max loss is capped at $420 no matter how much the stock rallies. Risk vs. reward, give vs. take.
Of course, in this type of situation some traders would choose to wait until the stock makes a run at its record highs around $85 before putting on a put spread like this. That may change the strike-price selections (and possibly, the expiration dates), but it wouldn't alter the trade premise.
As is always the case, those choices should be based on the outlook for a particular stock in the context of the larger market environment.
Market Mover Update: Breakout watch? Chipmaker Qualcomm (QCOM) edged toward the top of its nearly three-week trading range with yesterday's rally (see "5G: Better late than never?"), while the PHLX Semiconductor Index (SOX) was also hugging highs of its recent consolidation.
Today's numbers (all times ET): ADP Employment Report (8:15 a.m.), PMI Services Index (9:45 a.m.), Factory Orders (10 a.m.), ISM Non-Manufacturing Index (10 a.m.), EIA Petroleum Status Report (10:30 a.m.).
Today's earnings include: American Eagle Outfitters (AEO), G-III Apparel Group (GIII), Cloudera (CLDR), Campbell Soup (CPB), United Natural Foods (UNFI), Guidewire Software (GWRE).
Click here to log on to your account or learn more about E*TRADE's trading platforms, or follow the Company on Twitter, @ETRADE, for useful trading and investing insights.  
---
What to read next...
06/02/20
Will resurgent grocery stock enter buy zone after last week's earnings beat?
---
06/01/20
Stocks made a strong push in late May as recovery optimism outweighed renewed US-China tensions.
---
05/29/20
Another player in the streaming entertainment space may have disrupted some trends, but it hasn't necessarily derailed them.
---