More than one way for bulls to charge
Yesterday ROKU shares dropped more than 17% intraday
High-flying stock received downgrade from investment bank
Put option premiums soared
Just as stock traders can get tipped off to potentially interesting market developments by unusual options activity, options traders are wise to keep tabs on stock price action.
Yesterday's action in streaming tech provider Roku (ROKU) was certainly hard to miss. The stock dropped more than 16% intraday after Morgan Stanley downgraded the stock to underweight, basically arguing that in the face of intense competition and a 400%-plus year-to-date gain, the stock was due to fall from its lofty levels.1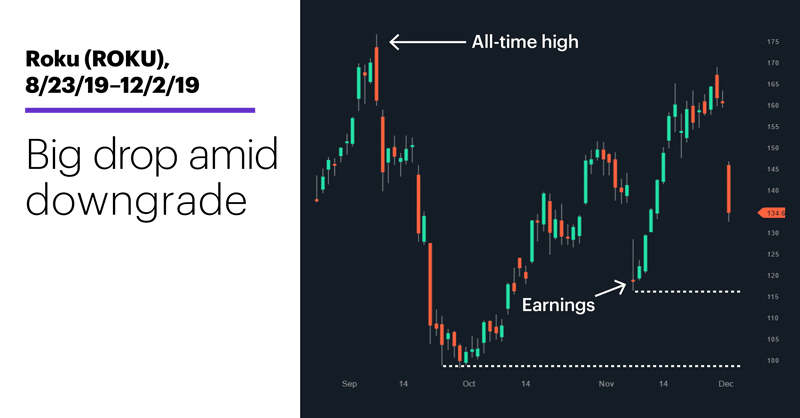 Source: Power E*TRADE
---
That may qualify as a self-fulfilling forecast, as ROKU tumbled more than 17% intraday, although it pared that loss to less than -13% by midday.
But that sell-off was nothing compared to the percentage gains in ROKU put options. Given as of Friday the stock had rallied around 35% off its November 7 low (when it released poorly received earnings numbers) and was once again within shouting distance of its September all-time high, it's fair to say Monday's drop may have caught many traders off guard.
That surprise was reflected in options prices. The following chart shows some deep out-of-the-money put options (the December $95, $100, and $105 options, expiring in less than three weeks) all jumped 78% or more from Friday's levels: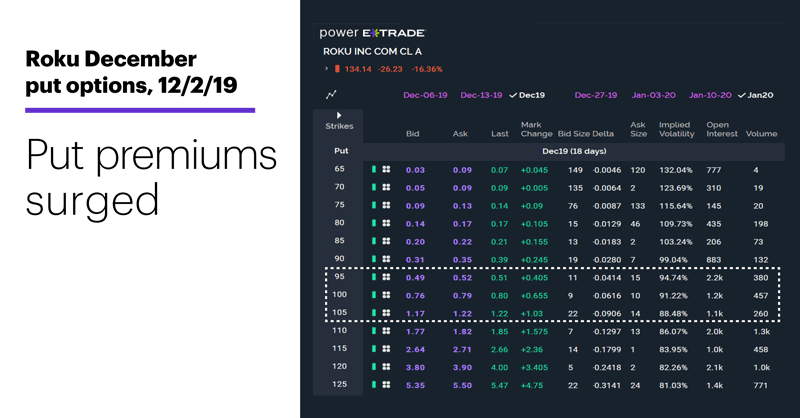 Source: Power E*TRADE
---
Three weeks until expiration isn't a lot of time, and it's the window when options typically lose value at an accelerated rate. While some bullish traders may be looking for entry points in the stock itself, options traders who see the potential for a ROKU rebound (or at least see limited near-term downside) may seek to take advantage of these newly-inflated option premiums by selling puts.
For example, traders who sold the December $100 puts for 1.22 ($122 per contract) were essentially taking the position that ROKU would still be trading at or above $100 by December 20 when the options expire—essentially, allowing for an additional 28% sell-off in the stock from yesterday's midday levels. As long as the stock doesn't drop more than that, the options would expire worthless and the traders would keep the premium they collected, regardless of whether the stock was trading at $139 or $100.01.  On the other hand, of course, put sellers wouldn't be able to participate in additional upside if ROKU shares staged a near-term rebound or rally.
Another consideration: Some traders may see the possibility of a deeper pullback—say, closer to the November low around $116 or the September low around $98 (see the dashed horizontal lines on the price chart)—before the dust settles. In that case, put premiums could soar to even higher levels. (It's worth noting that January ROKU puts, because they have more time to expiration, were trading at even higher levels than the December options—possibly representing attractive targets for traders with a slightly longer-term trade horizon.)
Just because you're trading options instead of stock doesn't mean you shouldn't pay attention to the little things, such as where a pullback may finally end.
Market Mover Update: Chipmaker Intel (INTC) may have the momentum/breakout crowd circling, as yesterday the stock extended its trading range into a fourth week.
The energy sector started off the week as the market leader, thanks in part to a crude oil rally that recouped a portion of Friday's 4.7% sell-off.
The stock-market Thanksgiving pattern was two-for-three this year, as the SPX rallied the day before the holiday and dropped yesterday, but failed to rally on Friday.
Today's earnings include: Land's End (LE), Marvell Technology (MRVL), Healthequity (HQY), Workday (WDAY), Salesforce.com (CRM), Zscaler (ZS).
Click here to log on to your account or learn more about E*TRADE's trading platforms, or follow the Company on Twitter, @ETRADE, for useful trading and investing insights. Online stock, ETF, and options trades are now commission-free.
---
1 MarketWatch.com. Roku stock tanks after Morgan Stanley says massive rally means it's time to sell. 12/2/19.
What to read next...
11/21/19
The bird is the word: Poultry producers seek follow-through after China lifts trade ban.
---
11/20/19
Reports suggest hedge funds have been upping their China exposure to profit from a trade deal. What can traders learn from their move?
---
11/19/19
Retail stocks may be about to show whether the consumer is poised to continue carrying the economy—and the market—into the holiday season.
---