Bulls grab reins
Best week for stocks since April, tech soars
Jobs rebound continues, gold busts out
This week: Election watch, latest inflation data, EV earnings
Now that's flipping the script.
After ending October with their worst week since March, US stocks kicked off November with their best week since April, betting a contested election result can be resolved with minimal disruption to the markets.
The S&P 500 (SPX) started last week with its sixth-biggest four-day rally (+7.4%) since 2009 before closing fractionally lower on Friday after President Trump's vows to fight election results and another strong monthly jobs report: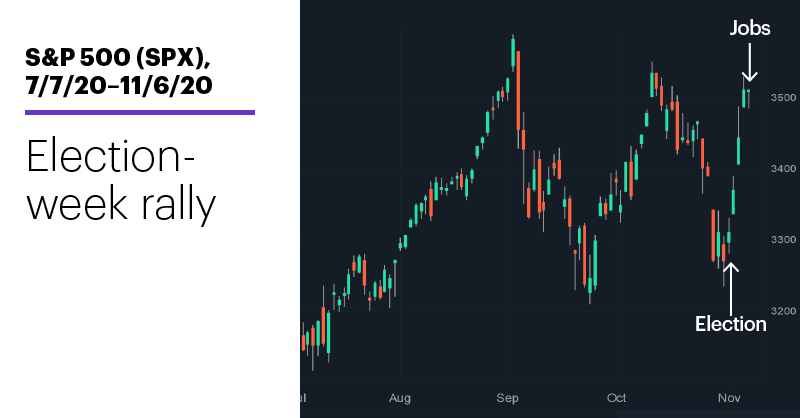 Source: Power E*TRADE
---
The headline: Stocks soar despite prospect of contested election.
The fine print: Although the White House promised to take the election into the courts, the stock market's rally may suggest the Street thinks the outcome will ultimately be finalized within the established time window—the Electoral College doesn't officially cast its votes until December 14.
The number: 638,000, the number of jobs the economy added in October—easily topping the 575,000 estimate. The unemployment rate also dropped from 7.9% to 6.9%.
The scorecard: The Nasdaq 100 (NDX) led the pack again last week:
Source (data): Power E*TRADE
---
Sector roundup: The strongest S&P 500 sectors last week were information technology (+10%), health care (+8.7%), and materials (+8.1%). The weakest sectors were energy (1.4%), utilities (3.1%), and real estate (4.8%).

Highlight reel: On Wednesday Biogen (BIIB) jumped 44% to $355.63, and Upwork (UPWK) rallied 44% to $29.03 on Thursday. On the downside, SolarEdge Technologies (SEDG) fell 23% to $206.37 on Tuesday and Andersons (ANDE) slid 17% to $18.64 on Wednesday.
Futures action: December gold (GCZ0) broke out to a six-week high on Thursday and held onto most of its gains on Friday to close the week at $1,951.70/ounce. December WTI crude oil (CLZ0) rallied nearly 10% in the first three days of the week before pulling back to close Friday at $37.14/barrel. December US dollar index (DXZ0) futures slid to 92.165 on Friday—their lowest level since September 1.  
Last week's biggest futures up moves: November bitcoin (BTCX0) +13.8%, December palladium (PAZ0) +12.6%, November lumber (LBSX0) +12%. Last week's biggest futures down moves: December VIX (VXZ0) -20.2%, December natural gas (NGZ0) -13.7%, November milk (DCX0) -2.9%.
Coming this week
Economic reports this week include:
●Monday: Consumer Inflation Expectations
●Tuesday: NFIB Business Optimism Index, JOLTs Job Openings
●Wednesday: Veterans Day (bank holiday—no Treasury trading)
●Thursday: Initial Jobless Claims, Consumer Price Index (CPI)
●Friday: Producer Price Index (PPI), Michigan Consumer Sentiment (preliminary)
Earnings this week include a couple of the higher-profile electric vehicle (EV) stocks—and some other car-related names:
●Monday: Beyond Meat (BYND), Nikola (NKLA), Workhorse (WKHS), RingCentral (RNG), Tilray (TLRY)
●Tuesday: Advance Auto Parts (AAP), Rockwell Automation (ROK), BioNTech (BNTX), Rocket Companies (RKT), D.R. Horton (DHI), Palomar Holdings (PLMR), LYFT (LYFT)
●Wednesday: Revolve Group (RVLV), HUYA (HUYA), Vroom (VRM), Lemonade (LMND), Purple Innovation (PRPL)
●Thursday: Applied Materials (AMAT), Weibo (WB), Cisco Systems (CSCO), Walt Disney (DIS), Hyliion Holdings (HYLN), Dillard's (DDS)
●Friday: DraftKings (DKNG)
Go to the E*TRADE market calendar (login required) for an up-to-date earnings schedule and a complete list of splits, dividends, IPOs, and economic reports. The Active Trader Commentary also lists earnings announcements, IPOs and economic report times each morning.
What do you do for an encore?
Just as sprinters need to catch their breath after a race, stocks may have trouble keeping pace with last week's performance this week—if history is any guide.
If it weren't for a couple of huge up weeks in the first leg of the market's rebound off its March lows, last week's 7.3% SPX rally would have been the index's biggest one-week gain since 2011. The fact that it followed a sharp sell-off (-5.6%) the previous week only makes it more exceptional—since 1957, the SPX has followed a 5%-or-larger weekly sell-off with a 5%-or-larger up week only 10 other times.
But these events have often been followed by similar market action. If we look at all 4%-or-larger down weeks followed by 4%-or-larger up weeks (that at least gives us 19 examples to work with), here's what we find about the next few weeks:
1. The SPX closed lower the following week more often than not (10 out of 19 times) and had an average return of -0.5%.
2. After three weeks, though, the SPX was higher in 13 cases (68% of the time), with an average gain of 1.7%.1
The most recent time we saw similar back-to-back weeks was March 16–27, when the SPX followed a 15% down week with a 10% up week. The market pulled back around 2% the next week, but accelerated to the upside the week after that.
Click here to log on to your account or learn more about E*TRADE's trading platforms, or follow the Company on Twitter, @ETRADE, for useful trading and investing insights.
---
1 Based on S&P 500 (SPX) daily closing prices, 11/5/56–11/5/20. Supporting document available upon request.

What to read next...
11/06/20
Unusual options trading activity highlights possible strategy for traders playing a potential stock breakout.
---
11/05/20
After some 1,000-watt rallies, many renewable energy stocks dimmed recently—and plummeted early yesterday—but traders may see opportunities amid the volatility.
---
11/04/20
Traders may be looking at an under-the-radar 5G infrastructure stock with fresh eyes after its recent move.
---