Bulls, bears, and booze
Big liquidation in STZ put options yesterday
Stock rallied 57% off March low before consolidating
Liquor sales have boomed during pandemic lockdown
We all know about the hording that took place last month as lockdown fears swept across the US, and the robust rallies in many food and household staples stocks after the initial market sell-off.
Turns out in addition to stocking up on food, many people made sure they also had adequate supplies of their favorite adult beverages on hand, and the stocks of some big liquor distributors reflected what is expected to be sustained demand.
In early April, for example, Constellation Brands (STZ) blew away earnings estimates1—despite being the US distributor of the temporarily discontinued Corona beer—and got its share of enthusiastic analyst nods, including from UBS, which noted short-term disruptions were unlikely to dampen the firm's expected 10% annual growth.2
Yesterday STZ slumped with the rest of the market, but remained within the short-term consolidation that's been in place since the stock jumped 57% from March 23 to April 9: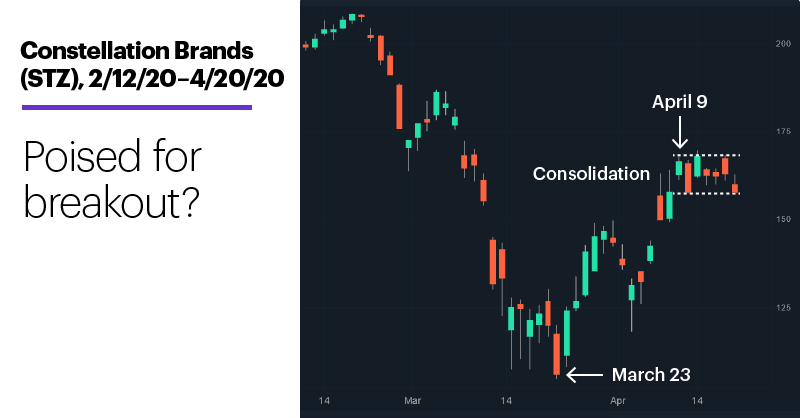 Source: Power E*TRADE
---
Which way now? Short-term traders attempting to gauge whether the stock may break out to the upside or downside (whenever that may occur) may have noticed STZ made an appearance on yesterday's LiveAction scan for high put-call ratios. In early trading put options volume was around three times call volume—a potentially bearish sign, given the stock was also down on the day and pushing toward the bottom of its consolidation.
But a quick check of the options chain showed the big print was in the May 8 puts, and the fact that open interest (the number of unclosed positions) was only six while the volume was 825 meant traders were getting out of positions rather than getting into them:
Source: Power E*TRADE
---
Assuming the buyers who acquired these puts in the first place did so as a bearish bet on the stock (or a hedge on underlying shares), selling them could mean these traders had changed their outlook—which could give more credence to the bullish camp.
That's not the only moving piece here, though. While several factors, including evidence that alcohol consumption tends to be robust during economic downturns,3 could be interpreted as favoring the intermediate- to long-term bullish case, there are still the immediate market dynamics to deal with—namely, a stock that has lost short-term momentum after coming off a very hot run, within the context of a broad market that is also nearing potential resistance. (Fibonacci fans will note STZ topped out last week right around the 61.8% retracement level of its February-March decline.)
Translation: Traders familiar with the market's tendency to shake out "weak hands" whenever possible may look for a "bear trap" to form before another leg of an uptrend occurs—i.e., the stock could break out of the downside of consolidation, shaking out recent buyers and enticing short sellers, then pivot to the upside.
But traps are only traps if you're not expecting them.
Today's numbers (all times ET): Existing Home Sales (10 a.m.).
Today's earnings include: Coca-Cola (KO), Chipotle (CMG), Snap (SNAP), Netflix (NFLX), Texas Instruments (TXN), Philip Morris (PM).
Click here to log on to your account or learn more about E*TRADE's trading platforms, or follow the Company on Twitter, @ETRADE, for useful trading and investing insights.  
---
1 StreetInsider. Constellation Brands (STZ) Tops Q4 EPS by 53c. 4/3/20.
2 Barron's. Corona Beer Maker Constellation Can Grow Even With Brewery Paused, UBS Says.' 4/7/20.
3 Forbes. How The COVID-19 Pandemic Is Upending The Alcoholic Beverage Industry. 4/4/20.
What to read next...
04/20/20
Stocks extend gains as vaccine optimism helps offset more sobering economic data.
---
04/17/20
Surging stocks benefiting from the "lockdown economy" many present opportunities, but they come with risk. Here's how to manage it.
---
04/16/20
Crude weakness, oil field derailment pump up energy stock's option prices.
---