A bullish put development?
APH outpaced the broad market's gains yesterday
Rally came on day with heavy put options volume
Company well-positioned in key growth industries
When a market does something it's not "supposed" to do—sells off on good news, rallies when its cohorts are falling, or sports unusual options trading patterns—it's always a good idea to ask why. The potential answers can sometimes lead to trade ideas you would have otherwise overlooked.
Amphenol (APH), a key player in the not-sexy-but-lucrative field of electronic wiring, sensor, and  connection systems, lit up yesterday for a couple of reasons:
1. It was up in early trading when the Nasdaq 100 (NDX) was still in the red, and later in the day it was up roughly twice as much as the tech index.
2. There was heavy trading in APH put options.
So much volume in APH puts, in fact, that the ticker topped the LiveAction scan for highest put/call ratio yesterday morning: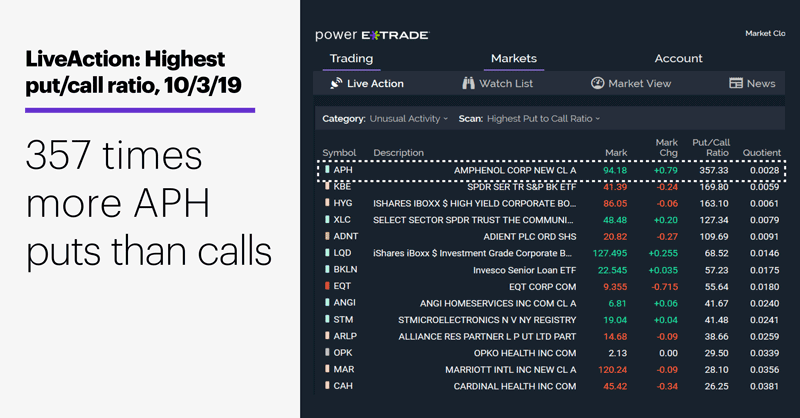 Source: Power E*TRADE
---
At first glance it looked like a contradiction: Bullish stock action combined with seemingly bearish options activity.
High put/call ratios can imply different things depending on the context: an uptick in bearish sentiment if traders are buying puts as protection against a decline, or sometimes a bearish extreme that can signal a potential upside reversal if it occurs after a steep sell-off.
APH's situation yesterday was a bit more nuanced. The bulk of the day's volume took place in the November $85 and $90 puts, both of which had strike prices below the stock price (around $94 at the time), and while 1,100 of each contract traded, the open interest (the number of open options positions) was zero—meaning, someone had gotten out of these options, not into them: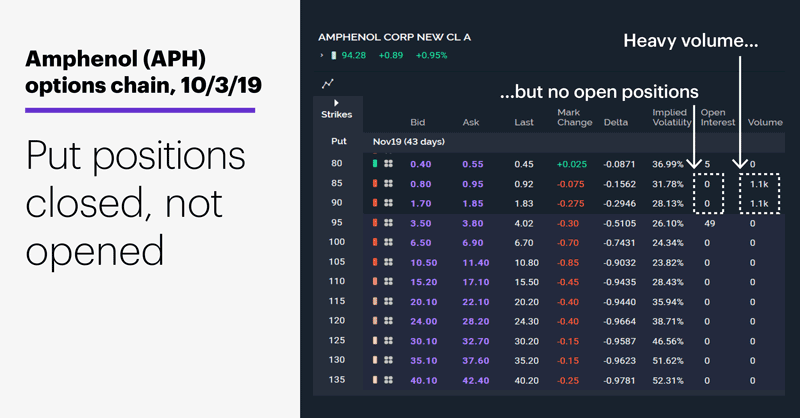 Source: Power E*TRADE
---
That's important, because if a trader was inclined to view heavy put volume as a potentially bearish signal, the absence of open interest would pull the rug out from under that hypothesis, and possibly lead to the opposite conclusion: If traders had previously bought large numbers of puts for protection, their decision to get out of them could potentially be a bullish signal for the stock. So, perhaps APH's price action and options activity weren't so contradictory after all.
After dropping with the rest of the market on Wednesday, APH pushed to the upside yesterday (after making a slightly lower low on the open) while the broad market initially struggled to keep its head above water. Many short-term traders also likely noticed the stock's Wednesday–Thursday lows tested the September 23 pullback low: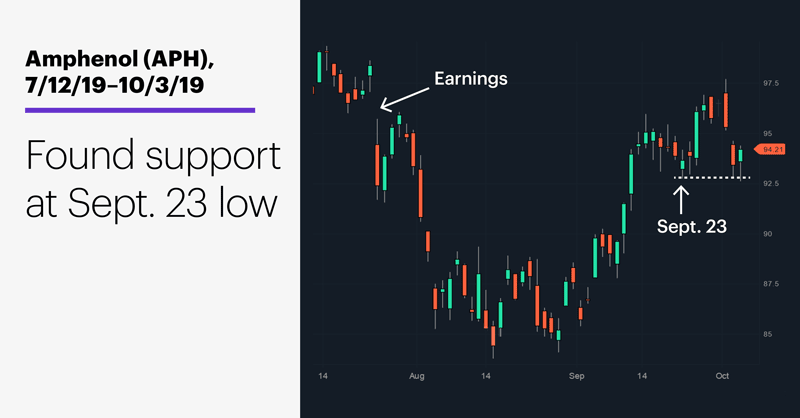 Source: Power E*TRADE
---
Amphenol, which is coming off a three-week, 14% decline following its July 24 earnings miss, has rallied around 12% since its August 15 low. Despite its lack of name recognition, it's received notice recently for being a key player in one growing industry, electric vehicles, as well as others that are already red hot, including aerospace and data communications.1 (It scooped up SSI Control Technologies late last year to boost its footprint in the automotive and industrial markets.)
If the disappearance of large put positions means previously bearish traders had gone over to the bull side, yesterday's APH's high put/call ratio may have given many people an initial impression about the stock that didn't necessarily mesh with what was really happening in the trenches.
Today's numbers (all times ET): Employment Report (8:30 a.m.), International Trade (8:30 a.m.), Baker-Hughes oil rig count (1 p.m.), Jerome Powell Speaks 2 p.m.).
Click here to log on to your account or learn more about E*TRADE's trading platforms, or follow the Company on Twitter, @ETRADE, for useful trading and investing insights.
---
1 TheStreet.com. Amphenol Shaping Up as Surprise Winner of the Electric Vehicle Revolution. 8/1/19.
What to read next...
10/03/19
October's volatile start may mean something very different from what most people think.
---
10/02/19
Will ESG tailwinds help favored stocks reach new heights?
---
10/01/19
Apple moves close to a breakout level amid good press.
---