The bullish case
S&P 500 YTD return eighth–strongest since 1950
Strong first 10 months of year often followed by strong final two
Bearish vibes at highs a bullish signal?
Despite continued rumblings about recessionary pressures, interest-rate uncertainty, and maybe plain-old "The market is too high!" nerves, stocks may have more tailwinds than many people think heading into this year's trading home stretch. Although conditions can change on a dime, three things stand out at the end of October:
●The market's year-to-date (YTD) return bodes well for November and December
●Bearish sentiment near market highs has often been a bullish signal
●Certain sectors have outperformed in Q4 in recent years
First, with the S&P 500 (SPX) on track to close out October with a YTD gain in excess of 20%, some people may be inclined to assume that an exceptionally big January–October rally could lead to a pullback (or at least some stagnation) toward the end of the year. Historically, though, that hasn't been the case.
Since 1950, there have been only seven other years with 20% or higher YTD returns through October. But in every one of these years the S&P 500 (SPX) gained additional ground from October 31 through December 31, and the average November–December return was 6.2%—twice as much as the average gain for those two months: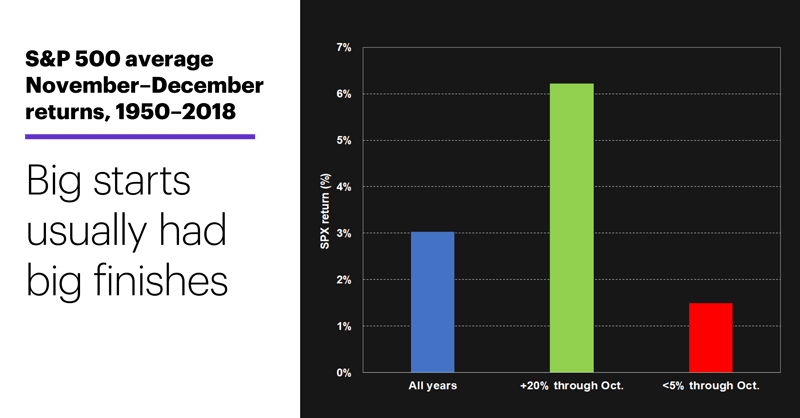 Data source: Power E*TRADE
---
Compare that to years with relatively weak YTD returns through October (like last year, in case you've forgotten). For the 31 years since 1950 that the SPX gained 5% or less (or lost ground) through October, the average November–December return was only 1.5%, and it was actually negative in 11 of those years.1
Add to that the fact that even though the SPX and the Nasdaq 100 (NDX) recently pushed to new record highs, there have been indications that the investing public is less than enthusiastic about the market and the economy. For example, Tuesday's Consumer Confidence number declined for the third-straight month, and more survey participants expected the market to fall rather than rise over the next year. But according to analysis by Bespoke Investment Group, such bearish sentiment accompanying a new market high has been followed by the market being even higher one year later eight out of eight times since 1987.2
Finally, if the past decade is any guide, traders may be focusing on some sectors more than others. Financials (see "Pricing a pullback"), industrials, and materials (see "A material difference") have each posted average Q4 gains of more than 6% over the past 10 years.3 As of yesterday, financials were the third-strongest SPX sector over the past 30 days, with industrials and materials checking in at the 5 and 6 spots, respectively—three of the six sectors with positive returns.
While some high-profile industrial stocks have missed their earnings estimates this cycle, the following chart shows a somewhat under-the-radar name, Illinois Tool Works (ITW), which exploded out of a trading range after releasing its numbers last week: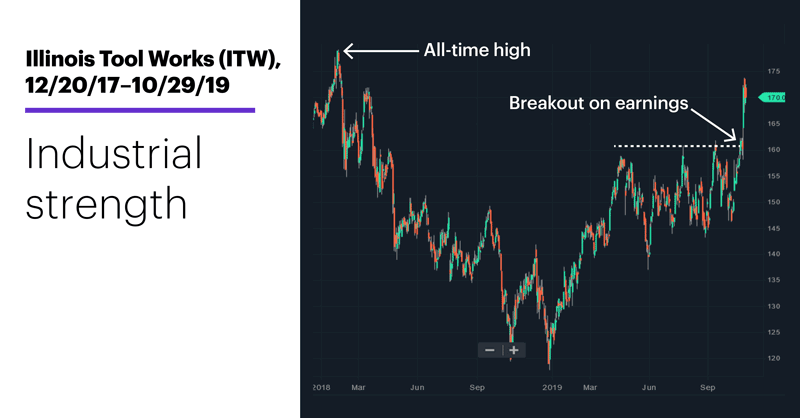 Source: Power E*TRADE
---
As of yesterday, ITW was less than $10 from its record high around $179—a target some traders may have in their sights, albeit with the expectation that the stock could very well pull back (and possibly test its breakout level) before accomplishing that feat.
But getting back to the big-picture considerations for the remainder of the year, while many short-term traders pride themselves on being contrarians, in this case the lesson may be "contrarian beware:" In terms of the US stock market's returns through October, and their implications for the remainder of the year, strength seems to have historically begotten more strength, and weakness more weakness.
Today's numbers (all times ET): Personal Income and Outlays (8:30 a.m.), Employment Cost Index (8:30 a.m.), Chicago PMI (9:45 a.m.), EIA Natural Gas Report (10:30 a.m.).
Today's earnings include: Altria (MO), Archer Daniels Midland (ADM), Arista Networks (ANET), Spirit AeroSystems (SPR), Bristol-Myers Squibb (BMY), Bio Rad Laboratories (BIO), Dunkin' Brands (DNKN), Clorox (CLX), Celgene (CELG), United States Steel (X), Kraft Heinz (KHC), Eagle Materials (EXP), Global Payments (GPN), Pinterest (PINS).
Click here to log on to your account or learn more about E*TRADE's trading platforms, or follow the Company on Twitter, @ETRADE, for useful trading and investing insights. Online stock, ETF, and options trades1 are now commission-free.
---
1 Supporting document available upon request. Based on S&P 500 (SPX) monthly price data, January 1950 through December 2018.
2 Barron's. The S&P 500 Hit a Record High. Investors Are Bearish. That's a Recipe for More Gains. 10/30/19.
3 CNBC.com. Dow drops to start Q4, but there's a historical case to remain bullish on stocks in final trading quarter. 10/1/19.
What to read next...
10/30/19
Fast food chain breaks support, options drop in price.
---
10/29/19
Streaming tech stock appeared to bring back traders who may have previously "cut the cord."
---
10/28/19
A key week opens with the Nasdaq 100 coming off a new record high and the S&P 500 as close as it's been in three months.
---