The bull and the bear of it
CRSP broke out of range Friday
Monday's earnings surprised to the downside
Stock retreated back into trading range yesterday
If you wanted a snapshot of the high-flying world of biotech stocks, the following chart of gene-editing company CRISPR Therapeutics (CRSP) would probably do the trick: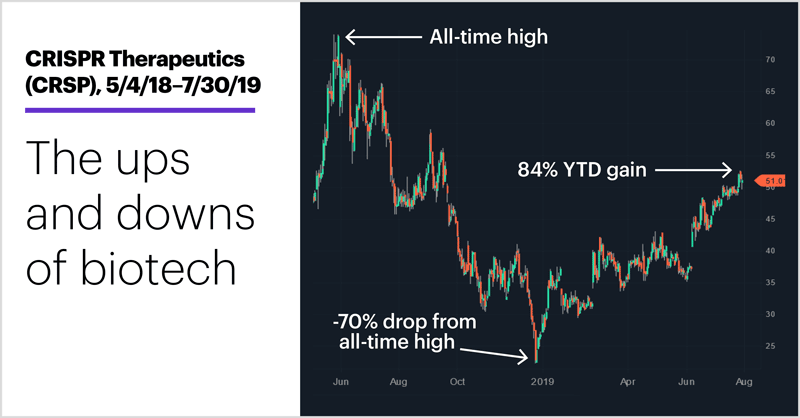 Source: Power E*TRADE
---
The stock, which staged a mighty rally (+215%) in early 2018 to hit a record high of $73.90 in May of last year, also outdid the market to the downside in the second half. By December, CRSP shares had given back every penny of their 2018 rally (plus a few more), ultimately bottoming around $22.
Of course, the chart also shows the stock had rallied 84% this year went it hit $52.50 on Monday, which happened to be the day CRSP released its quarterly numbers. More on those in a minute.
In a way, CRSP represents the edge of the cutting-edge of biotech. It specializes in the technology ("Clustered Regularly Interspaced Short Palindromic Repeats"—CRISPR) that allows people in white lab coats to physically edit DNA in much the same way we can edit typos in a text document—cut out the bad letters and paste in the good ones. The dream: Cure genetic diseases and other inheritable maladies by fixing the DNA "typos" causing them. Sci-fi stuff, at least to those of us who don't wear white lab coats at work.
If prices quickly fall back into a trading range they've just broken out of, it may be a sign that bullish momentum is weaker than anticipated.
The technology is still a ways from delivering mass-market therapies, though, which is why CRSP and other companies in this space have generally posted quarterly losses, even though their stocks have sometimes rocketed higher. It's about future potential, not current profits.
The earnings CRSP released on Monday were typical, in that sense—a loss of $1.01/share, which was larger than the year-ago loss and also exceeded estimates of -$0.81/share.1 So, while the loss itself was not a surprise, its magnitude was.
The following chart shows the stock had had established a 12-day trading range before breaking out in dramatic fashion last Friday. On Monday, despite the worse-than-expected numbers, CRSP pushed to a higher high but reversed to close down on the day, and followed through yesterday with an intraday down move that dropped the stock back into the trading range: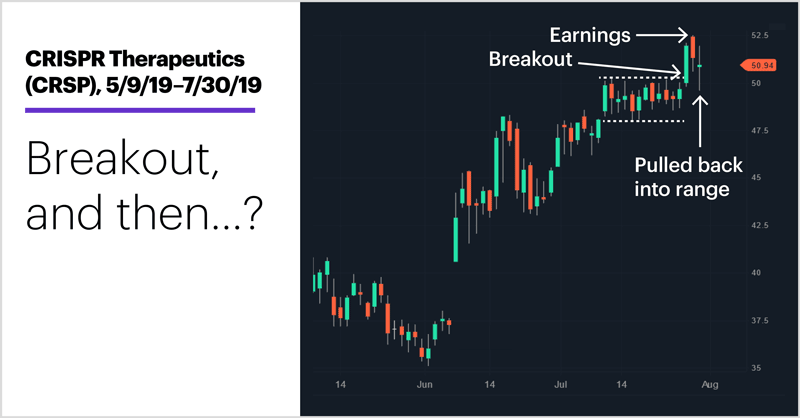 Source: Power E*TRADE
---
There are pattern traders who, looking at this chart, may think "bull trap""—that is, an upside breakout that draws in momentum buyers, but quickly reverses and potentially produces a sharp down move fueled by longs trying to get out of the market.
All else being equal, traders typically expect an upside trading range breakout in an rallying stock to be followed by another extension of the up move. If the stock instead quickly falls back into the range, it can be seen as a sign that bullish momentum may be weaker than anticipated, which may not be too surprising in, say, a stock that has already mounted an impressive rally, and has just missed its numbers.
In this case, as of yesterday, CRSP had only dipped into its previous range on an intraday basis. The next couple of days, though, could signal whether that move was just a pullback or a bull trap.
With volatility can come opportunity—if you're prepared, and manage your risk accordingly.
Today's numbers: ADP Employment Report (8:15 a.m.), Employment Cost Index 8:30 a.m.), Chicago PMI (9:45 a.m.), EIA Petroleum Status Report (10:30 a.m.), FOMC meeting announcement (2 p.m.).
Today's earnings include: Apache (APA), Baker Hughes (BHGE), Spirit AeroSystems Holdings (SPR), Molson Coors Brewing (TAP), Global Blood Therapeutics (GBT), CME Group (CME), General Electric (GE), Occidental Petroleum (OXY), Lam Research (LRCX), Garmin (GRMN), Genomic Health (GHDX), Humana (HUM), Qualcomm (QCOM), SkyWest (SKYW), KBR (KBR), Twilio (TWLO), Tableau Software (DATA).
Click here to log on to your account or learn more about E*TRADE's trading platforms, or follow the Company on Twitter, @ETRADE, for useful trading and investing insights.
---
1 Zacks Equity Research. CRISPR Therapeutics AG (CRSP) Reports Q2 Loss, Lags Revenue Estimates. 7/29/19.
What to read next...
07/30/19
Surging financial stock gets unusual interest from options traders.
---
07/29/19
Earnings season still in overdrive as closely watched interest-rate announcement looms.
---
07/26/19
Stock's intraday rally-and-dump highlights potential mood change regarding earnings.
---