Bulls, bears wage epic slugfest
Stocks swing, Treasuries soar, Fed slashes rates
Gold jumps again, jobs report kills it
This week: Inflation data, warm-up for Fed meeting
Did that feel like an up week to you?
Given the market's eye-popping day-to-day price swings, for a lot of people the answer is probably an emphatic "no." But when the closing bell rang Friday, the S&P 500 (SPX) was 0.6% higher than it had been a week earlier, despite losing ground three days out of five.
For those keeping score at home, the SPX's daily returns were a whiplash-inducing +4.6%, -2.8%, +4.2%, -3.4%, and -1.7%. And if Friday's return doesn't appear to qualify for "whiplash" status, think again: The SPX was down 4% less than an hour before the closing bell, staging a furious 2.4% rally to close the week in the green: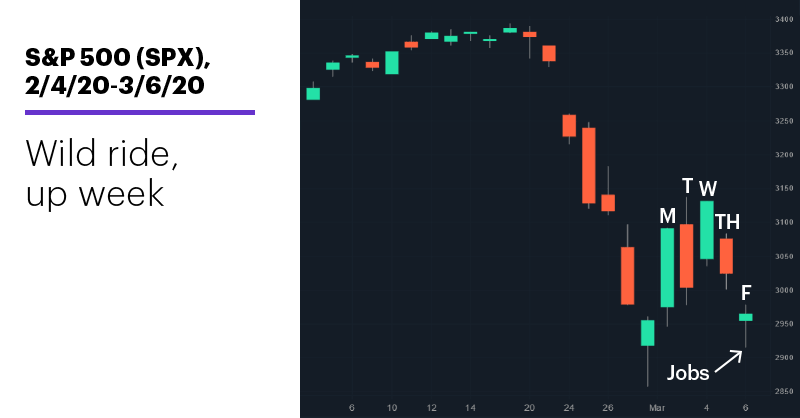 Source: Power E*TRADE
---
The headline: Fed cuts rates to soften coronavirus blow, but hits kept coming.
The fine print: Australia and Canada also lowered their overnight lending rates, and the CME FedWatch tool is currently predicting another cut from the March 18 FOMC meeting.1
The move: +5.8%, the S&P 500 health care sector's rally on Wednesday after Joe Biden became the Democratic presidential frontrunner on Super Tuesday.
The number: 273,000—the number of jobs the US economy added in January, which blew past estimates. Also, the unemployment rate ticked back down to 3.5% and the December new jobs number was revised up, from 225,000 to 273,000.2
The quote: "[V]eterans of the Street usually spend long intervals of repose at their comfortable homes, and in times of panic, which recur sometimes oftener than once a year, these old fellows will be seen in Wall Street, hobbling down on their canes to their brokers' offices. [T]hen they always buy good stocks to the extent of their bank balances[.]" Author and financier Henry Clews, writing in 1888.3
The scorecard: Three of four major US indexes notched gains for the week, although all are still in the red for the year:

Source: Power E*TRADE
---
Sector roundup: The strongest S&P 500 sectors last week were utilities (+7.9%), consumer staples (+6.2%), and health care (+5%). The weakest sectors were energy (-7.3%), financials (-4.1%), and industrials (-1.6%).
Highlight reel: On Monday, Forty Seven (FTSV) jumped 62% to $93.91, while Calavo Growers (CVGW) fell 24% to $55.22.
Futures action: April crude oil (CLJ0) fell out of bed on Friday, sliding more than 10% to a new contract low of $41.05/barrel before closing slightly higher. On the same day, April gold (GCJ0) hit a new contract high of $1,692.80, closing around $1,674.50—up more than $90 for the week. March 10-year T-notes (ZNH0) wrapped up last week at another contract high of 137-42—after trading as high as 138.48—as investors flooded into Treasuries for protection. Yields dropped to multiple record lows throughout the week.
Coming this week
For those who can pry their eyes away from you-know-what, inflation and consumer sentiment data highlight this week's economic calendar:
●Monday: Employment Trends Index
●Tuesday: NFIB Small Business Index
●Wednesday: Consumer Price Index (CPI),
●Thursday: Producer Price Index (PPI)
●Friday: Import Price Index, Consumer Sentiment
The week's earnings include:
●Monday: Casey's General Stores Inc (CASY), Calavo Growers Inc (CVGW), Stitch Fix Inc (SFIX), Thor Industries Inc (THO)
●Tuesday: Dick's Sporting Goods Inc (DKS), Momo Inc (MOMO), PetIQ Inc (PETQ)
●Wednesday: Monarch Casino & Resort Inc (MCRI), Semtech Corp (SMTC)
●Thursday: 58.com Inc (WUBA), Adobe Inc (ADBE), Ulta Beauty Inc (ULTA), Broadcom Inc (AVGO), Oracle Corp (ORCL), Dollar General Corp (DG), DocuSign Inc (DOCU), Jabil Inc (JBL), Slack Technologies Inc (WORK)
●Friday: Buckle Inc (BKE)
Go to the E*TRADE market calendar (login required) for an up-to-date earnings schedule and a complete list of splits, dividends, IPOs, and economic reports. The Active Trader Commentary also lists earnings announcements, IPOs and economic report times each morning.
What's the VIX saying? If you're looking to put the recent market volatility in context, you can do worse than to consult the Cboe Volatility Index (VIX), the widely watched "fear gauge" based on the implied volatility of S&P 500 (SPX) options.
The VIX generally moves inversely to the stock market, declining as the market rallies and spiking higher during sell-offs. The higher the VIX, the higher the implied volatility level—and the higher the perceived fear level.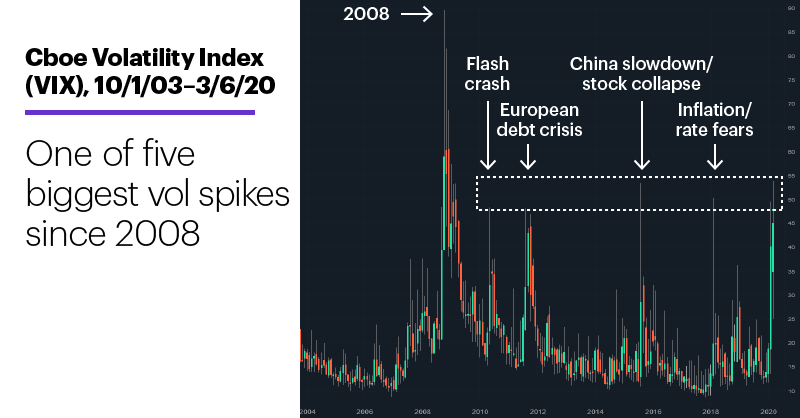 Source: Power E*TRADE
---
This monthly VIX chart shows the coronavirus scare (far right) has pushed the fear gauge higher than it's been since the 2008–2009 financial crisis, and into a zone it has reached four other times over the past decade: May 2010 (the "flash crash"), August 2011 (European debt crisis), August 2015 (Chinese "hard landing" fears and stock market collapse), and February 2018 (fears of an overheating economy and higher interest rates).
In each case, the SPX fell at least 10% from its "pre-crisis" high, and in each case the VIX extremes occurred at or near the market's ultimate low, which sometimes occurred days or weeks after the initial sell-off.
In other words, despite what it may feel like in the moment, we're not in uncharted territory here. Of course, that's not to say the VIX has already topped and the market has put in a long-term bottom (after all, as of Friday the SPX still hadn't tested the February 28 low). After the February 2018 sell-off, for example, the market rebounded to new all-time highs before selling off to an even lower low in December—while making a much less extreme VIX high—after which it rallied to this year's record high.
But it is a reminder that in the markets, all things—good and bad—eventually run their course. And many traders keep a close watch on the VIX to tell them when fear and volatility could be reaching levels that indicate a potential reversal.
Click here to log on to your account or learn more about E*TRADE's trading platforms, or follow the Company on Twitter, @ETRADE, for useful trading and investing insights.
---
1 CME FedWatch Tool. Target Probabilities for 18 Mar Fed Meeting. 3/4/20.
2 Briefing.com. February Nonfarm Payrolls. 3/6/20.
3 The Cosmopolitan, Volume 5. How to Make Money in Wall Street. March-October 1888.
What to read next...
03/06/20
Airlines have led the market to the downside during the coronavirus scare. Can they lead it back up?
---
03/05/20
There may be more than one way to play potentially overdone market swings.
---
03/04/20
What did Monday's mega-bounce say about the market's odds of a quick rebound from the coronavirus sell-off?
---