Broken records
Small-caps rock, tech rolls despite Friday sell-off
Gold tops $2,000, pads record run
This week: Stimulus talk, US–China watch, retail sales
Friday's tech-led stumble aside, US stocks are coming off a record-breaking week:
●The Nasdaq 100 (NDX) hit new all-time highs Monday–Thursday.
●The Nasdaq Composite (COMPX) topped 11,000 for the first time.
●Gold topped $2,000/ounce for the first time and hit new highs every day.
But it was a different kind of record—the broken record of US–China hostilities—that dominated market attention late last week. Although the market posted its fifth up week in the past six, stocks wobbled on Friday as geopolitical worries appeared to overshadow a stronger-than-expected jobs report. The NDX fell more than 1% but the SPX scratched back to breakeven by the end of the day: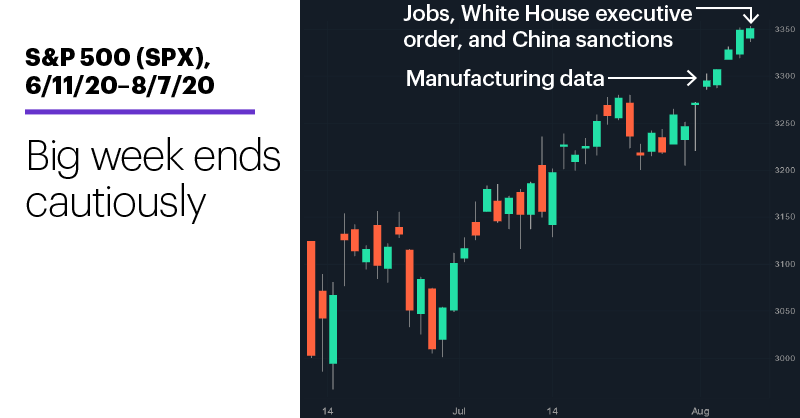 Source: Power E*TRADE
---
The headline: Tech, gold, scale new heights as jobs rebound, but US-China relations nosedive.
The fine print: Several market forces were at work on Friday besides the employment numbers. The White House banned transactions with Chinese companies ByteDance and Tencent (the respective parent companies of social-media apps TikTok and WeChat),1 then sanctioned Hong Kong chief executive Carrie Lam and 10 other Chinese nationals. Throw in fairly high expectations for the jobs report, and a market that had closed higher five days in a row, and you have a recipe for mixed trading.  
The numbers: 1.76 million, the number of jobs the US economy added in July, well above the consensus estimate of 1.48 million; unemployment ticked lower to 10.2%. Monday's US manufacturing numbers also topped expectations.
The scorecard: The small-cap Russell 2000 (RUT) led the market last week, pushing to its highest level since February 26 and trimming its year-to-date loss to single digits:
Source (data): Power E*TRADE
---
Sector roundup: The strongest S&P 500 sectors last week were industrials (+4.7%), financials (+3.2%), and energy (+3.1%). The weakest sectors were real estate (+0.6%), health care (+0.8%), and utilities (+1%).
Highlight reel: On Monday ADT (ADT) soared 57% to $13.48, while Vapotherm (VAPO) slid 38% to $32.73 on Wednesday.
Futures action: Precious metals continued to dominate futures trading, as gold topped $2,000/ounce for the first time and silver hit a six-and-a-half-year high. October gold (GCV0) tagged $2,078 early Friday before closing at $2,018. After jumping as high as $43.52 on Wednesday, September WTI crude oil (CLU0) retreated to $41.22 by Friday.
Last week's biggest futures up moves: September natural gas (NGU0) +25.1%, September silver (SIU0) +16.2%, September lumber (LBSU0) +10.5%. Last week's biggest futures down moves: August milk (DCQ0) -7.8%, September wheat (ZWU0) -6.7%, September hard red wheat (KWU0) -6.1%.
Coming this week
US-China tensions and Federal stimulus negotiations will loom large this week, but there's plenty of action on the economic calendar, especially on Friday:
●Monday: JOLTs (Job Openings)
●Tuesday: NFIB Business Optimism Index, Producer Price Index (PPI)
●Wednesday: Consumer Price Index (CPI)
●Thursday: Jobless Claims, Import and Export Prices
●Friday: Retail Sales, Productivity and Labor Costs (Q2 prel.), Industrial Production and Capacity Utilization, Michigan Consumer Sentiment (prel.), Business Inventories
Earnings this week include:
●Monday: Biohaven Pharmaceutical (BHVN), ON Semiconductor (ON), Douyu International (DOYU), Tencent (TME), Qualys (QLYS), Tilray (TLRY), Marriott International (MAR), Sohu.com (SOHU), Workhorse (WKHS)
●Tuesday: Advance Auto Parts (AAP), Sysco (SYY), Shockwave Medical (SWAV), K12 (LRN)
●Wednesday: Jumia Technologies (JMIA), ZTO Express (ZTO), SpartanNash (SPTN), Cisco Systems (CSCO), Revolve (RVLV), Macy's (M), LYFT (LYFT), Lemonade (LMND)
●Thursday: Applied Materials (AMAT), Alibaba (BABA), Baidu (BIDU), Dillard's (DDS), IQIYI (IQ)
●Friday: DraftKings (DKNG)
Go to the E*TRADE market calendar (login required) for an up-to-date earnings schedule and a complete list of splits, dividends, IPOs, and economic reports. The Active Trader Commentary also lists earnings announcements, IPOs and economic report times each morning.
Partying like it's 1999?
The tech rally that was in full force through the first week of August (despite Friday's dip) may be on the verge of triggering a superlative shortage. Epic, record-breaking, red-hot, stratospheric—what's left to say? The Nasdaq 100 (NDX)—the US tech benchmark—hasn't just disregarded the COVID-19 market downturn, it's seemingly developed a full-blown case of amnesia about it. Consider:
●The NDX's 27.55% return through Friday was the tech index's best showing at this point in the year since 2009, and its sixth-best since 1985.
●In fact, if the year had ended on Friday, 2020 would have been the NDX's 11th-best year on record.
●The NDX's 61% rally from March 20 to last Thursday (August 6) was the index's biggest 96-day gain in more than 20 years—since April 2000. Also, it was bigger than 99% of all other 96-day NDX rallies since 1985, and the 1% that were bigger all occurred in 1999 or 2000.2
The last bullet may trigger a few stomach flutters, since the dot-com bubble was in the process of bursting in April 2000, even if no one knew it at the time. Although it can't be stressed enough that the NDX today is much different from what it was in 2000 (when many of the stratospheric rallies were in "tech" stocks that consisted of little more than a website and a prayer), there's no denying that the past five months have been exceptional, no matter how you analyze it.
That bullish exceptionalism has taken place during a period of unprecedented economic stress. While the stock market certainly tends to lead the economy, that doesn't mean its "forecast" at any given moment is an accurate reflection of events on the ground. With so much uncertainty still surrounding the economy's rebound from the COVID crisis, level-headed traders will remember that even the biggest trends have interruptions, and volatility cuts both ways.
Click here to log on to your account or learn more about E*TRADE's trading platforms, or follow the Company on Twitter, @ETRADE, for useful trading and investing insights.
---
1 The Wall Street Journal. Trump Executive Orders Hit TikTok, WeChat Apps. 8/7/20.
2 Reflects Nasdaq 100 (NDX) daily prices, 10/1/85–8/7/20. "96-day move" reflects the percentage change from the close of the most recent day to the close 96 trading days earlier. Supporting document available upon request.
What to read next...
08/07/20
Specialty cloud-tech stock coils near key resistance as options traders enter the fray.
---
08/06/20
Respiration technology stock gets wind knocked out of it, traders pause to catch breath and assess situation.
---
08/05/20
Mattress company's investors have probably rested comfortably lately, but the market may have set off an alarm.
---