More breathing room for high-flyer?
VAPO tumbled more than 40% Wednesday—after beating earnings
Medical tech firm had rallied nearly 700% since March
Stock approached converging support levels
Medical tech company Vapotherm (VAPO) came into earnings season on a roll. By late last week, the stock had rallied nearly 700% off its March low, and had more than doubled since it last reported numbers on May 5.
After the bell on Tuesday, VAPO hit the Street with the following data:
1. Earnings topped estimates (-$0.35 vs. -$0.39).             
2. Revenues also topped forecasts ($35.2 million vs. $33.47 million).
3. The company offered better-than-expected Q3 guidance.1
The Street's reward? The stock tumbled more than 40% yesterday, retracing 50% of the rally off its March bottom: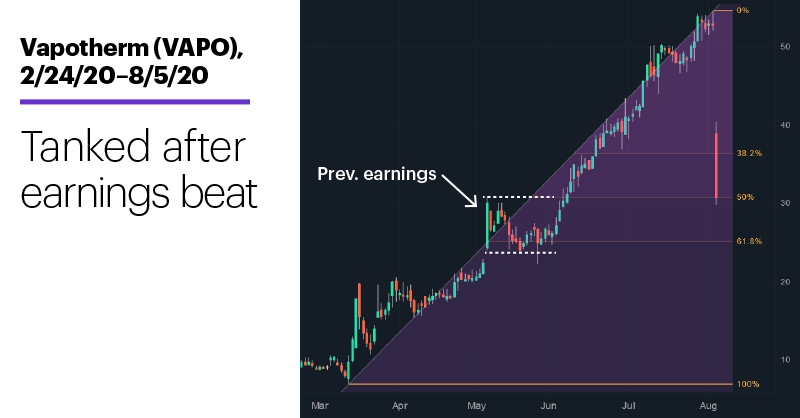 Source: Power E*TRADE
---
Although you can never be sure of what you don't know in the markets, apparent head-scratchers like these sometimes occur when massive rallies fuel unrealistic expectations—i.e., VAPO's earnings topped expectations, but perhaps not enough to satisfy investors who were expecting something that could rationalize another five-month, 690% rally? In other words, sometimes stocks get temporarily overbought, no matter how bright their long-term outlook may be.
Nonetheless, prudent traders who avoid chasing incredibly hot markets—precisely because of days like the one VAPO experienced yesterday—tend to look closely when huge potential discounts suddenly materialize out of thin air. Of course, they need a reason to believe a stock won't drop forever, as well as an idea of where it may bottom, at least in the near-term.
Regarding the first point, some traders may feel that, just as VAPO's recent rally may have been overextended, its drop also may be overdone (or getting close to it). Others may also see the potential in the company's market strength—VAPO specializes in respiratory tech that, among other things, helps patients breath without having to wear an oxygen mask and shortens their hospital stays—a niche that may have had something to do with the stock's exceptional rally as COVID became the dominant global health issue. (By the way, even after yesterday's plunge, the average analyst price target for VAPO was $49.502—almost 60% higher than the stock's price around 2 p.m. ET.)
Although prices don't have to pivot near these support levels, they allow traders to clearly define their risk relative to their expected reward.
On the second point, traders may notice that the support implied by the top and bottom of the May–June consolidation/pullback (the horizontal dashed lines on the chart) are close to the 50% and 61.8% Fibonacci retracement levels. Technicians tend to look for situations in which different signals "confirm" each other by aligning in this fashion.
These traders understand this doesn't mean prices will pivot near such levels, just that these points represent places at which they can clearly define their risk (i.e., a move below expected support is typically seen as a signal to abandon long trades at that level) relative to their expected reward.
A final note on options: Bullish traders who may think about buying calls or selling puts in this type of situation should be aware that VAPO's option market isn't deep, and its bid-ask spreads are often quite wide. Operate carefully.
Market Mover Update: Another stock that recently sold off dramatically and tested support just rallied to an all-time high: Renewable Energy Group (REGI) hit a new intraday record of $33.15 yesterday, up 44% since June 25 (see "Puts rock on news shock"). LivePerson (LPSN) surged more than 20% yesterday to a new all-time high in the wake of a big earnings beat; the stock has gained more than $140% since April 24 (see "Right place at the right time?").
And yes, gold hit yet another record high yesterday—its second-straight day above $2,000/ounce—but as noted in this space once or twice recently, silver continued to lead the precious-metals charge. As of yesterday morning, silver had rallied more than three times as much as gold since last Thursday, and platinum had gained twice as much: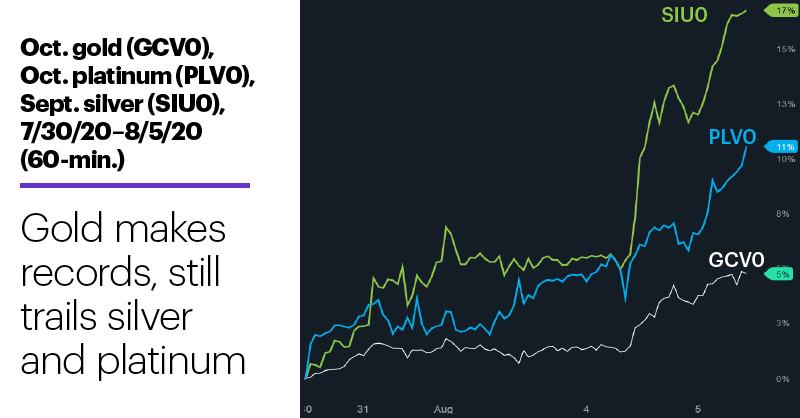 Source: Power E*TRADE
---
Today's numbers (all times ET): Challenger Job-Cut Report (7:30 a.m.), Jobless Claims (8:30 a.m.).
Today's earnings include: Bristol-Myers Squibb (BMY), Paylocity (PCTY), Eastman Kodak (KODK), Trade Desk (TTD), Editas Medicine (EDIT), First Solar (FSLR), Zillow (ZG), ViacomCBS (CBS), T-Mobile (TMUS), Yelp (YELP), Uber (UBER), Motorola Solutions (MSI).
Click here to log on to your account or learn more about E*TRADE's trading platforms, or follow the Company on Twitter, @ETRADE, for useful trading and investing insights.  
---
1 StreetInsider.com. Vapotherm (VAPO) Tops Q2 EPS by 4c, Revenues Beat; Offers 3Q Revenue Guidance Above Consensus. 4/21/20.
2 TipRanks. Vapotherm Price Target & Analyst Ratings. 8/5/20.
What to read next...
08/05/20
Mattress company's investors have probably rested comfortably lately, but the market may have set off an alarm.
---
08/04/20
Streaming content provider faces its first test since last month's earnings release.
---
08/03/20
Technology shares bounce back as traders digest GDP and eye this week's jobs report.
---