Breakout signals and volatility realities
NVCR options volatility at highest level on record
Stock fell more than 75% from 2021 highs
Shares stuck in trading range for most of 2022
While the word "volatility" is often used as shorthand for "falling prices," it simply refers to the amount of price movement in a particular market, regardless of direction. Investors may argue that a 10%, one-day decline in one of their stocks is something quite different than a 10% rally, but in terms of volatility, they represent the same thing.
It's particularly important to keep in mind that non-directional aspect of volatility when the options market appears to be implying a stock has the potential to make a big move. On Tuesday, for example, NovoCure (NVCR) had one of the biggest week-over-week implied volatility (IV) increases (+34.95%), and the second-largest 30-day IV overall (158.48):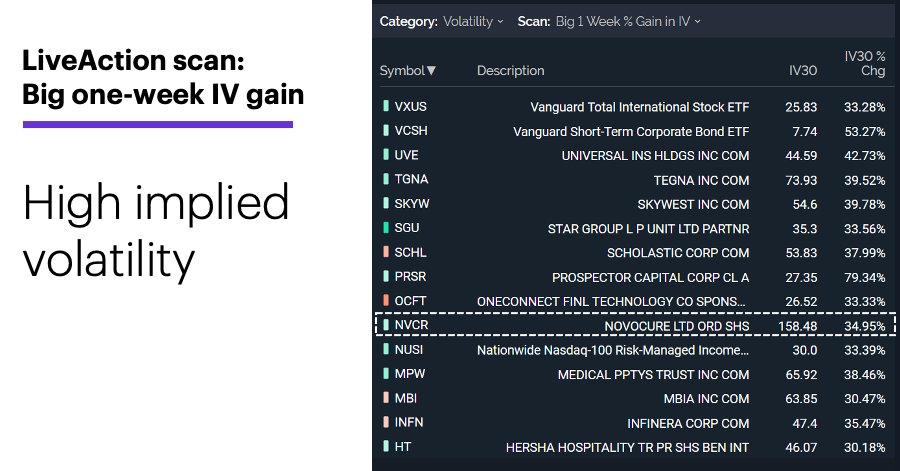 Source: Power E*TRADE. (For illustrative purposes. Not a recommendation.)
---
Since IV represents the options market's estimate of how much the stock will move in the future (in this case, 30 days), there are two things to keep in mind:
1. The options market could be wrong.
2. Even if the options market is correct, IV doesn't represent a forecast of whether the underlying stock will move up or down.
NovoCure's high IV may have been especially interesting (or puzzling) to some traders, since the stock's actual price movement—i.e., its historical volatility (HV)—has been relatively muted for most of this year: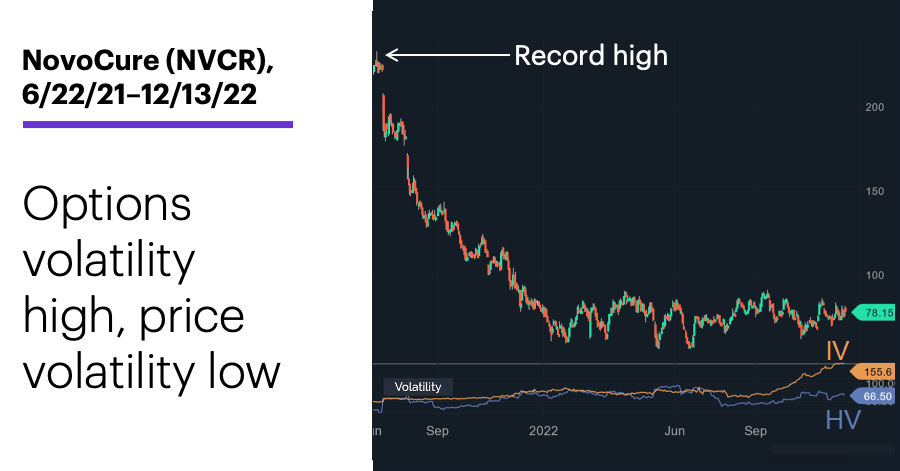 Source: Power E*TRADE. (For illustrative purposes. Not a recommendation.)
---
After an inarguably "volatile" second half of 2021, when prices fell 68% from their all-time high above $232 to around $75, NVCR has spent 2022 in consolidation mode, ranging between roughly $56–$90. But as the chart shows, IV is twice as high as HV, and is at its highest level not just since last June, but since the stock began trading in 2015.
So, why does the options market appear to be forecasting a big move in a stock that has traded sideways for nearly a year? NovoCure, an oncology company, is expected to announce the results of Phase-III clinical trials of its tumor-treating field (TTF)—an electromagnetic field used to disrupt cancers—in early 2023.
Prometheus Bioscience's (RXDX) two-day, 225% rally last week highlights the type of price move that can occur after the release of clinical trial results. So does Mirati Therapeutics' (MRTX) four-day, 55% sell-off, which extended into this week.
Those are the realities traders and investors should be aware of when assessing what volatility is saying about a market's potential price action.
Today's numbers include (all times ET): Mortgage applications (7 a.m.), Import and Export Prices (8:30 a.m.), Atlanta Fed Business Inflation Expectations (10 a.m.), EIA Petroleum Status Report (10:30 a.m.), FOMC interest rate announcement (2 p.m.).
Today's earnings include: Lennar (LEN), RCI Hospitality Holdings (RICK).
Click here to log on to your account or learn more about E*TRADE's trading platforms, or follow the Company on Twitter, @ETRADE, for useful trading and investing insights.
---
What to read next...
12/13/22
Apparel retailer's options show why what happens after earnings can be just as interesting as what happens before.
---
12/12/22
Stocks pull back as traders await final Fed meeting—and CPI report—of the year.
---
12/09/22
Bears appeared to tighten their grip on the oil market on Thursday, but looks can be deceiving.
---