Breakouts and butterflies
SBUX recently consolidated near its 20-month low
Volatility moderate, earnings due in May
Highlights pros/cons of tweaking basic non-directional spread
Many traders and investors dream of having a strategy or portfolio that can make money "no matter what happens," but the operative word here is dream. There are no rewards without risks, no foolproof strategies.
Non-directional options strategies like straddles and strangles are a good example. Recent activity in Starbucks (SBUX) highlights some of their limitations, but also adjustments that may improve their performance in some situations.
Starbucks (SBUX) fell around 32% from its January high to its March low of $79.29—as low it had been since August 2020. After a three-week bounce, the stock sold off again and consolidated just above those lows: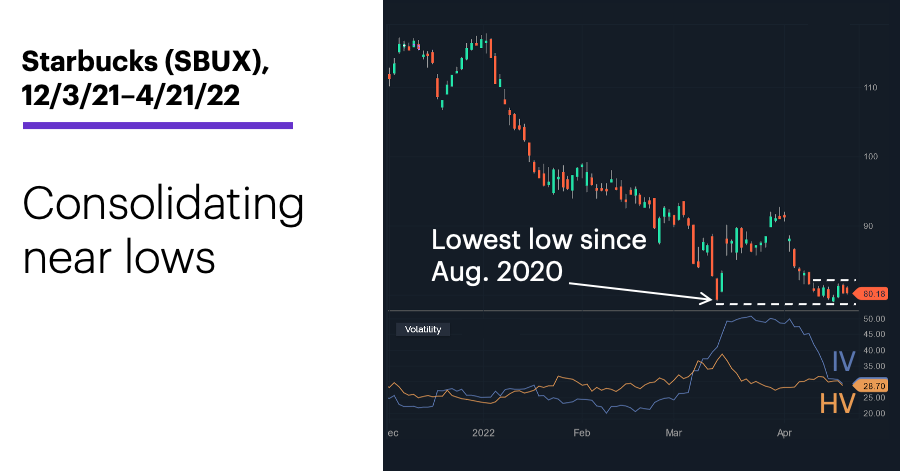 Source: Power E*TRADE. (For illustrative purposes. Not a recommendation.)
---
With earnings on the horizon (no date yet, but likely next month), it's fair to say that many traders think SBUX will embark on a new trend in the not-too-distant future—some may expect it to rally off its lows, while others may be looking for another downswing.
But what about traders who just expect renewed price momentum—period? That's where straddles and strangles usually enter the conversation. A long straddle combines a long at-the-money (ATM) call with a long ATM put. The call can profit if the stock rallies, while the put can profit if it falls. The strangle uses the same logic, but uses out-of-the-money (OTM) options.
Sounds great, but the catch is that the stock has to—at a minimum—move enough to cover the combined cost of the two options, both of which will be losing value over the course of the trade because of time decay. So, while straddle and strangle traders may be neutral about price direction, they're long volatility. That implies two things:
1. They may be able to improve their odds by avoiding options with already-high implied volatility (IV) and focusing on those with low IV. (After all, if you're buying volatility, it's better to buy it low and sell it high.)
2. They need to allow enough time for the stock to make its move—that is, they can't buy options that expire too soon.
Another way to potentially offset the weaknesses of a long straddle is to add short options. Thursday morning when SBUX was trading around $80, a June 3 $80 straddle (long the $80 call and put) was trading for around 7.00 ($700). That means the stock would have to rally to above $87 or below $73 for the position to begin to profit. Adding a short OTM call and a short OTM put to the straddle creates the position commonly known as the "iron butterfly:"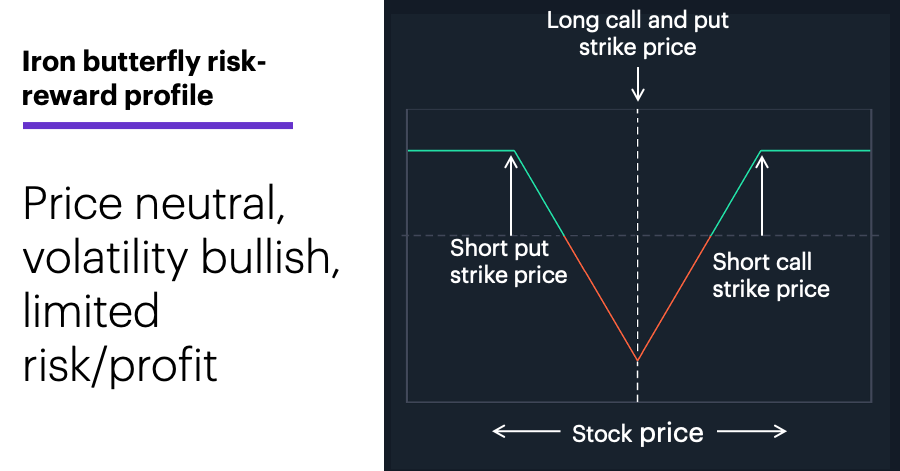 Source: Power E*TRADE. (For illustrative purposes. Not a recommendation.)
---
For example, adding a short $90 call and a short $70 put to the long $80 straddle would create an iron butterfly that was around 15% cheaper than the straddle ($596 vs. $705), with the same profit potential on any stock move up to $90 or down to $70. Another way of looking at it: SBUX would have to rally only to $85.96 or $74.04 for the butterfly to hit breakeven (minus commissions).
Of course, if the stock rallied above $90 or fell below $70, the long straddle could continue to profit, but the iron butterfly wouldn't. But for traders with focused price targets and time horizons, sacrificing potential upside for less risk is sometimes worth it.
Today's numbers include (all times ET): PMI Composite Flash (9:45 a.m.).
Today's earnings include: American Express (AXP), Schlumberger (SLB), Verizon (VZ), Kimberly-Clark (KMB), Cleveland-Cliffs (CLF), Newmont (NEM).
Click here to log on to your account or learn more about E*TRADE's trading platforms, or follow the Company on Twitter, @ETRADE, for useful trading and investing insights.
---
What to read next...
04/21/22
Legging into spreads carries unique risks, but in certain situations it may also give traders more flexibility.
---
04/20/22
Put volume jumps as gold stock tests record high after seven-week, 45% rally.
---
04/19/22
Find out about the Nasdaq 100's performance after down moves like the one that occurred over the past two weeks.
---