Breakout week, big month
S&P 500 reclaims 3,000, Dow tops 25,000
Tech and energy cool, defensive sectors warm up
This week: The all-important jobs report
A month that started out on shaky ground found its footing in the second half, as US stocks closed out May with back-to-back up weeks—again thanks to news on the coronavirus treatment front.
Reports that Novavax (NVAX) was making progress with its vaccine1 helped push the S&P 500 (SPX) out of its month-long trading range last Tuesday—just five days after Moderna's (MRNA) successful vaccine trials jump-started the market's rebound off the range lows: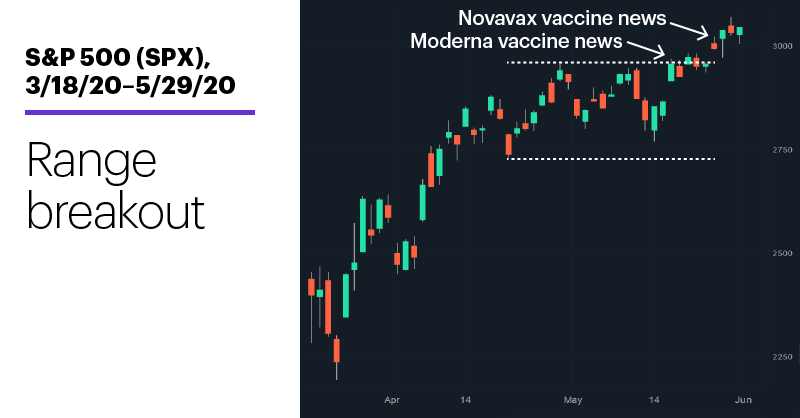 Source: Power E*TRADE
---
The gains on those two days accounted for a huge portion of the SPX's total May return. The market also got some good news on the global stimulus front—Japan announced a $1.1 trillion program2—and continued to hope for the best as more states began reopening their economies.
The headline: Stocks wrap up best May since 2009 despite new headwinds.

The fine print: While President Trump decried Hong Kong's loss of autonomy and threatened to revoke its favored trade status on Friday, he also said he would move forward with the US-China phase-one trade deal—news that was followed by the US stock market flipping from red to green for the day. The president also announced the US would sever ties with the World Health Organization (WHO).

The numbers: 4 million—the decline in the number of people extending their unemployment claims last week—the first drop of the pandemic era. Runner up: 623,000—the number of new homes built in April, well above the 495,000 estimate. First-quarter GDP was revised downward, from -4.8 to -5%.
The quote: "When you look historically, as the economy comes out of a recession—and we're certainly going to be in a recession after the second quarter—small caps have outperformed large caps [coming out of] nine out of the last 10 economic downturns." Gradient Investments president Michael Binger.3
The scorecard: Tech continued to hibernate, as the Nasdaq 100 (NDX) trailed the pack for a second-straight week, while the Dow Jones Industrial Average (DJIA) made a rare appearance as leader: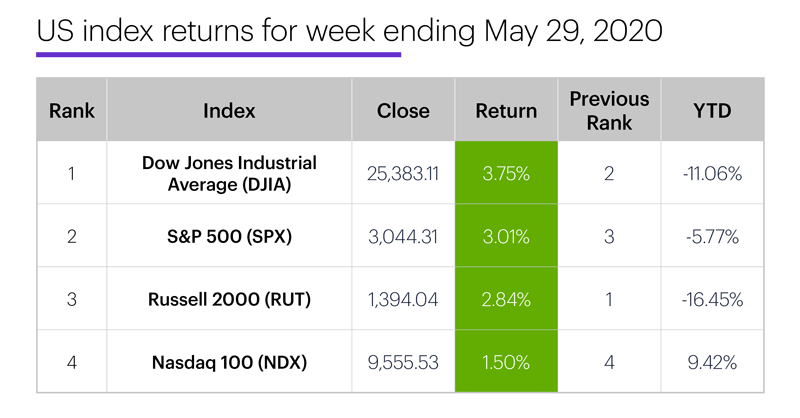 Source: Power E*TRADE
---
Sector roundup: The strongest S&P 500 sectors last week were real estate (+8.2%), utilities (+6.9%), and financials (+6.3%). The weakest sectors were energy (0.2%), communication services (1%), and information technology (1.8%).
Highlight reel: Argenx (ARGX) jumped 34% to $212.12 on Tuesday, while Arcturus Therapeutics (ARCT) tumbled 29% to $38.56 on Wednesday.
Futures action: July WTI crude oil (CLN0) traded sideways almost all of last week before jumping nearly 5% on Friday to close at $35.49/barrel. After falling to support around $1,685/ounce last Wednesday, June gold (GCM0) rallied to end the week at $1,736.90.
Last week's biggest futures up moves: July rice (RRN0) +7.3%, July silver (SIN0) +6.2%, and August feeder cattle (FCQ0) +5%. Last week's biggest futures down moves: July coffee (KCN0) -8.1%, June palladium (PAM0) -7.9%, and June VIX (VXM0) -6.3%.
Coming this week
A busy start to the new month peaks with Friday's jobs report:
●Monday: Markit Manufacturing PMI, ISM Manufacturing Index, Construction Spending
●Tuesday: Vehicle Sales
●Wednesday: ADP Employment Change, Markit Services PMI, ISM Non-Manufacturing Index, Factory Orders
●Thursday: Challenger Job Cuts, Jobless Claims, Trade Balance, Productivity and Labor Costs
●Friday: Employment Report, Consumer Credit
Earnings this week include:
●Monday: Mesa Laboratories (MLAB)
●Tuesday: Cracker Barrel (CBRL), Baozun (BZUN), Zoom Video Communications (ZM), Tiffany (TIF), CrowdStrike (CRWD), Dick's Sporting Goods (DKS)
●Wednesday: American Eagle Outfitters (AEO), G-III Apparel Group (GIII), Cloudera (CLDR), Campbell Soup (CPB), United Natural Foods (UNFI), Guidewire Software (GWRE)
●Thursday: Broadcom (AVGO), J.M. Smucker (SJM), Ciena (CIEN), DocuSign (DOCU), Gap (GPS), PagerDuty (PD), Slack Technologies (WORK)
●Friday: Tribune Company (TPCO), Mesabi Trust (MSB)
Go to the E*TRADE market calendar (login required) for an up-to-date earnings schedule and a complete list of splits, dividends, IPOs, and economic reports. The Active Trader Commentary also lists earnings announcements, IPOs and economic report times each morning.
June's tune
It's a new month—June, the gateway to summer.
And, at least in terms of the stock market, summer vacations.
Historically, at least, the sixth month of the year has been something of a snooze for US equities. June has been a positive month for the S&P 500 in 33 of the past 60 years (55% of time)—the fourth-lowest winning percentage of all months of the year—and it also has the third-lowest median monthly return (0.07%).
These tendencies have been fairly consistent over time, too. Despite coming off a four-year winning streak (including last year's monster 6.9% gain), since 2000 June has been a winner 11 times, a loser 10 times, and has a median return of 0.03%—numbers that are in line with the longer-term benchmarks. June has also had a relatively narrow high-low range—the smallest, on average, of any month over the past 20 years.4
In other words, if the stock market's June performance had a bumper sticker, it might be: "Slightly more bullish than bearish, but boring."
Of course, 2020 hasn't exactly been a year that's played by the rules, so traders will let their guards down at their own risk. There will be plenty to move the markets in coming weeks, from percolating tensions between the US and China, the reopening of the American economy, and coronavirus developments—specifically, vaccine news.
To give you an idea of how good or bad news on the drug front could impact stocks: Take away the gains on May 18 and 26 that followed the Moderna and Novavax vaccine stories, and the SPX's May return would have been only 0.2% instead of 4.53%.
Click here to log on to your account or learn more about E*TRADE's trading platforms, or follow the Company on Twitter, @ETRADE, for useful trading and investing insights.
---
1 Barron's. Global Stocks Rally on Recovery Hopes and Vaccine News. 5/26/20.
2 Bloomberg.com. Japan Doubles Down to Deliver World's 'Biggest' Stimulus Package. 5/26/20.
3 CNBC.com. Small caps outperform after recessions, so 'you have history on your side,' money manager says. 5/26/20.
4 Based on S&P 500 monthly prices, 1960–2019. Supporting document available upon request.
What to read next...
05/29/20
Another player in the streaming entertainment space may have disrupted some trends, but it hasn't necessarily derailed them.
---
05/28/20
If the recent retreat in some Chinese stocks has been fueled by fears of delisting in the US, traders may find pullback opportunities in high-momentum names.
---
05/27/20
Some video game stocks have retreated after surging during the lockdown. Game over, or just warming up for Round 2?
---