Volatility pattern highlights breakout potential
ConAgra (CAG) consolidating after 52% rally off March lows
Earnings due at month-end
Options traders anticipating volatility surge?
Since prices can move sideways a lot longer than most of us think (just ask someone who's been trading gold the past couple of months), one way to identify markets with near-term breakout potential is to compare implied volatility (IV) to historical volatility (HV).
While HV is backwards looking, IV is the options market's estimate of future price volatility, which means it can sometimes tip you off to stocks that haven't been doing much lately but may be poised to move in the near future.
For instance, yesterday morning ConAgra (CAG), the packaged-food giant behind brands such as Birds Eye, Healthy Choice, and Chef Boyardee, had 30-day IV above its 30-day HV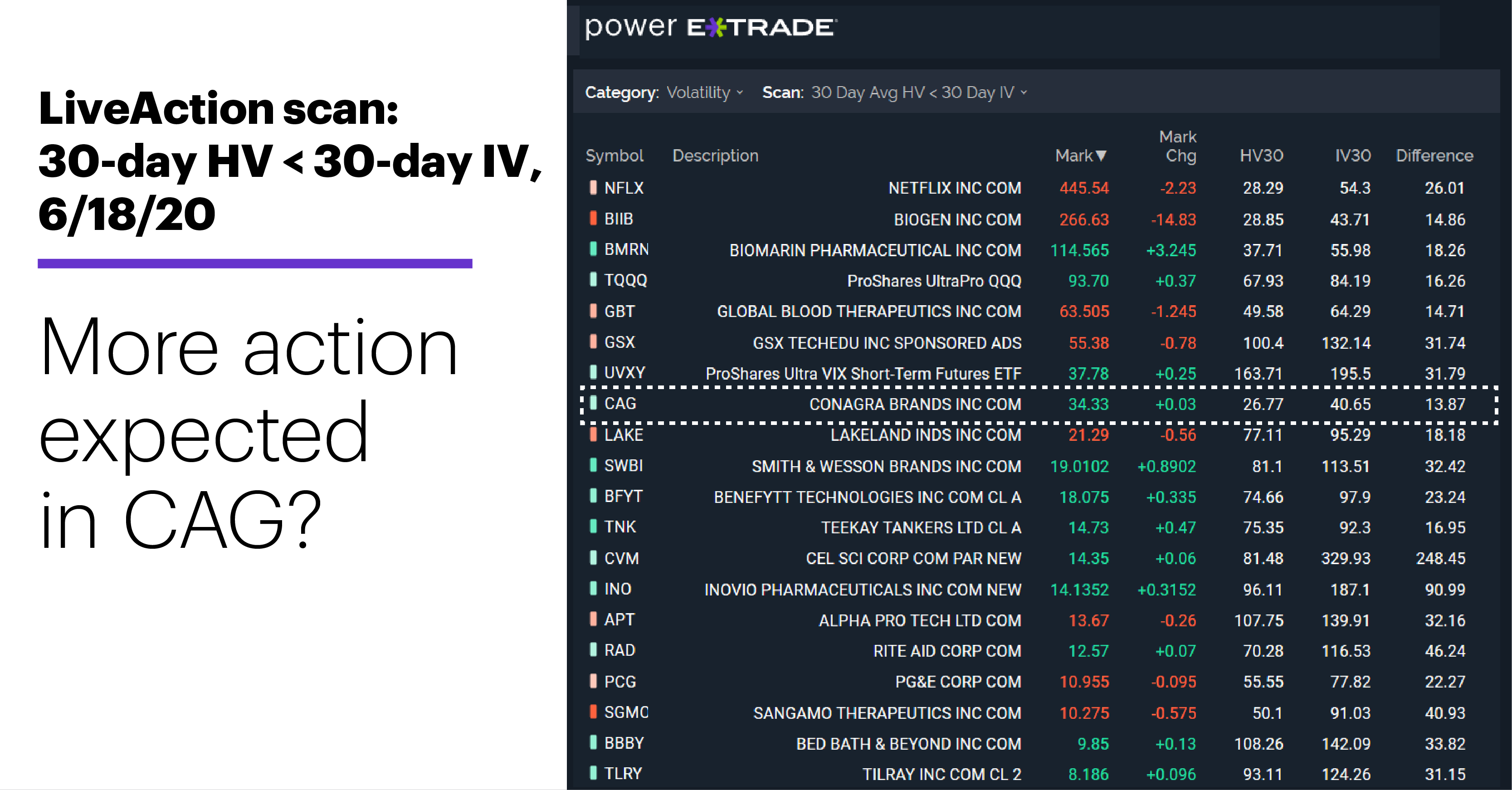 Source: Power E*TRADE
---
The implication: Options traders think price action could kick into a higher gear within the next 30 days. That doesn't mean they're right, but it's a good reason to see if there are other factors in play that point in the same direction.
This, by the way, was essentially the same condition cloud-security stock Zscaler (ZS) was in around a month ago (see "Stock in the clouds"). And like ZS at that time, CAG is scheduled to release earnings fairly soon (June 30 is the working date).
Also like ZS, CAG has been stuck in a trading range, with prices trading mostly between $31.50–$35.50 since late April following a roughly 52% rally off its March sell-off low: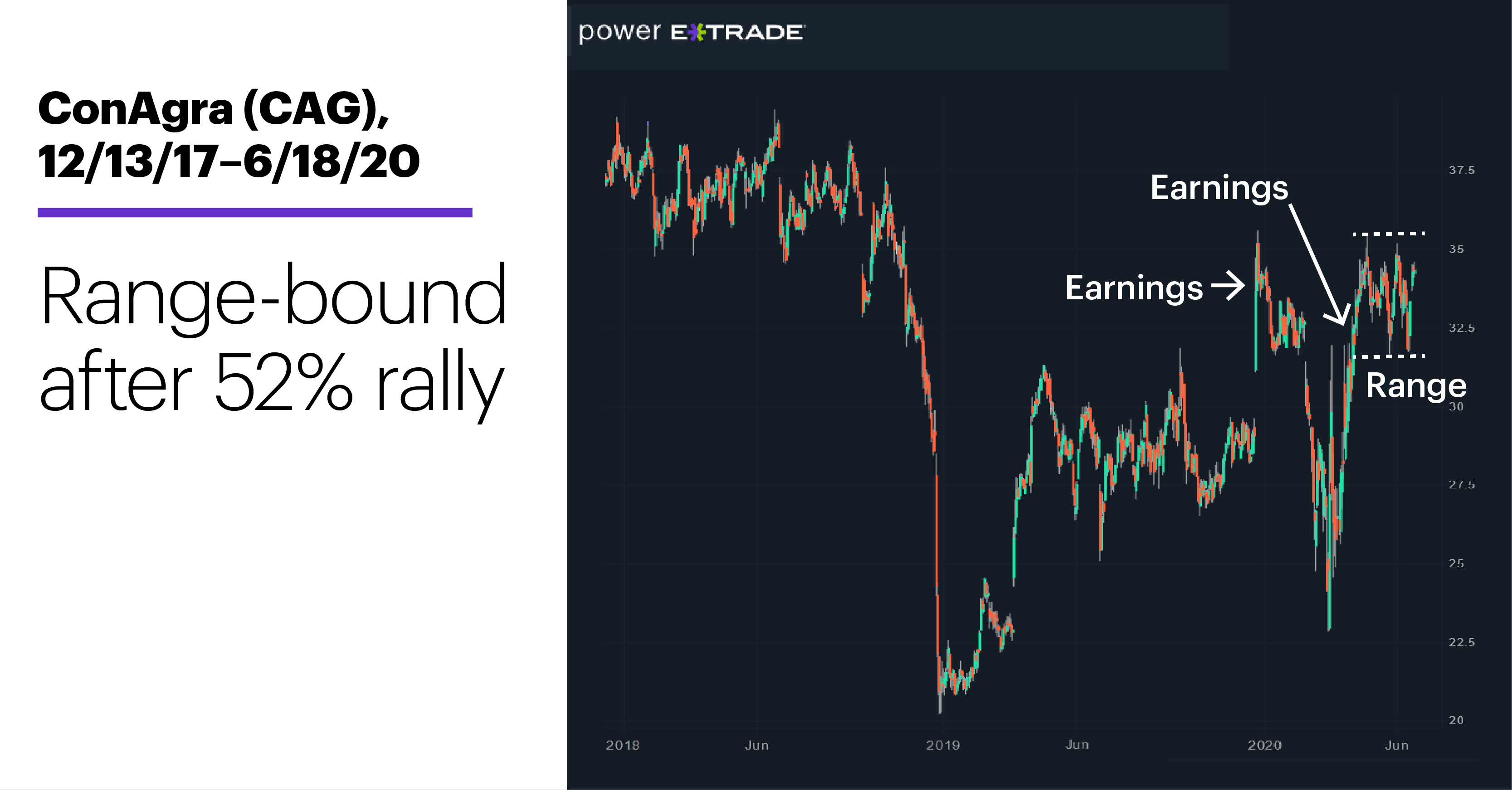 Source: Power E*TRADE
---
If it doesn't happen sooner, could earnings break CAG out of its consolidation?
Sure. The chart shows CAG's two most recent earnings releases, on March 31 and December 19, were accompanied by the usual volatility fireworks. But there's also the question of whether the stock is more likely to break out of the top or the bottom of the range.
While that x-factor may tempt some traders to use a neutral options strategy like a straddle or strangle (long both calls and puts) to take advantage of a move in either direction, the fact that CAG's IV is relatively high—and is likely to stay that way until after earnings—means options premiums are likely also inflated. And that means traders would be buying (at least two) potentially pricey options in the hopes they will get even pricier.
In this case, traders may also be weighing a few big-picture factors, including the nature of the lockdown-fueled gains in CAG and other packaged-food providers. On top of the potential investor tailwinds these stocks may typically receive as a "defensive" consumer staples names (CAG's year-over-year sales growth was exceptionally strong, and the stock is relatively cheap from a P/E perspective1), some analysts think the rallies enjoyed by companies like CAG could have legs, because consumer habits adopted during the pandemic may represent "new norms" rather than temporary shifts.1
Regardless of which way that issue shakes out, breakout traders may be ready to pounce.
Click here to log on to your account or learn more about E*TRADE's trading platforms, or follow the Company on Twitter, @ETRADE, for useful trading and investing insights. 

---
1 Barron's. The Food Stock Boom Isn't Over Yet. 6/12/20.
What to read next...
06/18/20
Chinese hotel company's put volume soars as second-wave fears grip Beijing.
---
06/17/20
Yesterday's market action showed the potential for certain stocks to move if infrastructure spending moves from proposal to reality.
---
06/16/20
Options action heats up amid stock's sharp turnaround from recent pullback.
---