Playing the breakout
EPR made a 12% breakout move on Tuesday
Real estate stock up more than 150% in less than 8 months
Options IV high for June and July expirations
You'll often hear traders talk about riding price momentum, but since the ride can end at any moment, the trick is to "catch" it rather than chase it. A real estate investment trust's (REIT) recent breakout helps show why.
For the past couple of days, EPR Properties (EPR)—a real-estate stock that specializes in leasing to movie theaters, restaurants, and other leisure businesses hit hard by lockdowns—has had exceptionally high call options volume. Yesterday morning it was running around 25 times average—the third-highest rate among individual stocks: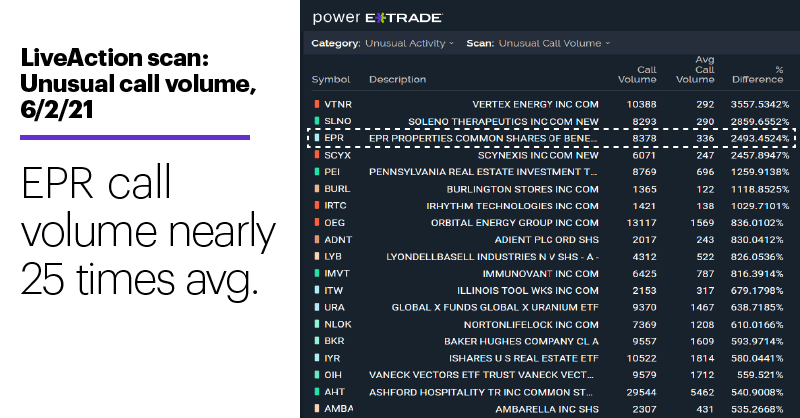 Source: Power E*TRADE
---
Not surprisingly, given the amount of activity, EPR options implied volatility (IV) was elevated, too: IV for the June and July expirations was running around 68% and 44% above average, respectively (more distant contracts had less-elevated IV).
Depending on your perspective, the price chart may have offered an explanation for the heavy call buying, or the call buying may have explained the price chart, which shows EPR broke out of a roughly two-and-a-half-month consolidation with a 12% surge on Tuesday: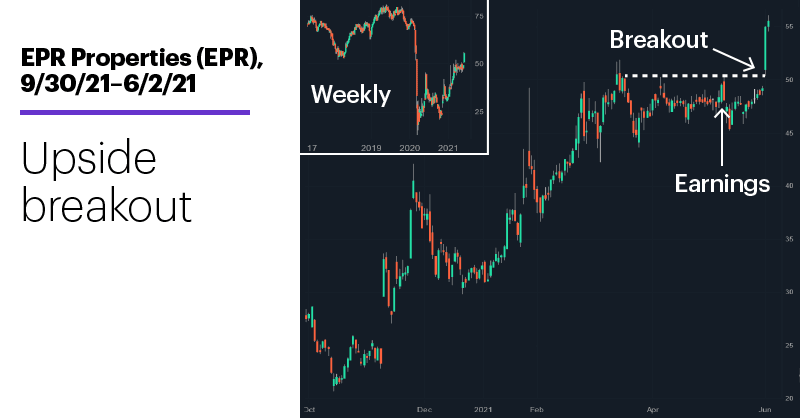 Source: Power E*TRADE
---
While that move pushed shares to their highest level in 15 months, the weekly chart inset shows EPR still has a ways to go to reach its 2019 high around $81.
While breakout moves like this can tempt investors to rush into a market, experienced traders know that price trends (like IV) rarely move in one direction without pauses or setbacks. The EPR chart—although it shows an overall 150%-plus price gain since mid-October—provides several examples of prices pulling back soon after upside price bursts, including after the two-day earnings-release rally in early May.
The following chart provides a couple of examples of this ebb-and-flow principle in Microsoft (MSFT). The stock broke out above consolidations in late January and early April, but in both cases the stock eventually pulled back to test the (approximate) breakout levels before moving higher again:
Source: Power E*TRADE
---
Every situation is unique, and while prices won't test every consolidation breakout in this manner, when it does happen, it can present traders with the possibility of entering when both the stock price and option volatility have cooled off.
The lesson: Traders interested in buying call options need to be wary of pulling the trigger when stock prices and options volatility are at relatively high levels. Traders with the patience and discipline to wait for a stock—and its IV—to "come to them" stand a better chance of avoiding the pitfalls of emotion-driven momentum chasing.
Market Mover Update: After yesterday's 20%-plus jump in Skillz (SKLZ), the June $17–$22.50 bull call spread had had more than doubled in value since May 6 (see "Going vertical").
Today's numbers include (all times ET): Challenger Job-Cut Report (7:30 a.m.), weekly jobless claims (8:30 a.m.), Productivity and Costs (8:30 a.m.), PMI Composite Final (9:45 a.m.), ISM Services Index (10 a.m.), EIA Petroleum Status Report (11 a.m.).
Today's earnings include: Lululemon Athletica (LULU), Five Below (FIVE), Broadcom (AVGO), CrowdStrike (CRWD), PagerDuty (PD), Slack (WORK).
Today's IPOs include: dLocal (DLO).
Click here to log on to your account or learn more about E*TRADE's trading platforms, or follow the Company on Twitter, @ETRADE, for useful trading and investing insights.
---