Them's the breaks
ZM extended rally off major retracement level
SMAR's breakout pushed prices to all-time highs
MOS planting seeds of potential breakout?
While fear of missing out (FOMO) is a hazard for all investors and traders—it can make people chase things that shouldn't be chased—trading-range breakouts offer some useful lessons on the virtues of patience.
Take a look at the following chart of Zoom Video Communications (ZM). In early November, ZM gapped lower to retrace half of its huge August–October rally, but aside from a sharp rebound in the second half of the month, the stock swung lower until reaching the 50% retracement level of an even bigger rally—its December 2019–October 2020 uptrend: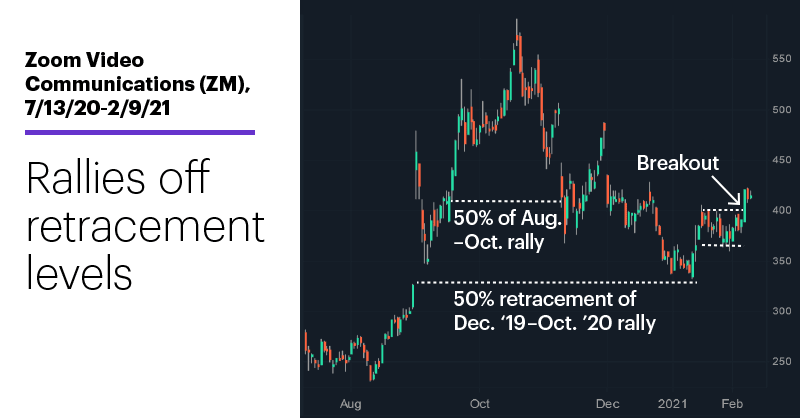 Source: Power E*TRADE
---
Investors may be encouraged that ZM has held above that level for nearly a month (and gained more than 20% in the process), while traders may have noticed the stock broke out of a two-week consolidation/pullback with a 7.6% up day last Friday.
Meanwhile, cloud-based work-execution platform Smartsheet (SMAR) has rallied around 20% over the past nine days, breaking out of a wide trading range last Friday and hitting new record highs in the process: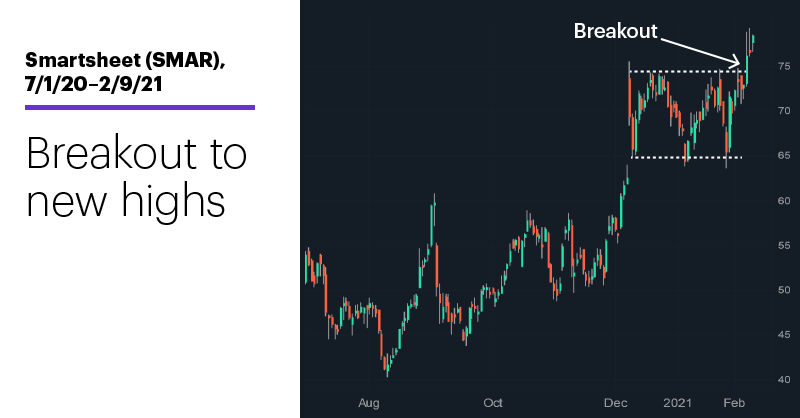 Source: Power E*TRADE
---
While high-momentum moves like these can lead casual observers to feel they're late to the game, other traders are more likely to view breakouts as indicators—that is, as a signal of potential bullish sentiment (in the case of an upside breakout) that may or may not play out. The goal of this approach is to wait for prices to give back the initial breakout move (or a good portion of it), which often occurs as traders who bought the initial breakout take profits on their positions.
Alphabet's (GOOGL) late-January pullback is a good example: After breaking out of a trading range, the stock retreated a few days later to "test" that consolidation—falling to it, but not below it—before rallying to new highs. In other words, rather than piling in with the crowd when a breakout first occurs, many long-time traders wait for a second chance—and evidence of renewed upside momentum—before attempting a trade.
The following chart shows a stock some momentum traders may have been watching recently—Mosaic (MOS), which has been hovering around its highest levels in nearly two years after a 300% rally since March 2020:
Source: Power E*TRADE
---
After breaking out of the bottom of its consolidation in the second half of January, the stock quickly turned higher and has, over the past couple of days, returned to the top of that range. While the stock's 7%-plus rally over the past couple of weeks may have qualified as a "bear trap" in some traders' eyes, others may be anticipating more of a squeeze if prices actually break out above the January highs.
A final note: Mosaic's breakout of its November–December trading range contains a couple of valuable lessons. Although it was the type of high-energy move most momentum traders dream about—the stock shot up 21% in four days—the stock failed (as of yesterday) to pull back and test the consolidation.  
That's the catch: When you take steps to avoid FOMO, sometimes you can, in fact, miss out. But that's a worthwhile trade-off for risk-conscious traders.
Market Mover Update: Advance Auto Parts (AAP) rallied more than 2% yesterday to hit a two-week high of $162.14 (see "Traders playing support?"). The iRhythm Technologies (IRTC) March $140 puts have fallen more than 40% over the past week, even though the stock has mostly moved sideways (see "Sell-off puts options in place").
Today's earnings include: Crispr Therapeutics (CRSP), O'Reilly Automotive (ORLY), Spirit Airlines (SAVE), Coca-Cola (KO), General Motors (GM), Zillow (ZG), Uber (UBER), Paycom (PAYC), XPO Logistics (XPO).
Today's IPOs include: Adagene (ADAG),  loanDepot (LDI).
Today's numbers (all times ET): Mortgage Applications (7 a.m.), Consumer Price Index, CPI (8:30 a.m.), Preliminary Wholesale Inventories (10 a.m.), EIA Petroleum Status Report (10:30 a.m.), Jerome Powell speech (2 p.m.).
Click here to log on to your account or learn more about E*TRADE's trading platforms, or follow the Company on Twitter, @ETRADE, for useful trading and investing insights.  
---
What to read next...
02/09/21
Traders jumped into this soaring fintech stock's put options in the wake of its earnings-beat price surge.
---
02/08/21
Market kicks off February with its best week in three months.
---
02/05/21
If the market rotates back toward recently weakened sectors, traders may attempt to scoop up potentially oversold names.
---