Spreads, step-by-step
MSM broke out to highest high since Aug. 2021 on Wednesday
At the same time, options implied volatility fell to one-year low
Depending on outlook, some traders may "leg" into limited risk spreads
Longtime options traders understand that it's usually better to buy low-implied volatility (IV) options and sell high-IV options, because low IV can mean prices are relatively cheap and high IV can mean they're relatively high.
Of course, buying low-IV options doesn't guarantee a profitable trade. If you buy a low-IV call option and the stock drifts 5% lower over the next week, for example, you're probably going to have a loss on your hands.
That said, filtering symbols for high or low IV is a common first step for traders looking for potentially underpriced and overpriced options. Here's a look at the stocks that were on Wednesday's LiveAction scan for 52-week low IV: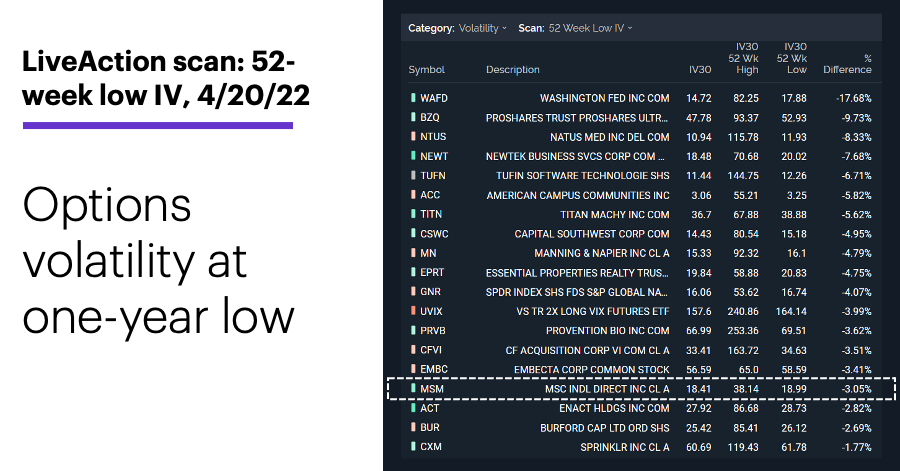 Source: Power E*TRADE. (For illustrative purposes. Not a recommendation.)
---
One of the stocks, MSC Industrial Direct (MSM), helps highlight some of the choices options traders are faced with in real time—and the potential benefits and risks associated with those choices.
While MSM's IV was falling to a new one-year low yesterday, the stock was breaking out of a roughly three-week trading range, the top of which was also a longer-term resistance level: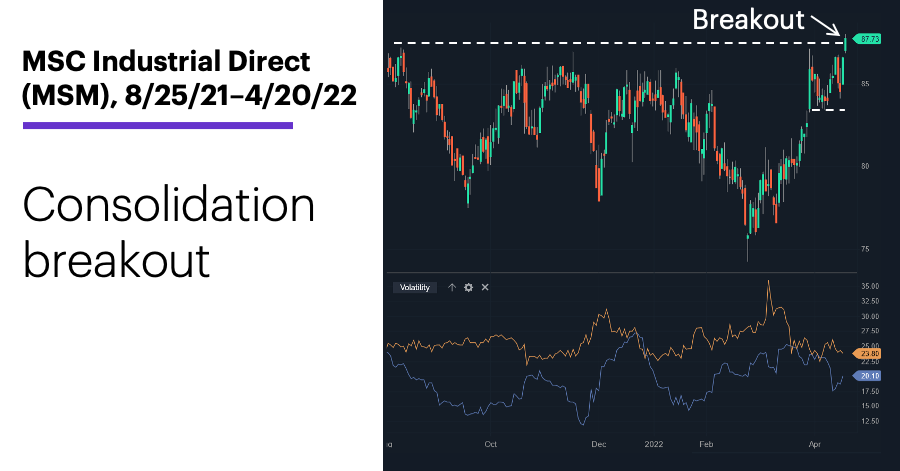 Source: Power E*TRADE. (For illustrative purposes. Not a recommendation.)
---
Let's say a trader saw the breakout as evidence MSM had the potential to make a run at its May 2021 highs around $96, and that its relatively low IV made buying options a reasonable choice for a long trade.
Rather than buying calls outright, though, let's assume our trader decided to use a bull (vertical) call spread, which combines a long (usually ATM) call with a short out-of-the-money (OTM) call with the same expiration date. The long call can profit if the stock rallies, while the short call's premium makes the overall position cheaper.
While the spread sacrifices the unlimited upside of an outright long call—profits are capped at the short call's strike price—it also limits downside risk no matter how far the stock falls below the long call's strike price: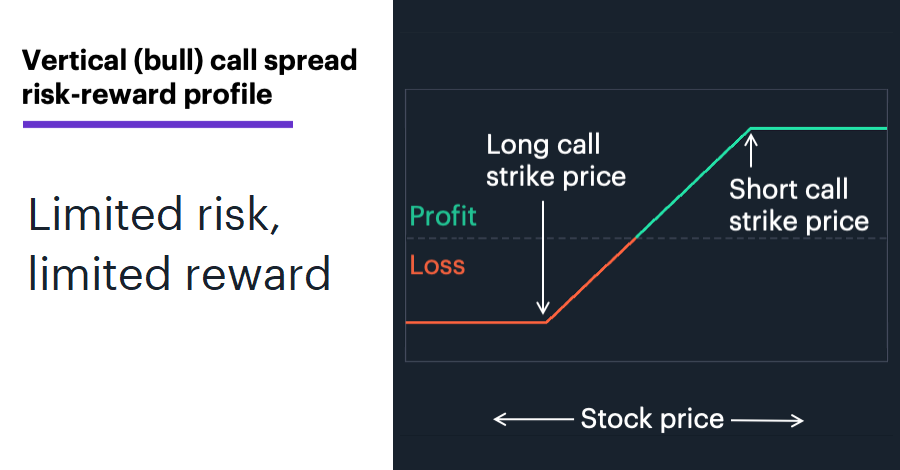 Source: Power E*TRADE. (For illustrative purposes. Not a recommendation.)
---
Now, let's throw in a twist: Our trader thinks the stock may pull back briefly after its initial breakout before heading higher. In such situations, a trader may choose to "leg" into the spread, selling the higher-strike call immediately (because it has been boosted by the stock breakout), while waiting to buy the lower-strike call until the stock pulls back (at which point the option will likely be cheaper).
The fine print: Legging into or out of spreads can be risky. In this case, for example, the trader initially shorts a call—a position that will likely lose money if the stock continues to rally without pause. That makes it critical to have a risk-control plan in place to limit the potential damage.
That's true of any position, though—traders should assess potential downside and cap risk based on their market outlook and risk threshold. But understanding the benefits and risks associated with different strategies—as well as the different ways to execute them—can help traders make better decisions.
Market Mover Update: Although Netflix (NFLX) bucked its tendency to gain ground the week before earnings, it did follow through on its pattern of rallying on earnings day (+3.2% on Tuesday) and falling the day after (-35% on Wednesday). Yesterday was the stock's second-biggest daily loss ever, trailing only the 41% drop from October, 2004 (see "Earnings—before and after").
Today's numbers include (all times ET): Weekly Jobless Claims (8:30 a.m.), Leading Indicators (10 a.m.), EIA Natural Gas Report (10:30 a.m.), Jerome Powell Speaks (11 a.m. and 1 p.m.).
Today's earnings include: Intuitive Surgical (ISRG), Philip Morris (PM), AutoNation (AN), Freeport-McMoRan (FCX), American Airlines (AAL), Danaher (DHR), Dow (DOW), Union Pacific (UNP), Quest Diagnostics (DGX), AT&T (T), KeyCorp (KEY), Snap (SNAP).
Click here to log on to your account or learn more about E*TRADE's trading platforms, or follow the Company on Twitter, @ETRADE, for useful trading and investing insights.
---
What to read next...
04/20/22
Put volume jumps as gold stock tests record high after seven-week, 45% rally.
---
04/19/22
Find out about the Nasdaq 100's performance after down moves like the one that occurred over the past two weeks.
---
04/18/22
Stocks slump mid-month amid the latest inflation data and disappointing news out of Ukraine.
---