Breakout potential?
After vaccine rally, PLAY pauses in run-up to earnings
Crude oil goes on simmer, but uptrend still intact
COVID path could influence these markets more than others
Two markets, two consolidations, and a chance for traders to strategize about what to do next.
Arcade chain Dave & Buster's (PLAY) is still well below its pre-pandemic high around $49, but the magnitude of its COVID sell-off may obscure the fact that shares have roughly quintupled from their March low of $4.71: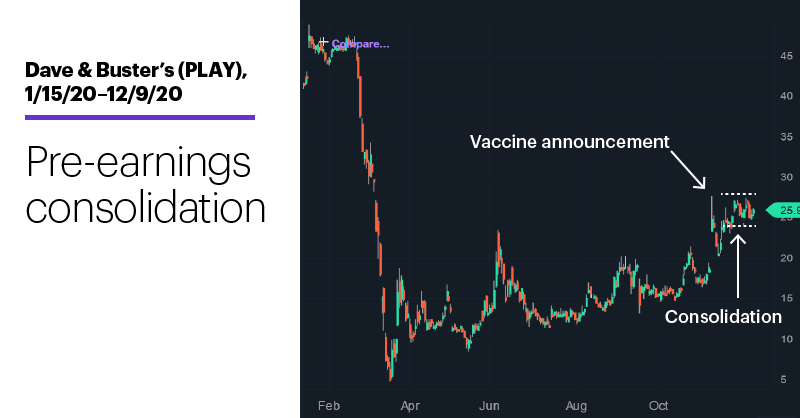 Source: Power E*TRADE
---
Along with restaurants and other indoor entertainment venues, Dave & Buster's was disproportionally affected by lockdown restrictions. The potential light-at-the-end-of-the-tunnel vaccine news that's dominated headlines in recent weeks has appeared to put a little more spring in the step of stocks like PLAY (notice how much it jumped on November 9 on the Pfizer-BioNTech vaccine announcement), but these names are also grappling with the current virus resurgence, the threat of renewed lockdowns, and uncertain vaccine delivery timelines.
Dave & Buster's may not be in pause mode too much longer. Sometime after today's closing bell PLAY will release its latest earnings. Options implied volatility (IV) has been exceptionally high this week1—a signal that traders may be expecting a move that could push the stock out of its consolidation.
Next up, crude oil—the market that's been greasing the wheels of the energy sector's recent rally. Right now energy stocks are on pace to rack up a fifth-straight week as the strongest S&P 500 sector, and a chart of January WTI crude oil futures (CLF1) helps explain why:
Source: Power E*TRADE
---
At last Friday's high, crude had rallied 37% off its November 2 spike low, but the market has essentially been consolidating since it first pushed above its August highs in late November. Like PLAY, many traders likely see oil's fortunes tied to prospects for a more-or-less fully reopened economy sometime next year.
Renewed shutdowns would certainly seem to be a potential threat to crude prices, but if the worst fears aren't realized, oil bulls who have watched the market keep its head above the August highs—even after OPEC agreed on production increases earlier this month2—may see more opportunities for upside momentum.
Traders may need markets to move to be able to profit, but it never hurts to have the occasional consolidation to be able to "war game" different trading scenarios.
Market Mover Update: It took a couple of weeks for Crispr Therapeutics (CRSP) to gain traction after dropping 19% on releasing clinical trial results in late October, but the stock has soared nearly 80% since November 2, hitting repeated record highs (see "News and price action.")
Today's numbers (all times ET): Consumer Price Index, CPI (8:30 a.m.), Jobless Claims (8:30 a.m.).
Today's earnings include: Lululemon Athletica (LULU), National Beverage (FIZZ), Broadcom (AVGO), Oracle (ORCL), Ciena (CIEN), Costco (COST).
Click here to log on to your account or learn more about E*TRADE's trading platforms, or follow the Company on Twitter, @ETRADE, for useful trading and investing insights.  
---
1 StreetInsider.com. Dave & Buster's Entertainment (PLAY) December weekly option implied volatility above 170. 12/9/20.
2 CNBC.com. OPEC and allies agree to gradually increase production after days of discussions. 12/3/20.
What to read next...
12/09/20
When volatility goes up, savvy traders keep their eyes peeled for potentially overpriced options.
---
12/08/20
There are more IPOs on the horizon, but there's been plenty of notable price action in names that have launched over the past year or so.
---
12/07/20
Tech got back in the driver's seat as stocks kicked off December with more records.
---