Breakout vs. fake-out
Fintech stock STNE up more than 230% since April
After recent breakout, stock pressing top of short-term range
Options market pointing to renewed price momentum
When a market looks poised to move, the temptation to act—now—can sometimes be overwhelming.
Aside from the reality that looks can be deceiving, trading ultimately tends to punish impetuous behavior rather than reward it. 
For example, yesterday Brazilian fintech StoneCo (STNE) rallied more than 5% to a new record high just above $60—the top of a short-term consolidation the stock has been in since it broke out of a larger congestion phase on October 6: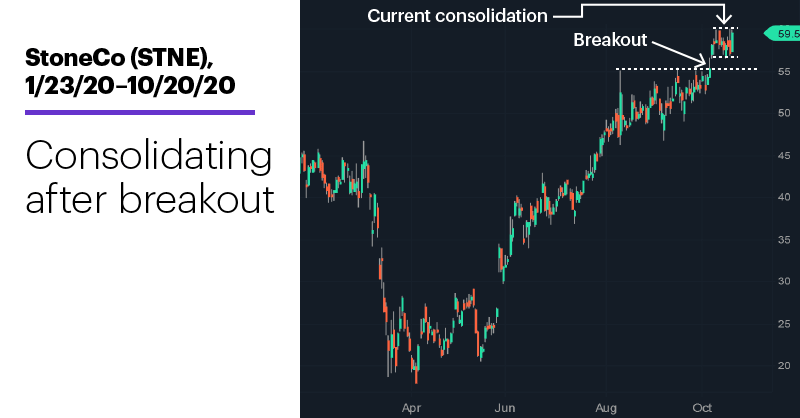 Source: Power E*TRADE
---
Many technical traders look to play renewed upside momentum in stocks that consolidate near the highs of longer-term trading ranges, the logic being that the ability of prices to keep pressuring the upside (rather than pulling back) suggests bulls are positioning themselves for another rally.
Of course, in a stock market still very close to its record highs—and still jittery about an election, a virus, and a stimulus package—there's something to be said for not pushing the momentum envelope too hard.
In this case, bulls have certainly been rewarded for their optimism in recent months. StoneCo, which began trading in October 2018, provides cloud-based e-commerce solutions (payments, etc.) in Brazil. Although it's not exactly a household name, it made news by virtue of a $340 million investment from Warren Buffett, who has tended to shy away from companies like STNE—a high-valuation tech IPO that was operating in red.1 Buffett's done just fine—STNE has nearly doubled from where it was on its first trading day—but traders who bought in early April have done even better in a much shorter time span: The stock is up more than 230% since April 3.
Some below-the-radar data from the options market suggests traders were expecting STNE to break out of its recent consolidation. Yesterday its 30-day options implied volatility was roughly twice as high as its 30-day average historical volatility, meaning options traders were anticipating more price movement over the next month than the stock has dished out over the past month: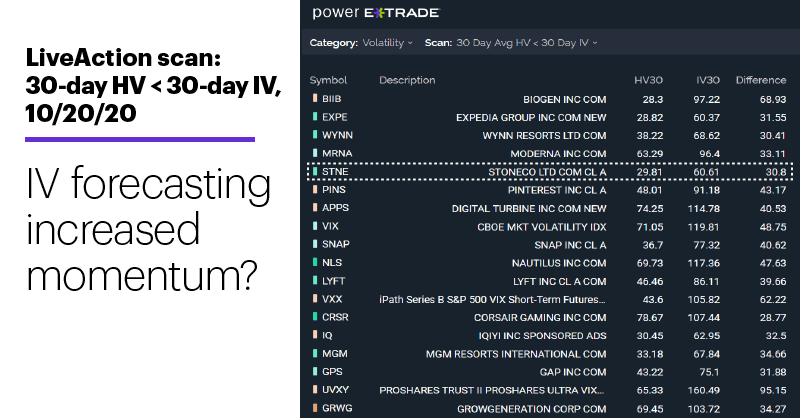 Source: Power E*TRADE
---
The catch, as always, is that increased volatility doesn't say anything about whether prices will move higher or lower, or for how long. (That would make things too easy.)
But long-time traders wary of chasing markets that are pushing to record highs after huge rallies may choose to wait for another bit of price action to play out: A test of the breakout point (roughly $55) of the larger consolidation that began in August—perhaps after an initial "bull trap" up move?
If the STNE bulls are correct about the stock's longer-term prospects, traders who wait for some type of pullback would be putting themselves in a position to ride renewed upside momentum, rather than chase it.
Market Mover Update: If you've pulled up a chart of a stock or ETF with the words "sun" or "solar" in its name lately, chances are you've seen something like this: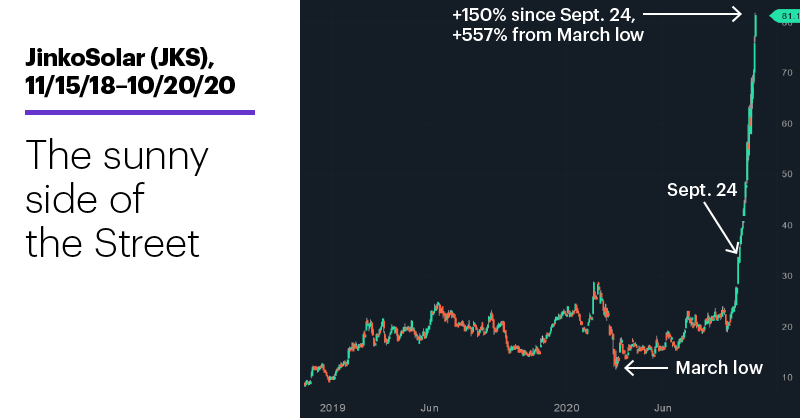 Source: Power E*TRADE
---
This happens to be JinkoSolar (JKS), producer of various solar-energy products, which yesterday morning had rallied 557% off its March low and was up 150% just since September 24. While it's outshined most of its competitors over the past month or so, it's hardly an isolated case. Since September 24, the three most actively traded clean-energy ETFs are all up around 30% over the past 18 trading days.
Today's numbers (all times ET): EIA Petroleum Status Report (10:30 a.m.), Beige Book (2 p.m.).
Today's earnings include: AutoNation (AN), Abbott Laboratories (ABT), Biogen (BIIB), Las Vegas Sands (LVS), Whirlpool (WHR), Edwards Lifesciences (EW), Lam Research (LRCX), Verizon (VZ), Chipotle (CMG), Meritage Homes (MTH), Corelogic (CLGX), Tesla (TSLA), Xilinx (XLNX).
Click here to log on to your account or learn more about E*TRADE's trading platforms, or follow the Company on Twitter, @ETRADE, for useful trading and investing insights.  
---
1 BusinessInsider.com. Warren Buffett's Berkshire Hathaway plans to plow $570 million into Snowflake. Its last IPO bet has gained 110% in 2 years. 9/20/20.
What to read next...
10/20/20
Does recent options activity suggest traders are marking down retailer in the near-term?
---
10/19/20
Stocks weather first pullback in three weeks as tech gets back on track.
---
10/16/20
Chipmaker gets props for attractive P/E, but traders may be more interested in recent price action and next week's earnings.
---