Breaking down a breakout
The SPX and NDX rallied to their highest levels since early August
Financial and industrial shares were the biggest S&P 500 gainers
Semiconductors, electrical, and auto stocks also big winners
Nothing like a breakout to get the juices flowing.
Yesterday's reports that the US and China were planning to return to the negotiating table in October1 were the catalyst the stock market needed to break out of its month-long consolidation—at least for a day.
And it did it in style, with the S&P 500 (SPX) registering its biggest up day since early June and rallying to within 1.7% of its all-time high. A new day may bring a different headline, but looking at where yesterday's momentum was coming from could shed some light on which areas of the market may benefit most if talks stay on track and the market puts together another upside run.
Although some of the day's action was just what you'd expect, there were a few surprises, especially early on. While the classic defensive sectors—utilities, real estate, consumer staples—got kicked to the curb, the three-strongest SPX sectors weren't so predictable: Financials were leading the charge halfway through the trading day (with commercial banks and consumer finance stocks at the fore), followed by industrials, and tech--which started slow but closed the gap later in the day.
But one industry group within tech was certainly doing its share—semiconductors, up more than 3% in early trading, as shown in the following chart of the PHLX Semiconductor Index (SOX), which broke out of its own consolidation:
Source: Power E*TRADE
---
As centerpieces within the ongoing US-China struggle, chip stocks can post outsized moves when trade-war headlines cross the wire, as evidenced by the big gains in stalwarts like Nvidia (NVDA, +5%) and Intel (INTC, +3.5%) yesterday.
Although in the industrials sector some high-profile names like Caterpillar (CAT) enjoyed monster days, the industry leader wasn't heavy machinery or airlines, but electrical equipment stocks, such as Ingersoll-Rand (IR), which bounced back above $121 after falling below $114 (filling most of its April up gap) last week:
Source: Power E*TRADE
---
Finally, although consumer discretionary was in the middle of the sector pack yesterday, auto components stocks surged (+ 4%), including AutoZone (AZO), which traded to its highest level since July 30 and extended its year-to-date gain to around 35%: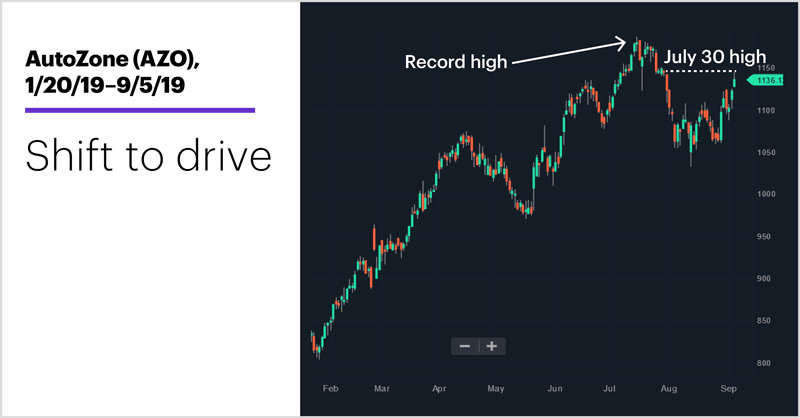 Source: Power E*TRADE
---
While it's always helpful to know which sectors of the market are clicking (and the monthly Sector Rotation Study can add some perspective to that analysis), scratching below the surface to see what's happening at the industry level can provide additional insight about which stocks are really driving the market at any given time.
Market Mover Update: After trading lower early yesterday, HealthEquity roared more than 4% to the upside (see "Back in the zone").
Activision Blizzard (ATVI) added another 2%-plus to its recent breakout amid positive analyst commentary regarding its new releases (see "Gamers starting to show game?").
And, from the "This Looks Strangely Familiar" file: Match Group's (MTCH) -7% intraday tumble yesterday on news that Facebook (FB) had finally launched its own dating service may have reminded some traders of May 1, 2018, when FB first announced it was getting into the matchmaking game. Back then, MTCH shares tumbled around 26% over the course of two days, only to rally around 74% by mid-September, 2018—and 176% by the time they hit their record high of $95.32 last month.
Just sayin.'
Today's numbers (all times ET): Employment Report (8:30 a.m.), Baker-Hughes oil rig count (1 p.m.).
Today's earnings include: Genesco (GCO), Brady (BRC).
Click here to log on to your account or learn more about E*TRADE's trading platforms, or follow the Company on Twitter, @ETRADE, for useful trading and investing insights.
---
1 Bloomberg. China, U.S. to Hold Trade Talks in October as Mistrust Remains. 9/5/19.
What to read next...
09/05/19
Options activity and an intraday price reversal signal potential importance of support level.
---
09/04/19
Long-dormant gaming stock tests range amid favorable press, industry tailwinds.
---
09/03/19
Stocks kick off September after breaking a four-week losing streak.
---