Bottoms up
GDOT is down more than 70% from its late-2019 all-time high
Stock dropped -18% after earnings, but held above Oct. lows
Shares rebounded more than 12% amid high put/call readings
When Green Dot (GDOT) appeared on a LiveAction scan of stocks with high put/call ratios early yesterday morning, a longer-term price chart appeared to succinctly explain why it made the cut: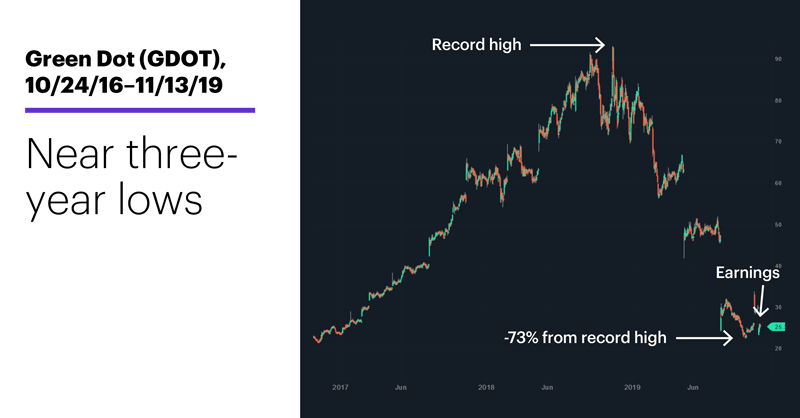 Source: Power E*TRADE
---
With shares of the financial tech and banking company wallowing around their lowest levels since late 2016—after a jagged -73% correction from its November 2018 high around $93—it wouldn't be surprising if GDOT put options, which give their holders the right to sell stock at a specified level, were in high demand.
That hypothesis may especially resonate with bearish traders just five days after the stock shed -18% after its most recent earnings report.
But some traders, particularly contrarian–minded bulls, may be looking at the situation from a different angle, in light of a few pieces of contextual information:
● GDOT beat its top-line earnings and revenue numbers,1 and while the company lowered its forward earnings forecast, this disappointing guidance was simply a reiteration of the outlook it had already shared with the Street.2
●High put/call ratios, especially after extended sell-offs, can sometimes signal a climax of bearish sentiment.
With this in mind, let's take a closer look at GDOT's most recent price action: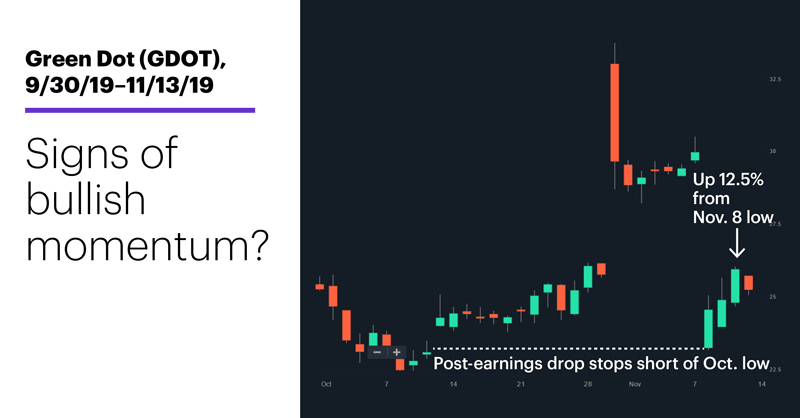 Source: Power E*TRADE
---
The fact that the stock tumbled -18% on November 8 but failed to take out its lows (around $22.50) from a month earlier could be a signal that selling pressure was temporarily exhausted. In a sense, it was, because the stock rallied more than 12% off that November 8 low over the next three days.
Does it all add up to a stock that's bottomed out? That's impossible to know (GDOT shares were down more than -3% around noon ET yesterday). But traders now have a relatively nearby price zone—the October–November lows—to define their risk on that hypothesis.
Bulls who begin grazing in the Green Dot pastures near current levels may be anticipating a rebound that could at least attempt to fill the November 7–8 down gap, which would imply a roughly 20% up move from yesterday's level. With a move below the October low a "mere" 10% away, such traders may see it as a favorable risk–reward scenario.
Especially if they believe all the "bad news" has been priced into the market, and the stock and options trading activity indicates most of the sellers who wanted to sell have possibly already sold.
Market Mover Update: Roku (ROKU) continued to rebound from last week's post-earnings walloping. The stock rallied more than 5% yesterday, bringing its four-day gain to around 20%.
Today's numbers (all times ET): Producer Price Index, PPI (8:30 a.m.), Jerome Powell testifies before Congress (10 a.m.), EIA Natural Gas Report (10:30 a.m.), EIA Petroleum Status Report (11 a.m.).
Today's earnings include: Weibo (WB), NVIDIA (NVDA), Viacom (VIAB), Walmart (WMT), Brookfield Asset Management (BAM).
Click here to log on to your account or learn more about E*TRADE's trading platforms, or follow the Company on Twitter, @ETRADE, for useful trading and investing insights. Online stock, ETF, and options trades1 are now commission-free.
---
1 StreetInsider.com. Green Dot Corporation (GDOT) Earnings. 11/13/19.
2 Zacks.com. Why Is Green Dot (GDOT) Down 17% Since Last Earnings Report? 11/12/19.
What to read next...
11/12/19
Some bullish utility stocks may have given deceptive signals recently.
---
11/11/19
Dow scales new heights as market tacks on another record-setting week.
---
11/08/19
Some bullish utility stocks may have given deceptive signals recently.
---