Blue-chip attempts to stick landing
CAT down around -17% since July earnings release
Stock broke below June lows this week
Sales strengthened as stock approached long-term support
When knives are falling, the best question to ask is, "How far away is the floor?"
Because, unless you want to reach out and grab it, that's where the blade is probably going to stick.
The following chart of heavy-equipment manufacturer Caterpillar (CAT) shows a picture of a knife that slipped out of someone's hand in late July, landed on a table last week, only to slip off the edge of it at the beginning of this week: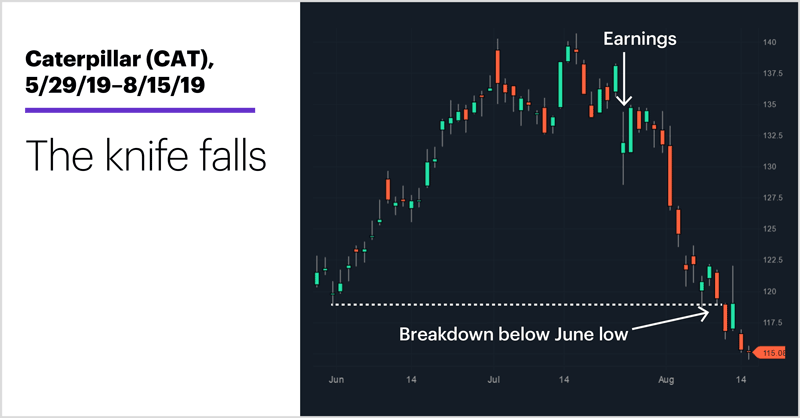 Source: Power E*TRADE
---
The knife's original descent began when CAT released its quarterly numbers on July 24, a -$0.29/share earnings miss1 that has been followed by a roughly -17% drop and a breakdown below the stock's June low. (For some perspective, yesterday the S&P 500 SPX was still more than 4% above its June bottom.)
No floor in sight, at least not on this chart.
But 40 days of price action can only tell you so much. Many short-term traders may reflexively avoid long-term charts, but that can be a mistake, if the following info-packed monthly chart of CAT is any indication: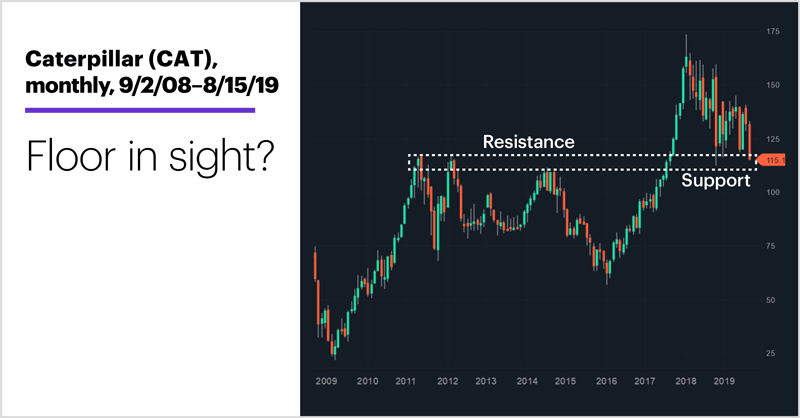 Source: Power E*TRADE
---
Here we see the stock's recent downturn has taken it right into potential "floor" territory—a former resistance zone turned support that contains the stock's 2011, 2012, and 2014 highs, along with its October 2018 low.
Technical traders who had to make an educated guess about where CAT may find price support—at least for a temporary rebound, if not a multi-year trend—would likely zero in on a price zone (call it roughly $111.50–$116.50) that has been the turning point for three significant up moves and one sell-off over the past eight years.
CAT's Tuesday rally suggests positive trade news could inject additional bursts of upside momentum into the stock.
But what may make this purely priced-based scenario even more interesting are recent reports from the business side of the equation—specifically, news that CAT's global heavy equipment sales were actually rising, thanks to a 9% increase in North America and a whopping 20% increase in Latin America,2 which offset declines in China (and the rest of Asia) stemming from the trade war.
Also, coincidentally or not, as prices reached this key technical level CAT has received notice as an attractive dividend stock for investors.3 All else being equal, it's better to have the long-term crowd as a potential tailwind instead of a headwind.
And based on CAT's 2% rally on Tuesday (when the US announced it would delay implementing tariffs), future good news on the trade front has the potential to inject additional bursts of upside momentum into the stock.
Yes, support can break—not just in CAT but in the broader market as well. That's always a risk—and a potential signal: If what you thought was a solid floor doesn't hold, you may have more problems with your house than you thought. But again, when the knife is in the air, get out of the way, and keep your eyes on the floor.
Today's numbers (all times ET):  Housing Starts (8:30 a.m.), Quarterly Services Report (10 a.m.), Consumer Sentiment (10 a.m.), Baker-Hughes oil rig count (1 p.m.).
Today's earnings include: Deere & Co. (DE).
Click here to log on to your account or learn more about E*TRADE's trading platforms, or follow the Company on Twitter, @ETRADE, for useful trading and investing insights.
---
1 StreetInsider.com. Caterpillar (CAT) Misses Q2 EPS by 29c; Maintains Outlook. 7/24/19.
2 TheStreet.com. Caterpillar Bulldozes Ahead as Tariff Delay, Rising Sales Give Shares a Boost. 8/13/19.
3 Zack's Equity Research. Dow tumbles 600 points after bond market flashes a recession warning. 8/14/19.
What to read next...
08/15/19
Battered bank stocks approach key levels as yield curve inverts.
---
08/14/19
Market erased early losses after Tuesday tariff-delay announcement.
---
08/13/19
Sometimes, what's good for the investor can be an opportunity for the trader.
---