A different type of biotech bet
SAVA options volatility at six-month highs
Stock has swung lower since three-month, 321% rally peaked in July
"Non-directional" options spreads are directional—about volatility
Because volatility can be defined different ways, it can mean different things to different people at different times. Here's a brain teaser: Why is a stock that falls 10% in a day typically described as "experiencing volatility" why one that rallies 10% is "enjoying bullish momentum"?
But there are times when traders of all stripes will likely agree that what they're seeing is volatility—such as when a stock jumps 82% over the course of nine days, sells off 56% over the next two, rebounds 89% the following 10 days, then drops 19% the next four.
That, in fact, has been the path of Cassava Sciences (SAVA) over the past month or so:
Source: Power E*TRADE (For illustrative purposes. Not a recommendation.)
---
Cassava, a biotech working on Alzheimer's therapies, has had an incredibly eventful year, including a 484% moonshot in the first three days of February and, after a sharp pullback and consolidation, a 321% rally off its April low that ultimately propelled the stock to a new all-time high last month.
And as the bottom half of the chart shows, SAVA's historical volatility (HV) and options implied volatility (IV) have pushed to multi-month highs in recent weeks—conditions that can help shed light on ways some options traders attempt to trade volatility.
Because high volatility can result in overpriced options, some traders will look to sell high-IV options rather than buy them, regardless of whether they're bullish, bearish, or neutral on the underlying stock. Why? Because volatility often "reverts to the mean" by declining after it surges, which results in lower options prices—a potential "sell high, buy low" situation.
Of course, there's no way to know when an IV surge will end. But potential option sellers often look for IV that is relatively high on both a short-term and longer-term basis. The first chart, for example, showed SAVA's IV had just pushed above its June highs to levels it hadn't reached since February. Similarly, the following chart shows IV was well above its 30-day average for the next four options expirations (the September 3 options were a hefty 83 percentage points higher):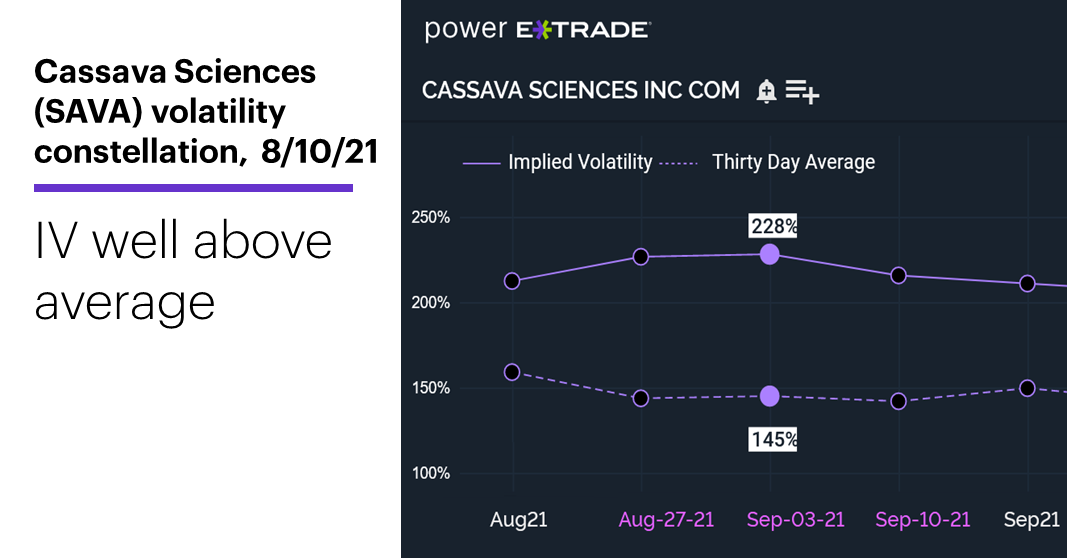 Source: Power E*TRADE (For illustrative purposes. Not a recommendation.)
---
When you combine high options volatility with uncertainty about the underlying stock's price direction, you get the conditions some traders consider fertile ground for strategies like the short strangle, which combines an out-of-the-money (OTM) call option with an OTM put option with the same expiration:
Source (data): Power E*TRADE. (For illustrative purposes. Not a recommendation.)
---
The trader collects premium from selling both options, and will get to keep all of it if the stock remains between the two strike prices until expiration. But if the stock rallies above the call strike price or falls below the put strike price, short strangle traders can get assigned a losing long or short stock position, or simply lose more money on the unprofitable option than they originally collected from selling both options.
The key, and often overlooked, aspect of this strategy is that while it's neutral about the stock's price direction—it doesn't matter if the stock goes up or down, as long as it doesn't go too far—it's very much a short position on volatility, which has to decrease for the position to succeed.
Today's earnings include: The Buckle (BKE), Deere (DE), Foot Locker (FL).
Click here to log on to your account or learn more about E*TRADE's trading platforms, or follow the Company on Twitter, @ETRADE, for useful trading and investing insights
---
What to read next...
08/19/21
Can high-flying mining stock sidestep recent heaviness in its underlying metal?
---
08/18/21
Videoconferencing stock tests support, but options traders need to keep tabs on time and volatility.
---
08/17/21
Consumer electronics stock makes some noise after back-to-back bullish headlines.
---