Splitting the difference
Biotech has sold off harder than NDX, SPX over past month
BEAM bounced this week after 41% correction
Options volatility profile may interest short-term traders
Following up on one of its biggest up days of the past year was bound to be an uphill battle for the Nasdaq 100 (NDX), but the tech index made a game of it yesterday, rallying as much as 1.5% in early trading before slipping. C'est la vie—tomorrow's another day.
But a different breed of tech has bounced a little more so far this week—biotech, which outgained the NDX on both Tuesday and Wednesday, as measured by the S&P 500 biotech sector.
The flipside of that coin is that biotech suffered a much bigger correction over the past month, falling roughly 22% between February 8 and March 8—twice as much as the NDX, and around five times as much as the S&P 500 (SPX). And many individual names tumbled more than that, including Beam Therapeutics (BEAM), which shed 41% from its February 8 peak of $120.75 to Monday's close of $71.28:
Source: Power E*TRADE
---
If BEAM has taken a bigger hit than many of its biotech brethren, it's also had a least one additional bearish catalyst—the announcement that it would shell out $120 million to buy genetic medicine components maker Guide Therapeutics.1 That news was followed by a 25% intraday sell-off on February 23 that kicked off the sharpest portion of BEAM's correction, ultimately sending the stock into negative territory for the year before Tuesday's rebound.
BEAM is a pioneer in "base editing," a newer corner of the CRISPR genetic engineering field that proponents hope may provide solutions for a wider range of diseases than the standard CRISPR gene-editing technology. (One of the company's co-founders was, in fact, also a founder of high-profile gene editor Editas Medicine.)
And while those treatments may still be in the future, BEAM is currently the only company that holds a base-editing license for therapeutics,2 which could attract the attention of longer-term biotech bulls interested in niche markets, not to mention shorter-term players on the lookout for potentially oversold stocks.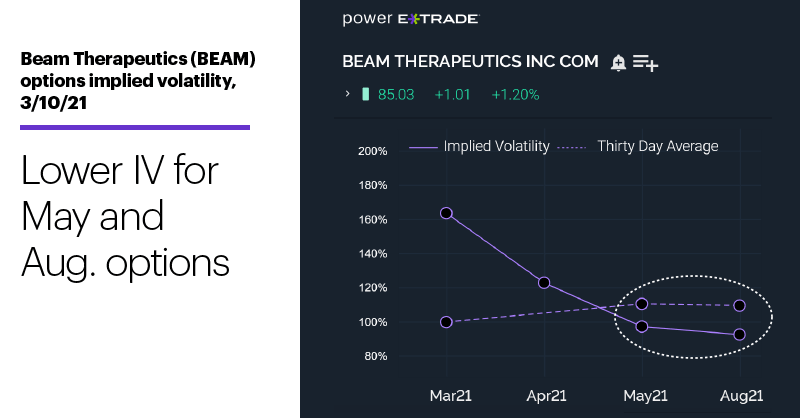 Source: Power E*TRADE
---
Traders looking into BEAM yesterday may have noticed a split in its implied volatility (IV) profile (above): IV for March and April options was above average, while IV for May and August options was below average.
Since low IV often translates into lower options prices (and vice versa), it could be an important distinction for traders to keep in mind, regardless of which side of the market they're on.
Today's numbers (all times ET): Weekly Jobless Claims (8:30 a.m.), JOLTS Job Openings (10 a.m.).
Today's earnings include: Ulta Beauty (ULTA), Buckle (BKE), JinkoSolar (JKS), DocuSign (DOCU).
Today's IPOs include: First High-School Education Group (FHS), Coupang (CPNG).
Click here to log on to your account or learn more about E*TRADE's trading platforms, or follow the Company on Twitter, @ETRADE, for useful trading and investing insights.  
---
1 Investor's Business Daily. Beam Therapeutics Dives On $120 Million Takeover Of Guide Therapeutics. 2/23/21.
2 Generic Engineering and Biotechnology News. CRISPR 2.0: Base Editing in the Groove. 3/4/21.
What to read next...
03/10/21
Options traders hop on board as EV stock seeks to get back on track after latest earnings release.
---
03/09/21
Two markets reverse notable moves—at notable levels.
---
03/08/21
Interest rate worries continue as technology's slide extends to three weeks, despite Friday rebound.
---