Biotech options get spliced
EDIT fell more than 40% in less than 3 weeks
Other gene-editing stocks also suffered setbacks
Options volatility relatively low despite stock sell-off
While some high-profile tech stocks were among the most obvious casualties of the recent pivot away from growth that unfolded as interest rates spiked, another type of "tech" stock has also felt the pinch—biotech. Between September 23 and yesterday, the S&P biotech sector lost around 12%—more than five times as much as the S&P 500 (SPX), and more than twice as much as the Nasdaq 100 (NDX).
Within the biotech space, gene-editing stocks were especially hard hit. Editas Medicine (EDIT), which surged 86% between July 27 and September 2, slid 43% between September 23 and last Friday (October 8), when shares reached their lowest level since mid–June: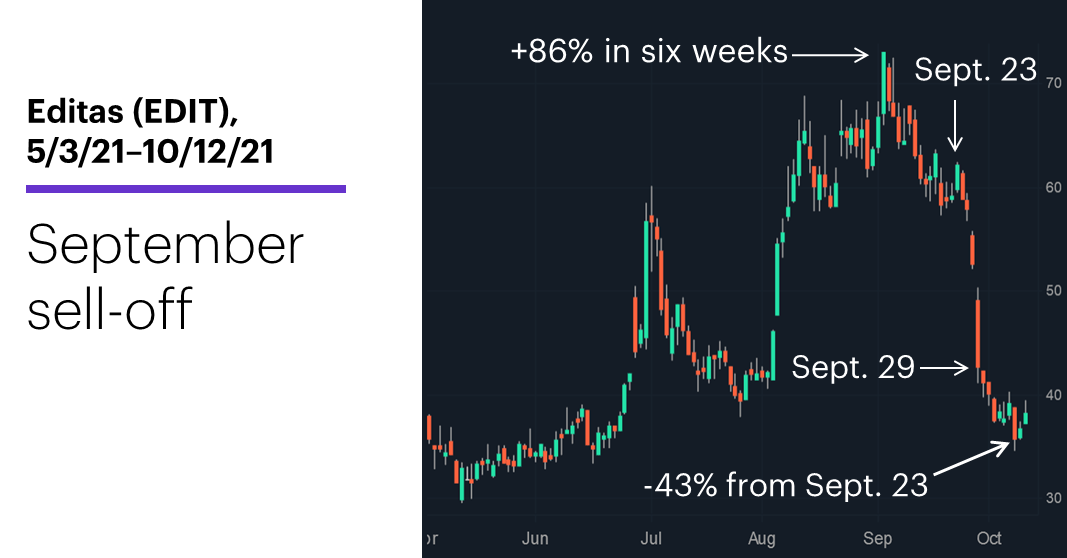 Source: Power E*TRADE (For illustrative purposes. Not a recommendation.)
---
While other gene editors, including CRISPR Therapeutics (CRSP) and Intellia Therapeutics (NTLA), also took their lumps during this stretch, EDIT's much bigger sell-off was punctuated by a 19% drop on September 29 when the company released mixed clinical data about one of its therapies.1
Hits and misses are simply part of the volatile biotech arena. What may have interested traders was the way EDIT and the other gene editors have bounced back so far this week, despite weakness in the broad market (EDIT was up more than 7% at one point yesterday). And for a stock that has been so volatile lately, EDIT's options volatility appeared to be relatively low—implied volatility (IV) for every expiration through November was below average:
Source: Power E*TRADE (For illustrative purposes. Not a recommendation.)
---
Also, EDIT appeared on yesterday's LiveAction scan for stocks with 30-day IV lower than their 30-day historical volatility (HV), although this may have been more about how high HV was than how low IV was.
Nonetheless, those two factors may have led some bullish traders to scan call options quotes, since options with relatively low IV in a stock trading 43% lower are likely to be trading at an even steeper discount. In fact, EDIT November $40 calls were trading at 2.59 around midday on Tuesday—less than an eighth of what they were going for on September 23:
Source: Power E*TRADE. (For illustrative purposes. Not a recommendation.)
---
Athough calls generally become even cheaper when the underlying stock falls even more, options traders know that whenever you buy options, you can help give yourself an edge by seeking out the ones with the lowest IV.
Market Mover Update: Overall, small caps have yet to break out of their eight-month (and increasingly tight) trading range. But like many other financial names, small-cap bank stock The Bancorp (TBBK) has ridden the upturn in long-term interest rates to a 27% gain since September 16 (see "Rotation watch").
SunPower (SPWR) basked in the glow of yesterday's rally in solar stocks, jumping more than 7% intraday. The stock has surged more than 22% over the past five days, breaking out of the trading range described in "Clean energy searches for greener pastures."
Today's numbers include (all times ET): Consumer Price Index, CPI (8:30 a.m.), FOMC minutes (2 p.m.).
Thursday's numbers include: Producer Price Index, PPI (8:30 a.m.).
Today's earnings include: Delta Air Lines (DAL), BlackRock (BLK), JPMorgan Chase (JPM).
Thursday's earnings include: Alcoa (AA), Walgreens (WBA), Bank of America (BAC), U.S. Bancorp (USB), Citigroup (C), Wells Fargo (WFC), Domino's Pizza (DPZ), UnitedHealth (UNH), Morgan Stanley (MS).
Click here to log on to your account or learn more about E*TRADE's trading platforms, or follow the Company on Twitter, @ETRADE, for useful trading and investing insights
---
1 Bloomberg.com. Editas Craters After Gene Therapy Disappoints, While Rival Rises. 9/29/21.
What to read next...
10/11/21
Market chops its way to a gain in the first full week of October.
---
10/08/21
Cloud stock's options volume climbs as prices test 2021 low.
---
10/06/21
Oil just pushed to levels it hasn't seen in years, but energy stock traders may want to keep some key price-action principles in mind.
---