Biotech breakout
MDCO stock up more than 35% since August 15
Successful clinical trials prompted latest stock surge
Traders may see opportunity to take advantage of high options IV
You can almost always count on biotech.
That's shorthand for, "If you're looking for fast-moving stocks in a dull market, check out the biotech sector." Not that the market has been dull lately, but even when it is, biotech stocks—companies engaged in the high-stakes game of developing cutting-edge medical treatments—are often sources of momentum moves.
That momentum can be up or down, of course, since "cutting-edge" cuts both ways—sometimes those technologies pay off, sometimes they don't.
On Tuesday, recent biotech high-flyer The Medicines Company (MDCO), had rallied as much as 39% off its three-month low of $31.15 from August 15, and it held most of that gain yesterday: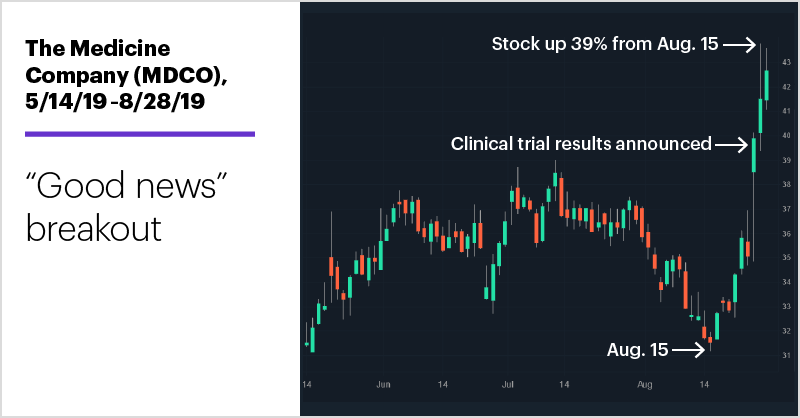 Source: Power E*TRADE
---
The lion's share of that move (around 23%) unfolded in the past three days, which is no coincidence, since news broke on Monday of successful Phase-3 trial results for the company's cholesterol-lowering therapy inclisiran1—potentially good news for cardiovascular systems around the globe, and obviously great news for MDCO stock.
In addition to pumping up the stock price, the news also inflated implied volatility (IV) in MDCO options, as shown by the following LiveAction scan of tickers with 30-day IV greater than their 30-day historical volatility (HV):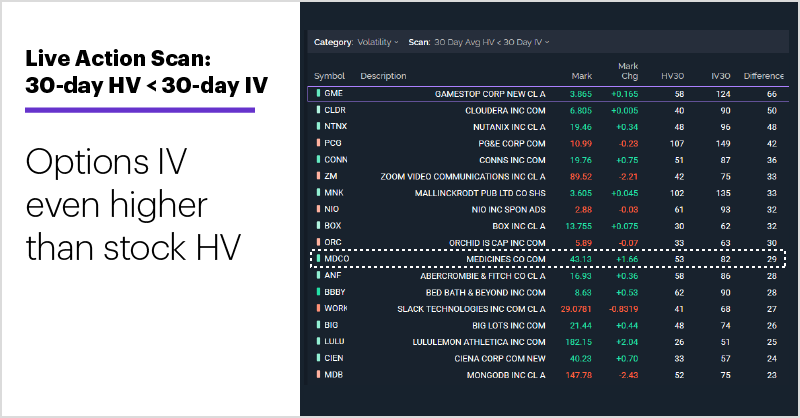 Source: Power E*TRADE
---
In other words, options IV was even higher than the stock's recent price (historical) volatility, and that's saying something.
IV is the part of an option's price that reflects the market's estimate of future stock volatility—generally, the higher the IV, the higher the option price, and vice-versa. Basically, the more price movement traders expect in a stock, the more expensive its options will be—that's high IV. Because of their high IV, MDCO options are potentially overpriced, so some traders may be looking to sell them, since a drop in volatility could cause them to lose value—even if the stock drops very little, or not at all.
Which ones would be the best candidates for this type of trade? Most options traders would look for the options that have been pumped up the most by the recent stock rally (calls, not puts), as well as those that are expiring relatively soon, since options lose value at an accelerated rate in the final two or three weeks before expiration.
For example, the chart below shows the profit/loss profile for selling an MDCO September $48 call, which was trading around 1.50 ($150 per contract), up more than 10% from Tuesday: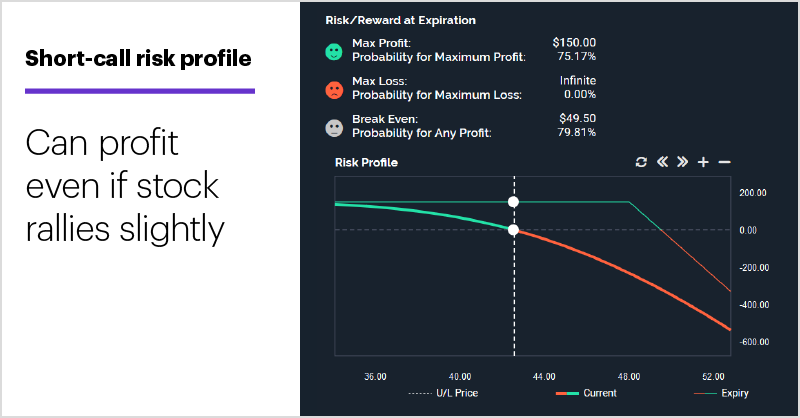 Source: Power E*TRADE
---
As long as the stock doesn't trade above $48 by September 20, the options would expire worthless and the trader would get to keep all the premium. Traders with different levels of risk tolerance could alter the basic trade by adding a long call option with a higher strike price (e.g., $50 or $55), creating a "bear call spread" that would limit risk if the stock kept roaring to the upside, but would also limit the potential profit. It's a trade-off.
Note that even though a short call has the same risk profile as a short stock position, in this case it's not really about shorting MDCO, although a falling stock price in the near term would help the position. It's about shorting volatility, which spiked recently and has the potential to decline, even if the stock price remains stable or climbs a little higher.
It's the extra dimension of markets that options traders can take advantage of, when conditions allow.
Today's numbers (all times ET): GDP, International Trade in Goods, Corporate Profits, Retail Inventories, Wholesale Inventories, Pending Home Sales Index.
Today's earnings include: Abercrombie & Fitch (ANF), Big Lots (BIG), Burlington Stores (BURL), Ulta Beauty (ULTA), Designer Brands (DBI), Best Buy (BBY), Dollar General (DG), Tech Data (TECD), Dell Technologies (DELL), Dollar Tree (DLTR).
Click here to log on to your account or learn more about E*TRADE's trading platforms, or follow the Company on Twitter, @ETRADE, for useful trading and investing insights.
---
1 The Street.com. Medicines Co. Rises on Positive Phase 3 Trial for Cholesterol Lowering Therapy. 8/26/19.
What to read next...
08/28/19
Discovering the story behind the numbers: Options activity shows true colors upon closer inspection.
---
08/27/19
The straight dope on September, both this year and in years past.
---
08/26/19
Friday Twitter tirade halts rebound, sends market to fourth-straight down week.
---