Biotech bounce
REGN retreated 29% from July high after 98% rally off Jan. low
On Monday stock posted one of its biggest days of past two months
Reversal occurred at prominent retracement level
You usually can't read much into a single day's price action, but that doesn't mean you should ignore a notable move, especially if it fits into a larger picture.
After falling more than 20% over the past couple of months to its lowest point since late March, Regeneron (REGN) bounced more than 4% on Monday—one of the stock's biggest up days since October: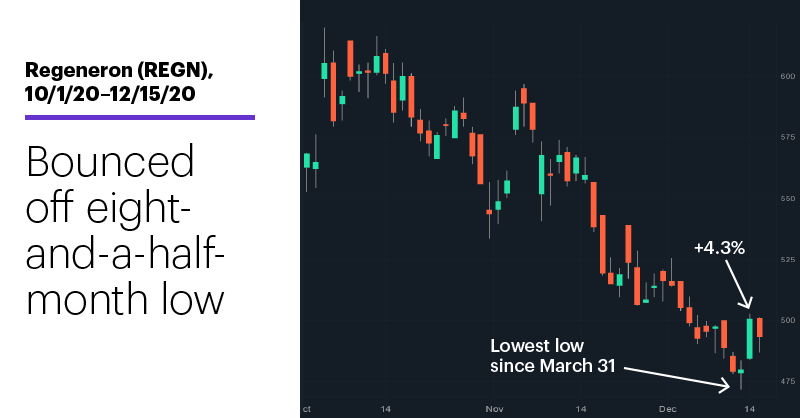 Source: Power E*TRADE
---
After giving back most of that gain in early trading yesterday, REGN showed signs of stabilizing—by midday it had recouped more half the day's loss—but it was still a long way from its October or July highs.
Regeneron has been a major player in the biotech space for years, but like many of its brethren this year, it drew special attention as the COVID vaccine race heated up, rallying more than 98% off its January low to an all-time high near $665 in July before retreating to its current levels.
Technically, Regeneron was on the fringes of that race, as the treatment it developed was an "antibody cocktail" intended for patients who already had mild to moderate cases of COVID. But the regimen received a great deal of attention after promising test results (it was the treatment given to President Trump in October), and it received Emergency Use Authorization (EUA) from the Food and Drug Administration last month.1  The US government has contracted to buy $450 million worth of the cocktail.2
Regeneron's Monday bounce may not have caught many eyes in light of the stock's recent performance, but some traders probably noticed the pivot—which really began intraday on Friday—occurred at the 50% retracement level of the 143% September 2019–July 2020 rally: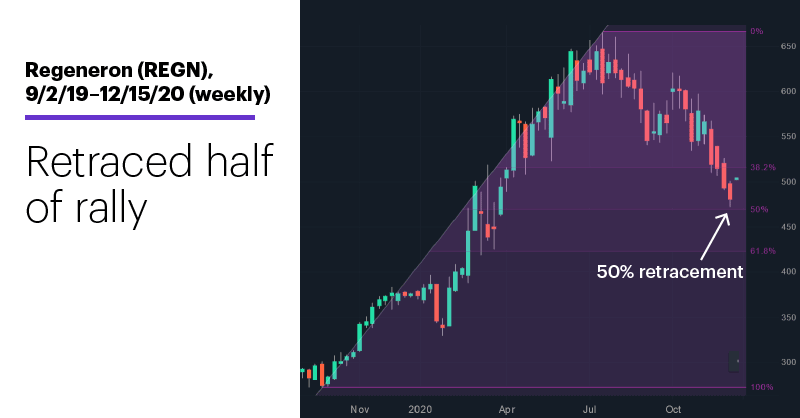 Source: Power E*TRADE
---
A one-and-a-half-day bounce doesn't constitute an uptrend by any stretch of the imagination, but the 50% retracement level is the most widely watched reversal level among technical traders looking to catch a potential bounce or rebound in formerly up-trending markets.
Traders considering going the options route may have decisions to make. While calls would be the de facto choice for most bullish positions, traders seeing the large premiums in slightly out-of-the-money strikes (yesterday, for instance, the February $480 put was trading around 14.00, or $1,400) may consider shorting these options with the goal of getting assigned the stock on a potential test of Monday's low.
It's simply a different route to the same destination, except that in the event the stock simply continues to rally, traders would have nothing to show for the effort except the premium they collected.
Market Mover Update: Was that the head-fake? Colfax (CFX) rallied more than 2.5% intraday yesterday after Monday's -3.6% retreat from resistance (see "Keeping tabs on options activity").
Again, one day doesn't make a trend, but yesterday's upturn by the S&P 500 (SPX) occurred on the 11th trading day of December—right around the time of the month the market has often reversed to the upside after a pullback in the second week of the month (see "Prepping for December").
Today's numbers (all times ET): Retail Sales (8:30 a.m.), Business Inventories (10 a.m.), Housing Market Index (10 a.m.), EIA Petroleum Status Report (10:30 a.m.), FOMC Announcement (2 p.m.).
Today's earnings include: Blue Bird (BLBD).
Click here to log on to your account or learn more about E*TRADE's trading platforms, or follow the Company on Twitter, @ETRADE, for useful trading and investing insights.  
---
1 BioSpace.com. Regeneron's COVID-19 Antibody Cocktail Now Available for Some Patients Under EUA. 11/23/20.
2 Reuters. Regeneron says its Covid-19 antibody treatment cut medical visits in trial. 10/28/20.
What to read next...
12/15/20
After hitting one technical milestone, traders may be watching for this software stock to tag another.
---
12/14/20
Tech and large caps may have slumped last week (after hitting new records, of course), but small caps maintained their bullish stance.
---
12/11/20
Unusual options action shines light on stock as it approaches key resistance.
---