Biopharma throws its weight around
RYTM pulled back more than 20% after 734% June–Aug. rally
Company has foothold in obesity drug space
Option volatility higher than usual on Wednesday
Many stocks posted healthy gains between mid-June and mid-August, but not many were as robust as the one in Rhythm Pharmaceuticals (RYTM), a biopharma company focused on developing obesity therapies, which jumped 734% from June 13–August 15: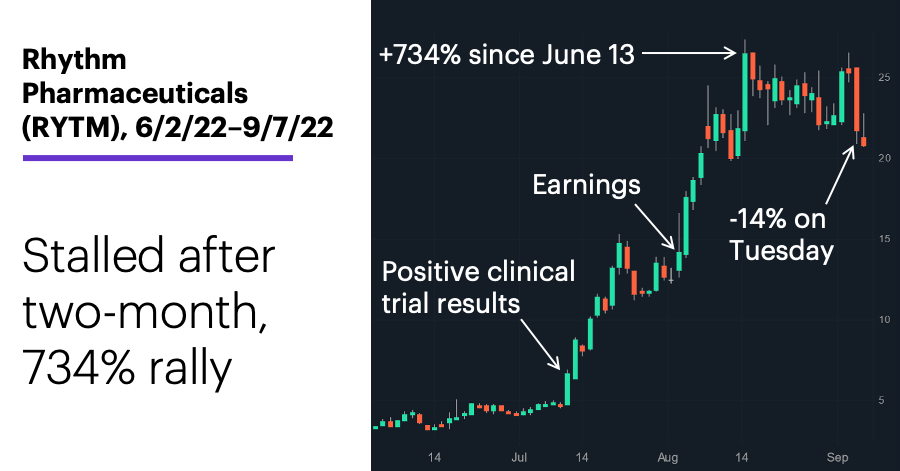 Source: Power E*TRADE. (For illustrative purposes. Not a recommendation.)
---
The move unfolded in two primary waves—after news of successful trial results for one of its drugs on July 12, and after its August 2 earnings beat.1
The move also occurred as obesity therapies have received renewed attention. As Morgan Stanley & Co. pharmaceutical analysts recently explained, the health care industry has shifted from classifying obesity as a "lifestyle disease" to a preventable chronic disease. As a result, they argue obesity is on the verge of entering the medical mainstream—much the same way hypertension (high blood pressure) drugs grew into a multi-billion-dollar industry by the late-1990s after being introduced in the mid-1980s. Similarly, they see the obesity therapy market potentially reaching $50 billion by the end of this decade.
Central to this outlook: the GLP-1 category of appetite-suppressing drugs that have been used to treat diabetes for more than 10 years, and which studies have shown can help people lose 15% to 20% of their body weight.2 The early results have been promising, but the industry is still waiting for more data—and government approval to use these diabetes drugs specifically to treat obesity.
While this field has several big-pharma companies in the mix, including Eli Lilly (LLY), Novo-Nordisk (NVO), and Pfizer (PFE), the moves in some small-cap players like RYTM have understandably attracted a great deal of trader and investor interest. After appearing somewhat immune to the broad market's weakness over the previous two weeks, RYTM sold off 14% on Tuesday and slid an additional 7% intraday yesterday. That price action helped land the stock on the LiveAction scan for highest 30-day implied volatility (IV) levels: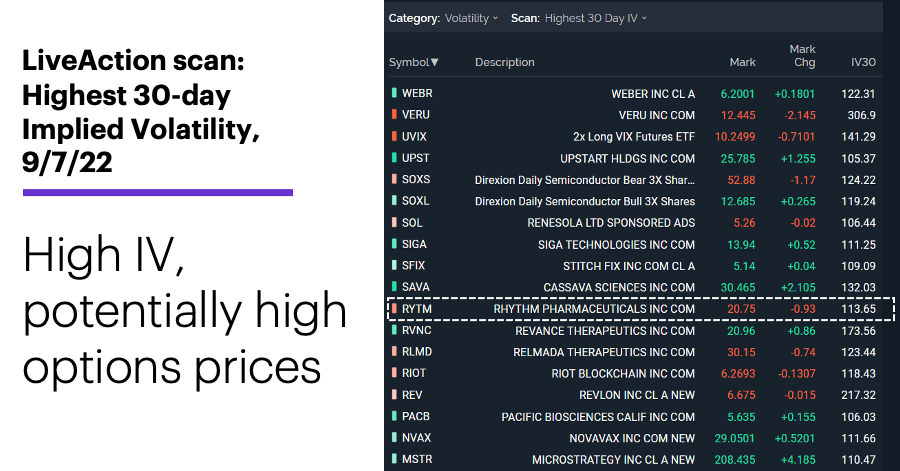 Source: Power E*TRADE. (For illustrative purposes. Not a recommendation.)
---
Longtime options traders understand that all else being equal, high IV tends to result in higher options premiums. (As of yesterday afternoon, for example, an out-of-the-money RYTM October $17.50 was trading as high as $1.70, up from $0.95 two days earlier.) That means options buyers need to be cautious about paying potentially overinflated prices, regardless of their outlook on the underlying stock. If volatility declines significantly, an option can lose value (or gain very little) even if the stock moves in a favorable direction.
More generally, as the recent price action in RYTM has shown, exceptionally large price moves are always susceptible to reversals, temporary or otherwise.
Market Mover Update: Oil prices broke below support on Wednesday, with October WTI crude futures (CLV2) falling more than 6% intraday and below $82/barrel—their lowest level since February (see "Oil market highlights support level").
After falling to its lowest level since April 2020 last Thursday, Royal Gold (RGLD) has bounced more than 6%, including a 3%-plus gain on Wednesday as call volume outpaced put volume more than 30-to-1.
Today's numbers include (all times ET): Weekly jobless claims (8:30 a.m.), Fed Chairman Jerome Powell speaks at the Cato Institute's 40th Annual Monetary Conference (9:10 a.m.), Quarterly Services Survey (10 a.m.), EIA Natural Gas Report (10:30 a.m.), EIA Petroleum Status Report (11 a.m.).
Today's earnings include: RH (RH), Lovesac (LOVE), DocuSign (DOCU), National Beverage (FIZZ), Zscaler (ZS).
Click here to log on to your account or learn more about E*TRADE's trading platforms, or follow the Company on Twitter, @ETRADE, for useful trading and investing insights.
---
1 StreetInsider.com. Rhythm Pharmaceuticals (RYTM) Tops Q2 EPS by 7c. 8/2/22.
2 MorganStanley.com. Pharmaceuticals: The Global Obesity Challenge. 8/2/22.
What to read next...
09/07/22
Crude oil's latest test of a longstanding support level occurred just as OPEC made a surprise production announcement.
---
09/06/22
Stocks give back more than half of summer rally, will begin new week near six-week lows
---
09/01/22
Rangebound restaurant stock experiences a spike in call options volume.
---