Price congestion, trader interest
BBIO up more than 65% in eight days after testing 2019 lows
Stock began trading during last year's IPO boom
Larger-than-average options positions as stock consolidates
Among the many marquee stocks that often dominate LiveAction scans, one that stuck out yesterday was BridgeBio Pharma (BBIO). Although it's definitely not a household name, the company, which specializes in medicines for genetic diseases, was one of last year's higher-profile bio pharma IPOs.
The stock, which began trading around $27.50 last June, drifted into the upper teens in October (amid a reported uptick in hedge fund buying in the fall1) before rallying to a high of $46.83 in December. The coronavirus sell-off dropped shares as low as $14.23 on March 18, but a 65% rally over the next two days (the week before last week's epic bounce) pushed the stock back into the mid-$20s, where it's since consolidated for several days: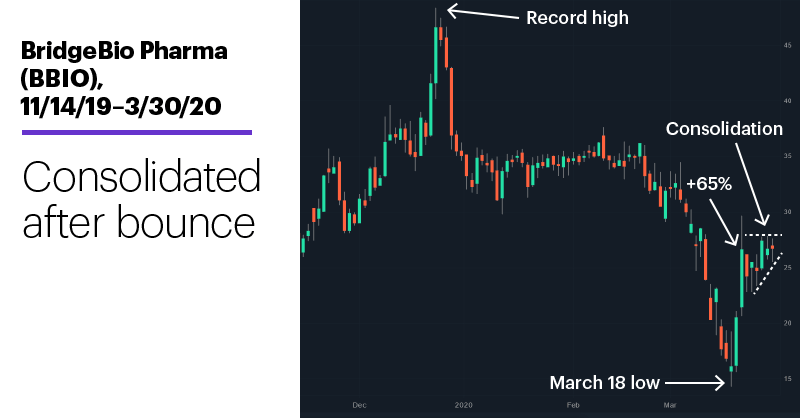 Source: Power E*TRADE
---
What may make this price action from a little-known stock more interesting to some traders:
1. The mid-March reversal occurred after prices took out the stock's 2019 lows, which some technical traders may see as a successful test of support.
2. BBIO's options open interest (OI), which represents the total number of unclosed options positions, is high. The LiveAction scan below shows BBIO's OI was running more than five times its average level yesterday.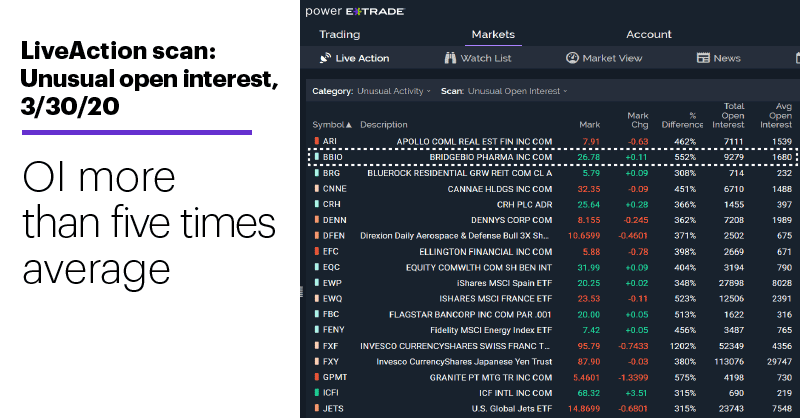 Source (data): Power E*TRADE
---
High or increasing OI means options players are opening more new positions than closing existing ones, which implies trader interest in the stock. Sometimes options volume is extremely high, but if OI is declining at the same time, it means traders are getting out of positions rather than into them, which suggests less interest in the stock.
Scanning the options chain revealed the vast majority of the BBIO's OI was in calls, and most of that was in the August contracts—specifically, the near-the-money $25 calls and the out-of-the-money $35 calls: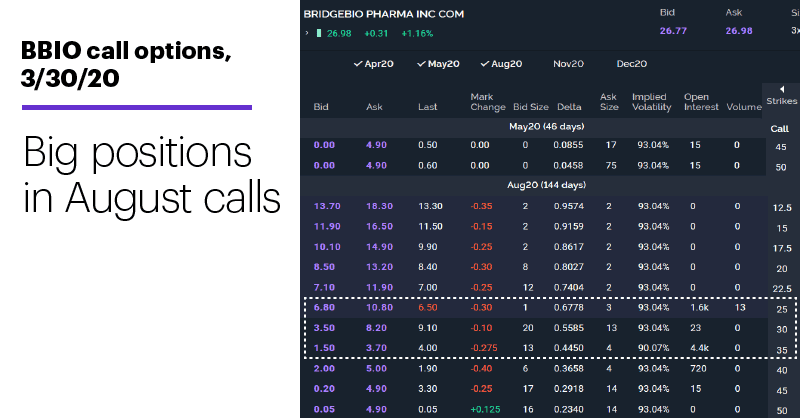 Source: Power E*TRADE
---
While it's true that the trader interest represented by high OI levels can mean there's more potential fuel for a stock price move, it's also true that there's no way to know when it may occur, if it does. But the short-term consolidation pattern after the big bounce could grab the attention of breakout players.
Although with so much of BBIO's OI in the August options, it may seem unlikely those positions could come into play on a shorter-term horizon. But BBIO isn't a heavily traded stock, and after its April options (which expire in 17 days), its next two options expirations are in May and August—in other words, those are the only games in town.
The market is still working its way through coronavirus volatility and uncertainty, and if recent history is any indication, it will be difficult for any individual stock to fight the selling tide if it becomes too strong.
If the stock's recent consolidation and its increasing OI do fuel a breakout move, traders may choose to play the short-term move, up or down, while those with a bullish and/or longer-term outlook may look to play a test of the mid-March lows, either in the stock or its options.
Saudis push to find bottom of barrel: Saudi Arabia announced yesterday it would dial up its crude oil exports to a record 10.6 million barrels a day starting in May.2 May crude oil futures (CLK0) fell as low as $19.85/barrel—the first time oil has fallen below $20 since February 2002. Energy stocks, which had recently bucked the oil market's bearishness, were the weakest sector of the S&P 500 yesterday.
Today's numbers (all times ET): S&P Corelogic Case-Shiller HPI (9 a.m.), Chicago PMI (9:45 a.m.), Consumer Confidence (10 a.m.).
Today's earnings include: Conagra (CAG), McCormick & Company (MKC).
Click here to log on to your account or learn more about E*TRADE's trading platforms, or follow the Company on Twitter, @ETRADE, for useful trading and investing insights.  
---
1 InsiderMonkey. Hedge Funds Have Never Been This Bullish On BridgeBio Pharma, Inc. (BBIO). 10/24/19.
2 Barron's. Saudi To Raise Oil Exports To Record Levels As Price War Rages. 3/30/20.
What to read next...
03/30/20
Stocks stage historic rebound as stimulus efforts kick into high gear. But don't bet on the rollercoaster ride being over just yet.
---
03/27/20
The volatility continues, although lately it's been the kind most traders like. Find out how the market's dynamics may be shifting.
---
03/26/20
Huge rallies in "oversold" stocks may be a positive signal about the market's overall health, but traders still need to be selective.
---