Short-term move, big-picture view
XPO rallied more than 300% between March 2020 and August 2021
Company spun off part of its business in early August
Shares recently pulled back 19%, tested December–March consolidation
While some shorter-term traders have a tendency to focus on micro factors, there's no shortage of examples highlighting the importance of staying on top of the bigger-picture dynamics that may be at work in a market.
For instance, when XPO Logistics (XPO) jumped more than 4% intraday yesterday, some traders may have viewed it as a temporary relief rally in a stock that one day earlier had extended a correction from its August record high to 19% and fallen to a six-month low: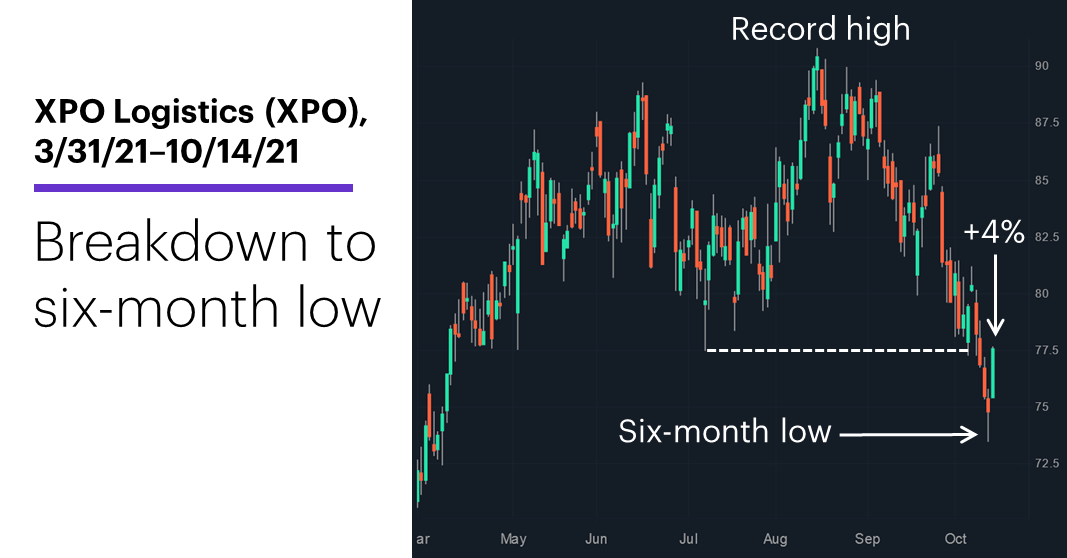 Source: Power E*TRADE (For illustrative purposes. Not a recommendation.)
---
In fact, the stock had sold off more than 8% in just four days before Thursday's rally—breaking below its July lows in the process—which may have added to a perception that while XPO was "due" for a bounce, it was nonetheless still firmly in the grasp of bears.
But that take on things—even if correct—ignores a few larger factors. First, the broad market has been trending mostly lower since early September (yesterday's surge notwithstanding). Second, XPO underwent an important transformation in early August, spinning off its logistics arm (now trading as GXO) to focus on the transport and truck brokerage business.1
A longer-term chart shows that while the recent downturn is XPO's most significant setback since February–March 2020, it hasn't made a significant dent in the rally that preceded it: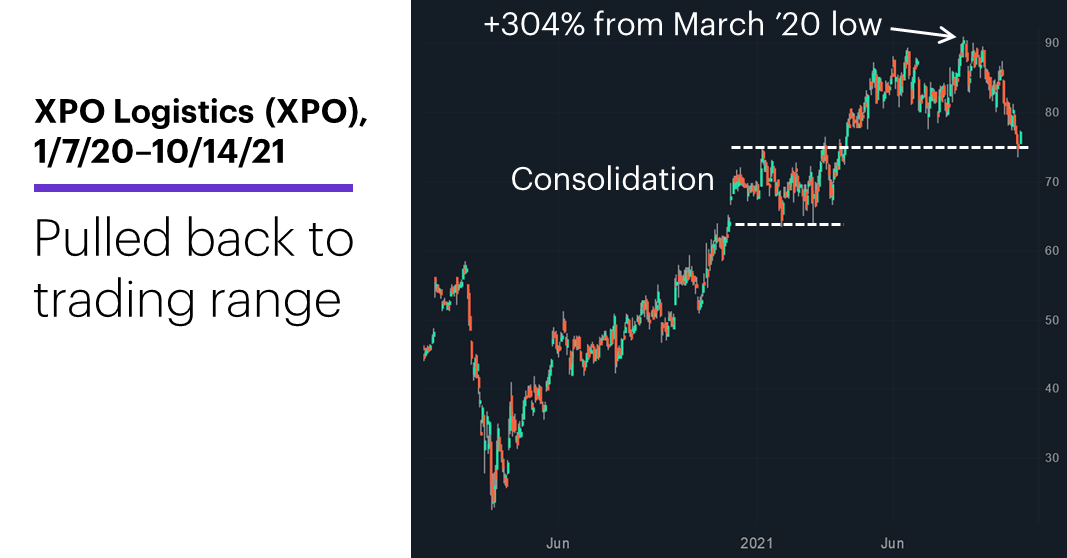 Source: Power E*TRADE (For illustrative purposes. Not a recommendation.)
---
Whether XPO's recent retreat was simply a "natural" correction in a stock that had rallied more than 300% since March 2020 or represented investors sussing out the reconfigured company's value—or both—traders who looked at the big picture likely noticed yesterday's bounce occurred after the stock dipped back into December–March trading range.
Many traders look for stocks to find price support in the vicinity of previous congestion areas and breakout levels. And while a one-day bounce doesn't mean a stock's two-month retreat has ended, when one occurs at a conspicuous technical price level, traders may be more likely to add the symbol to their watchlists.
The lesson is that a shorter-term trading horizon doesn't mean keeping an exclusively short-term mindset. Tuning out "noise" is one thing, putting on blinders is another.
Market Mover Update: Editas Medicine (EDIT) rallied more than 4% intraday on Thursday, while the November $40 calls jumped around 25% (see "Biotech options get spliced").
Today's numbers include (all times ET): Retail Sales (8:30 a.m.), Import and Export Prices (8:30 a.m.), Business Inventories (10 a.m.), Consumer Sentiment (10 a.m.).
Today's earnings include: Goldman Sachs (GS), PNC Financial (PNC), J.B. Hunt Transport (JBHT), Prologis (PLD).
Click here to log on to your account or learn more about E*TRADE's trading platforms, or follow the Company on Twitter, @ETRADE, for useful trading and investing insights
---
1 SupplyChainDigital.com. XPO Logistics Completes Spin Off of GXO Logistics. 8/2/21.
What to read next...
10/13/21
Another sell-off in growth stocks—temporary or not—has discounted some recently bullish biotech names.
---
10/06/21
Oil just pushed to levels it hasn't seen in years, but energy stock traders may want to keep some key price-action principles in mind.
---
10/08/21
Cloud stock's options volume climbs as prices test 2021 low.
---