Big news, big moves
LLY jumped Thursday after Alzheimer's drug news
One of the 20-biggest intraday gains in stock's history
Alzheimer's treatments source of other price surges this year
Yesterday pharma giant Eli Lilly (LLY) did something very unusual—at least by its own historical standards. And it may be a good reminder of what can happen in the markets when news, especially news with the potential to stir deep, personal emotions, triggers a price move.
In the wake of news that the company's Alzheimer's drug, donanemab, had received "breakthrough" status from the Food and Drug administration (FDA),1 shares shot up a little more than 10% intraday, setting a new all-time high in the process:
Source: Power E*TRADE
---
While that may sound like just another day at the office in the biotech world, it's a little more exceptional in a mature pharmaceutical firm that began trading in 1952. In fact, LLY has made only 16 other intraday rallies of 10% or more since 1972. (If you just count the ones, like yesterday, that were also two-week or longer highs, the number drops to eight.)
Amazingly, seven of those have occurred since March 2020 (including one earlier this month), which means over the past 15 months, LLY has experienced one of these surges an average of once every 40 trading days, while in the previous 59 years the average frequency was once every 1,339 trading days—around every five years or so.
The growing rate of Alzheimer's has made developing a successful treatment one of the most potentially lucrative, if elusive, goals of the pharma industry. While the FDA's breakthrough designation simply accelerates the drug's consideration for approval, not approval itself, this is the second time in less than a month that a big headline on the Alzheimer's front has been followed by a big move on the charts. On June 7, Biogen (BIIB) exploded 64% to the upside after the FDA approved its Alzheimer's drug, although the stock closed up "only" 38%: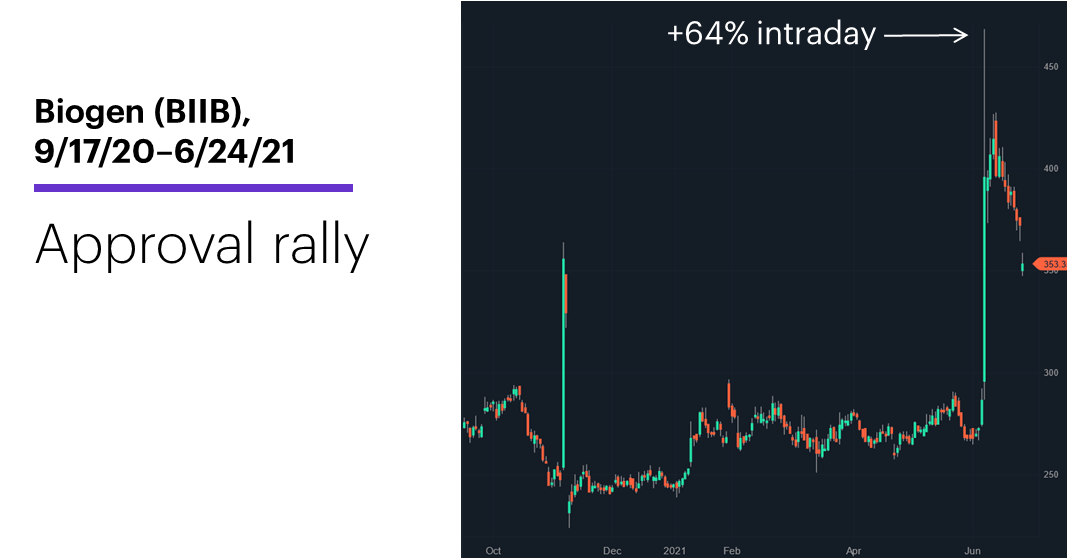 Source: Power E*TRADE
---
Although BIIB closed higher two out of the next three days, as of yesterday shares were trading roughly 10% below its June 7 close (and 24% below its high).
A related example was Cassava Sciences' (SAVA) price action in early February after positive trial results for its Alzheimer's treatment. The stock shot up more than 400% over the course of three days but then drifted lower for more than two months before unleashing a new uptrend: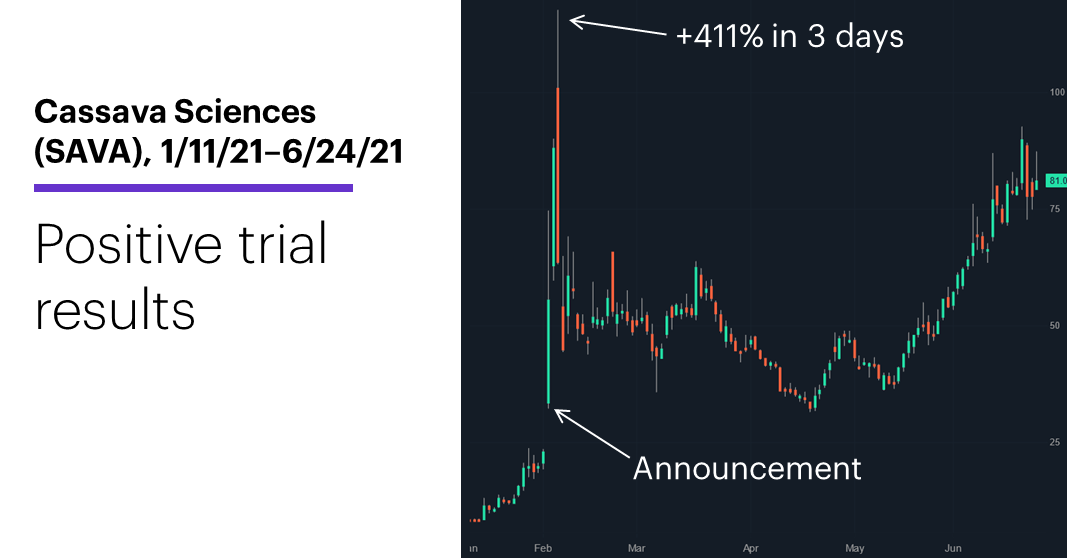 Source: Power E*TRADE
---
This isn't to argue that LLY is destined to follow the same path as BIIB or SAVA over the next few days or weeks. (Every situation is unique—look at LLY's path after its big up day in January.) While its historical track record after its other 10%-plus intraday rallies is, at best, mixed—the stock was lower one week later in nine of the 16 cases2—you can't read too much into a relative handful of examples over the course of nearly 60 years.
Bottom line, though, big moves often accompany big headlines—but so do big emotions, which are always the enemy of sound trading and investing.
Today's numbers include: Personal Income and Outlays/Personal Consumption Expenditures (8:30 a.m.), Consumer Sentiment (10 a.m.).
Today's earnings include: Apogee (APOG), JinkoSolar (JKS), CarMax (KMX), Paychex (PAYX).
Today's IPOs include: Mister Car Wash (MCW).
Click here to log on to your account or learn more about E*TRADE's trading platforms, or follow the Company on Twitter, @ETRADE, for useful trading and investing insights.
---
1 Bloomberg.com. Eli Lilly Alzheimer's Drug Gains FDA Breakthrough Status. 6/24/21.
2 Reflects daily closing prices of Eli Lilly (LLY), 1972–2021. Supporting document available upon request.
What to read next...
06/24/21
Is this fintech stock's recent pause the calm before its next volatility storm?
---
06/23/21
Massive options position highlights stock's recent split as it attempts to extend a rebound off its 2021 lows.
---
06/22/21
Was yesterday's call option buying spree a sign of friendlier skies for this cargo aircraft company?
---