Big data goes small
SPLK tagged four-month high Wednesday
Stock has gained traction since June after lagging peers
Notable short-term call options trades over past two days
Many traders monitor options activity for signs of under-the-radar market shifts—for example, heavy call volume as a potential indicator of increased bullish sentiment. Aside from the limitations of relying too much on any one piece of information, it's important to keep in mind that any outlook based on options trades has a finite time horizon.
For example, yesterday marked the second day in a row big data company Splunk (SPLK) appeared—briefly—on the LiveAction scan for high call-put ratios: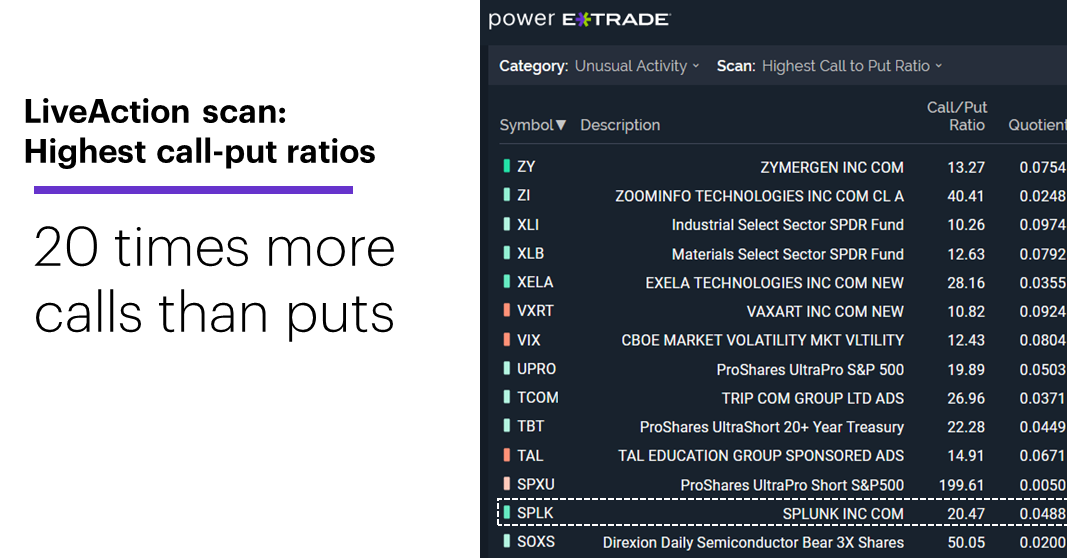 Source: Power E*TRADE (For illustrative purposes. Not a recommendation.)
---
Less than an hour into the trading session, calls were outpacing puts roughly 20 to 1, while SPLK shares popped more than 5% to $149.29 amid upgrade chatter (SPLK's average analyst target of $163.271 is 9.4% above yesterday's high).
Splunk was among the first big-data firms to go public when it began trading in 2012. The field has since become more crowded, as other players have attempted to tap into the business world's seemingly insatiable appetite for crunching huge amounts of data to unearth buried patterns and trends. And over the past year or so, SPLK has underperformed much of the big-data field, including MongoDB (MDB), Elastic (ESTC), and Workiva (WK)—all of which are up more than 200% from their March 2020 lows (WK is up more than 400%), while SPLK has gained only around 55%—thanks in large part to a 50% correction from its September high.
The stock has, however, done a better job of keeping pace over the past couple of months, climbing more than 30% since June 3 and trailing only WK during that span. Yesterday's pop briefly pushed the stock to its highest level since April 14, although it later dipped below last week's high:
Source: Power E*TRADE (For illustrative purposes. Not a recommendation.)
---
Circling back to yesterday's options activity, two big trades (or groups of trades) stood out on the options chain: 1,100 of $150 weekly calls expiring tomorrow, and 765 of the August $150 calls expiring next Friday.
Rather than debate whether any or most of these positions were initiated by traders expecting SPLK to extend yesterday's intraday breakout, the fact remains that none of them have any implications beyond their expirations. So, even if a trader interpreted SPLK's recent spike in call activity as bullish, that implied bullishness doesn't necessarily extend past the two options expirations—i.e., even if this is potentially useful information for short-term players, it's less relevant for longer-term traders and investors.
In other words, if you're going to use options trading activity in your analysis, make sure it's in sync with your own trading horizon.
Note: SPLK is currently scheduled to announce earnings on Wednesday, August 25.
Inflation watch: Yesterday's Consumer Price Index (CPI) reading for July came in right at expectations (a 0.5% increase), while the "core" reading (excluding food and energy prices) was slightly lower than expected (0.3% vs. 0.4%).2 Both numbers were also significantly lower than June's readings. Stock index futures and gold both jumped after the numbers were released: Gold ended up with its biggest one-day gain in more than two months, while the S&P 500 (SPX) closed at a new record high despite posting only a modest gain.
Today's numbers include (all times ET): Weekly jobless claims (8:30 a.m.), Producer Price Index, PPI (8:30 a.m.).
Today's earnings include: Airbnb (ABNB), DoorDash (DASH), LegalZoom (LZ), Palantir (PLTR).
Click here to log on to your account or learn more about E*TRADE's trading platforms, or follow the Company on Twitter, @ETRADE, for useful trading and investing insights.
---
1 TipRanks. Splunk Stock Forecast & Price Targets. 8/11/21
2 Econoday. Consumer Price Index (CPI). 8/11/21.
What to read next...
08/11/21
Insurer's volatility bump may have traders looking into selling options, regardless of whether they're bullish or bearish.
---
08/10/21
Oil and gold start out the week with big moves that tested previous inflection points.
---
08/09/21
Tech leads as market rebounds from previous week's decline.
---