Big moves in biotech
RXDX jumped more than 200% Dec. 7–8
Stock roughly 6% below surge high as of Tuesday
This week started with unusually high options volume
The volatility biotech stocks are known for has been on full display the past couple of weeks. Some highlights: Madrigal Pharmaceuticals (MDGL) more than tripled on Monday, Mirati Therapeutics (MRTX) slid 53% from December 5-8, and Prometheus Biosciences (RXDX) jumped 225% on December 7-8—all moves that pivoted around clinical trial results from each company.
RXDX rallied on Tuesday after drifting lower for several days after its surge, but shares were still more than 200% higher than they were on December 6—the day before the company announced successful results from phase-II clinical trials for its Crohn's disease therapy:1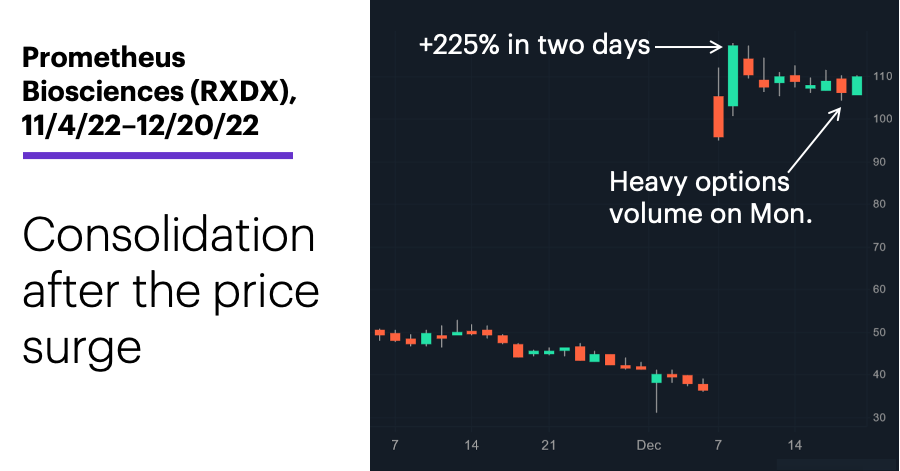 Source: Power E*TRADE. (For illustrative purposes. Not a recommendation.)
---
More than a week after the stock's surge, though, RXDX options activity was elevated: On Monday, call volume was around 51 times average and put volume was more than 23 times average. Here's a summary of the major trades from Monday, along with the open interest (OI) in each contract at the time:
•4,100 January $15 puts (OI 5,300)
•1,000 January $20 puts (OI 1,600)
•2,000 January $25 puts (OI 16,000)
•4,100 January $50 calls (OI 4,500)
•2,500 February $145 calls (OI 2,500)
In each case, the volume was less than or equal to the existing OI, which means traders could have been getting out of existing positions instead of getting into new ones. Given the exceptionally large stock move in this case, it certainly wouldn't be unusual for options traders to take at least partial profits (or losses), especially in deep out-of-the-money contracts.
As of yesterday, that mostly appeared to be what had happened. Open interest dropped from Monday to Tuesday in all the heavily traded contracts, with one exception—the February $145 calls: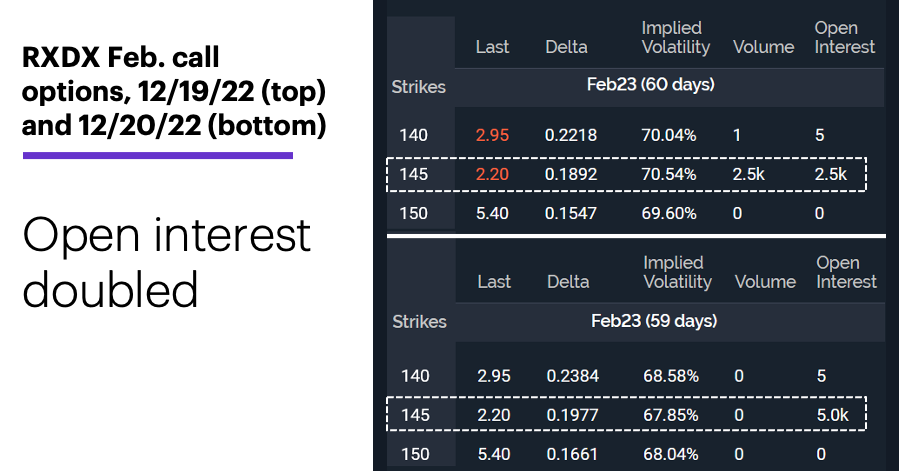 Source: Power E*TRADE. (For illustrative purposes. Not a recommendation.)
---
Although Monday's volume matched the existing OI, on Tuesday the number of open positions had, in fact, doubled to 5,000. (The other 2,500 contracts had traded one day earlier.) That means this was the one contract in which traders were establishing new positions rather than liquidating existing ones.
Heavy trading activity can make it challenging to sift through all the data, but traders who neglect to dig into the details do so at their own risk. Even when it looks like options traders are getting out of a market en masse, others may be establishing new positions. Monitoring OI changes from day to day can help highlight which way the options crowd is leaning.
Market Mover Update: Options implied volatility in NovoCure (NVCR)—a biotech company scheduled to release key clinical data in early 2023—hit new record highs this week (see "Breakout signals and volatility realities"). Traders still looking for an end-of-year stock rally watched the S&P 500 turn an intraday loss into a gain on Tuesday—a more-bullish-than-average performance for the fourth trading day before Christmas (see "Checking in on the Santa Claus Rally").
Click here to log on to your account or learn more about E*TRADE's trading platforms, or follow the Company on Twitter, @ETRADE, for useful trading and investing insights.
---
1 Dow Jones Newswires. Prometheus Biosciences Shares Continue to Rally as Analysts Cheer. 12/8/22.

What to read next...
12/20/22
Stocks have tended to rally around the holidays, but Santa's sleigh doesn't arrive every year.
---
12/19/22
Stocks fall for second week in a row amid key economic data and interest-rate news.
---
12/16/22
Even traders who correctly forecast price breakouts may not benefit if they get this one detail wrong.
---