Beyond the bounce
Some stocks have hit new highs during the coronavirus lockdown
Netflix, Abbott Labs among the lockdown winners
Copper breaks from commodity trend
With the market still suffering the aftershocks of the fastest slide into a bear market in history, it may seem a little odd to talk about stocks shooting to all-time highs, but they're out there. Of course, many of them have made their runs specifically because of the unique world created by the coronavirus.
A couple of the more notable names in this group may offer some insights into the market dynamics at work, and how traders may want to think about them.
First up, the poster child of the stay-at-home era, Netflix (NFLX)—a stock that a little more than six months ago seemed in danger (some would argue, unfairly) of getting booted out of the FAANG club. But it's been one of the market's most conspicuous winners recently, yesterday capping a four-day, 15%-plus sprint to a second-consecutive record high of $449.52:
Source: Power E*TRADE
---
The stock is now up more than 50% from its March lows, as streaming entertainment emerged as one of the linchpins of the "lockdown economy."
Next up, Abbott Labs (ABT), which is also up more than 50% from its March lows after a remarkable 17-day run that had only three days without a higher high or higher close. The health care giant surged to a new all-time high yesterday after beating its earnings numbers, which the company itself partially attributed to its ability to manufacture coronavirus tests kits while demand for its other products slumped:1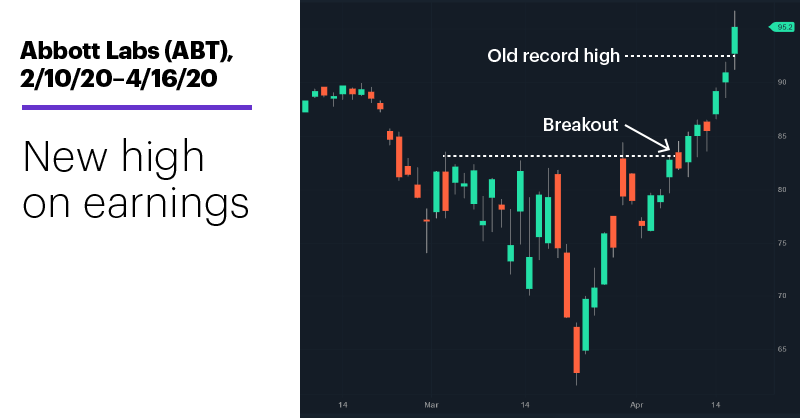 Source: Power E*TRADE
---
These are, without question, hot runs—the kind that often attract "fast money." But the thing about fast money is that it can disappear fast, too.
Even if they're not dedicated short-sellers, experienced traders know to tread carefully with markets that make hyperbolic moves, simply because such moves are susceptible to sharp pullbacks. The recent surges in NFLX and ABT owe some of their momentum to the exceptional environment created by the coronavirus, which won't last forever.
The point isn't that some of the market's stronger performers can't continue to rack up gains, it's that trading them successfully means avoiding the temptation to chase ever-higher prices (the "FOMO" factor), especially in a market that, in the short-term at least, some analysts see as more overbought than oversold.2
Bottom line, the rare stocks exceling right now may offer more opportunities, but the traders most likely to profit from them—and least likely to get hurt if something goes wrong—will be the ones who buy them on pullbacks and retracements to potential support levels (e.g., prior swing highs or lows, breakout levels), not on the days they're screaming to new highs.
To reduce things to acronyms, suffering a little FOMO is preferable to taking a BATH (buying at the highs).
Penny for your commodity thoughts: While crude oil has slumped back to the 18-year lows it fell to in late March, copper—another commodity that serves as a barometer of global economic health—has managed to hold on to most of its recent gains. The following chart shows May copper futures (HGK0) have rebounded around 16% from their March 19 sell-off low:
Source: Power E*TRADE
---
In the process, the market broke out of a trading range it formed shortly after its initial rebound—a zone (roughly between 2.14 – 2.24) copper bulls may be referencing as potential support in the event of a near-term pullback.
Market Mover Update: After pulling back on Wednesday to test its recent breakout level, Dollar General (DG) jumped more than 3% yesterday to another record high (see "Not small change").
Today's numbers: Leading Indicators (10 a.m.), Baker-Hughes Oil Rig Count (1 p.m.).
Today's earnings include: Kansas City Southern (KSU), Schlumberger (SLB).
Click here to log on to your account or learn more about E*TRADE's trading platforms, or follow the Company on Twitter, @ETRADE, for useful trading and investing insights.  
---
1 StreetInsider. Coronavirus test ramp-up to help Abbott weather 'toughest quarter.' 4/16/20.
2 MarketWatch. Goldman strategist says market rally has been 'too rapid.' 4/16/20.
What to read next...
04/16/20
Crude weakness, oil field derailment pump up energy stock's option prices.
---
04/15/20
Are certain stocks poised to benefit more than others from Fed stimulus programs?
---
04/14/20
Discount retailer flourishes despite coronavirus market woes, consolidates after pushing to new highs.
---