Bears have their say
Down week, down month for major US indexes
Selling accelerated amid rise in COVID cases
This week: Election Tuesday, Jobs Friday, and no shortage of earnings
Close the books on October—in like a bull, out like a bear.
The US stock market will kick off November after registering back-to-back down months for the first time since March, as rising virus worries appeared to weigh on investors already edgy about failed stimulus negotiations and election uncertainty. Post-earnings weakness in some big tech names at the end of the week didn't help, either.
Last week the S&P 500 (SPX) suffered its worst day since June (-3.5% on Wednesday) and worst week (-5.6%) since March, falling to within shouting distance of its September pullback low on Friday before rallying slightly into the close: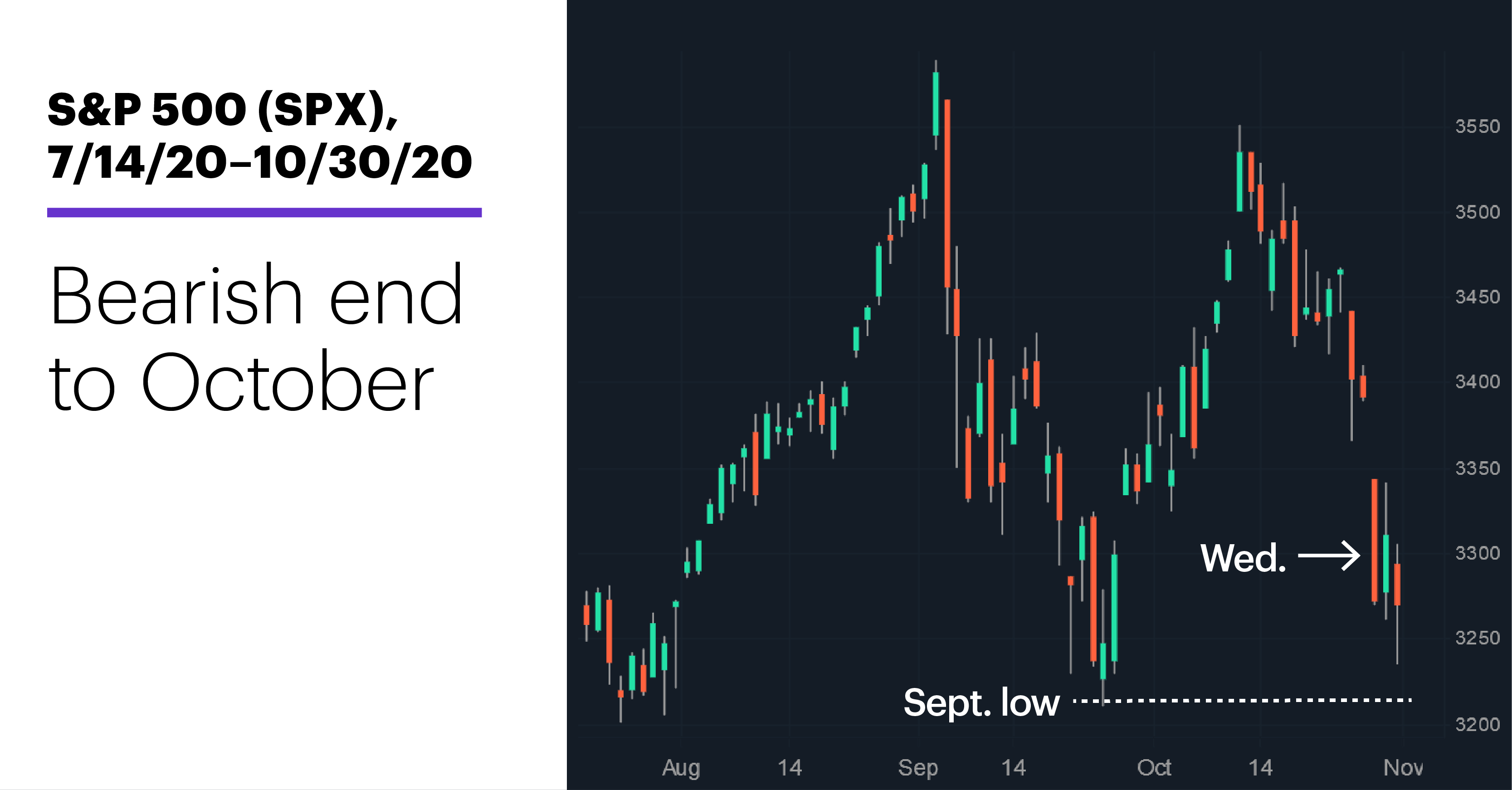 Source: Power E*TRADE
---
The headline: Stocks slump into November amid new COVID wave and possible election hedging.
The fine print: The surge in coronavirus cases certainly weighed on the market last week, but it's possible the slide was accelerated by some better-safe-than-sorry position lightening in the final days before an election that may not be decided in its first 24 hours. (Post-election options implied volatility levels remain elevated, although not as high as they were in late September.) Despite last week's downturn, though, the SPX fell only 2.8% for the month and is still less than 9% from its all-time high.
The number: 33.1%, last Thursday's record-breaking initial estimate of Q3 GDP.
The scorecard: The Nasdaq 100 (NDX) was the lightest shade of red last week: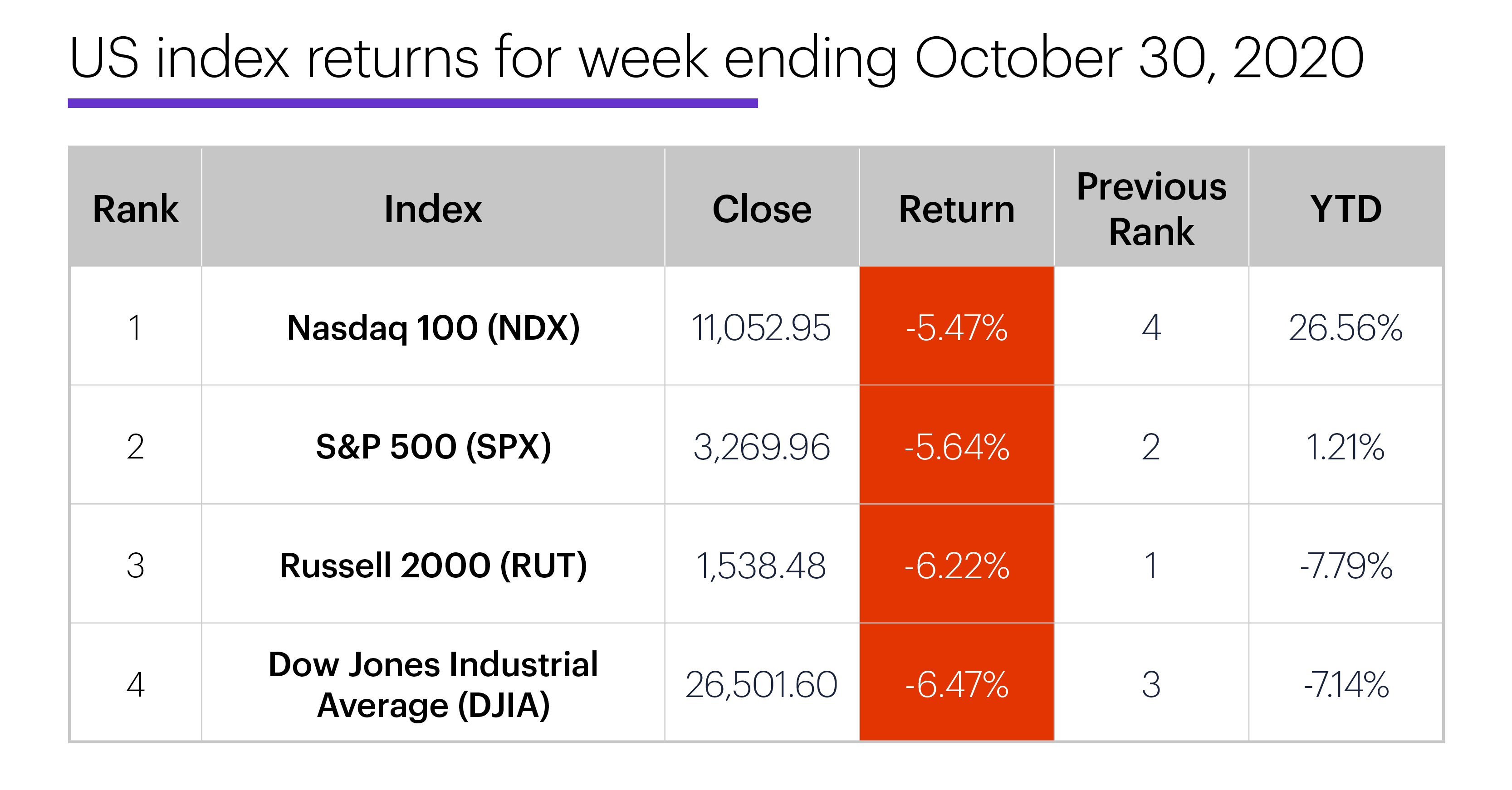 Source (data): Power E*TRADE
---
Sector roundup: The strongest S&P 500 sectors last week were utilities (-4%), communication services (-4.5%), and real estate (-4.5%). The weakest sectors were information technology (-7%), industrials (-6.9%), and consumer discretionary (-6.7%).

Highlight reel: Tupperware (TUP) surged 35% to $28.8 on Monday, and Pinterest (PINS) jumped 27% to $62.51 on Thursday. SAP (SAP) tumbled 23% to $115.02 on Monday, and Callaway Golf (ELY) fell 19% to $15.65 on Wednesday.
Futures action: Like the stock market, December gold (GCZ0) came close to testing its September lows last week, falling to $1,859.20/ounce on Thursday before closing Friday at $1,879.90. Ditto for December WTI crude oil (CLZ0), which slid below $35/barrel for the first time since May on Thursday, and closed Friday at $35.79.
Last week's biggest futures up moves: November VIX (VXX0) +18.2%, November milk (DCX0) +7.5%, November feeder cattle (GFX0) +6%. Last week's biggest futures down moves: December WTI crude oil (CLZ0) -10.8%, January Brent crude oil (BF1) -10.2%, December RBOB gasoline (RBZ0) -8.8%.
Coming this week
Don't look for much down time this week. In addition to the election, there's an FOMC meeting, the monthly jobs report, and key manufacturing numbers to look forward to:
●Monday: Markit Manufacturing PMI, ISM Manufacturing Index, Construction Spending
●Tuesday: Factory Orders, Election Day
●Wednesday: ADP Employment Change, Balance of Trade, Markit Services PMI, ISM Non-Manufacturing Index
●Thursday: Challenger Job Cuts, Unit Labor Costs (prel.), Productivity (prel.), Fed interest rate announcement
●Friday: Employment Report, Wholesale Inventories, Consumer Credit
Earnings season isn't slowing down—more than 600 companies release their numbers on Thursday alone. Here are a few highlights:
●Monday: Arista Networks (ANET), Beyond Meat (BYND), Cirrus Logic (CRUS), ON Semiconductor (ON), Clorox (CLX), Cardlytics (CDLX), MyoKardia (MYOK), Waste Management (WM), SolarEdge Technologies (SEDG), Mondelez (MDLZ)
●Tuesday: Johnson Controls (JCI), Emerson Electric (EMR), Humana (HUM), LGI Homes (LGIH), Wayfair (W), R1 RCM (RCM)
●Wednesday: Verisk (VRSK), Apache (APA), Cars.com (CARS), Wendy's (WEN), Scientific Games (SGMS), Denali Therapeutics (DNLI), GoDaddy (GDDY), Match (MTCH), Qualcomm (QCOM), Qorvo (QRVO), Paycom (PAYC), Upwork (UPWK)
●Thursday: Alibaba (BABA), Electronic Arts (EA), Bristol-Myers Squibb (BMY), Vulcan Materials (VMC), Trade Desk (TTD), Epam Systems (EPAM), Renewable Energy (REGI), Zillow (ZG), Virgin Galactic (SPCE), Plug Power (PLUG), T-Mobile US (TMUS), Square (SQ), Uber Technologies (UBER), Roku (ROKU)
●Friday: CVS (CVS), Hershey (HSY), Ubiquiti (UI), ViacomCBS (VIAC), Marriott (MAR)
Go to the E*TRADE market calendar (login required) for an up-to-date earnings schedule and a complete list of splits, dividends, IPOs, and economic reports. The Active Trader Commentary also lists earnings announcements, IPOs and economic report times each morning.
Remember November
November has historically been one of the most bullish months of the year for US stocks, both in terms of how often the market rallies and by how much:
1. Since 1960, the SPX has been positive in November 67% of the time (third-highest winning percentage of any month) with a median return of 2% (highest).
2. Since 1990, November has been positive 73% of the time (third-highest) with a median return of 2.6% (highest).1
And what about election years? Since 1960, November has been positive a little less often than its overall average (only 60% of the time), but the SPX's median return is 3%—in other words, when it's been up during up an election year, it's been up more than usual.
Click here to log on to your account or learn more about E*TRADE's trading platforms, or follow the Company on Twitter, @ETRADE, for useful trading and investing insights.
---
1 Based on S&P 500 (SPX) monthly closing prices, 1960–2019. Supporting document available upon request.

What to read next...
10/30/20
Amid a surge in options volume, a sell-off drops stock to levels that will likely trigger alerts on many trading screens.
---
10/29/20
Wednesday's sell-off cleared the market's path to a technical level that many traders may see as a tipping point.
---
10/28/20
Moves in two enterprise software giants highlight the potential rewards and risks presented by unexpected sell-offs.
---