Options food for thought
GIS rally off March lows slowed down near Jan. highs
Put volume around 11 times avg. on Thursday
Identical trades in OTM puts highlight possible put spread
Experienced traders know connecting the dots between options activity and stock movement is incredibly difficult. For example, how do you know if a huge call options print is better thought of as a bullish position on the stock, a bearish position (remember, someone had to sell those options), both, or neither? Perhaps an investor was selling calls against a long stock position to generate additional income—or, maybe someone who had previously shorted the calls was buying them back?
That said, options activity sometimes highlights trader interest that may not be obvious in a stock's price action. For example, on Thursday morning, put volume in food giant General Mills (GIS) was around 11 times average (5,878 vs. 544), and more than 13 puts had traded for every call: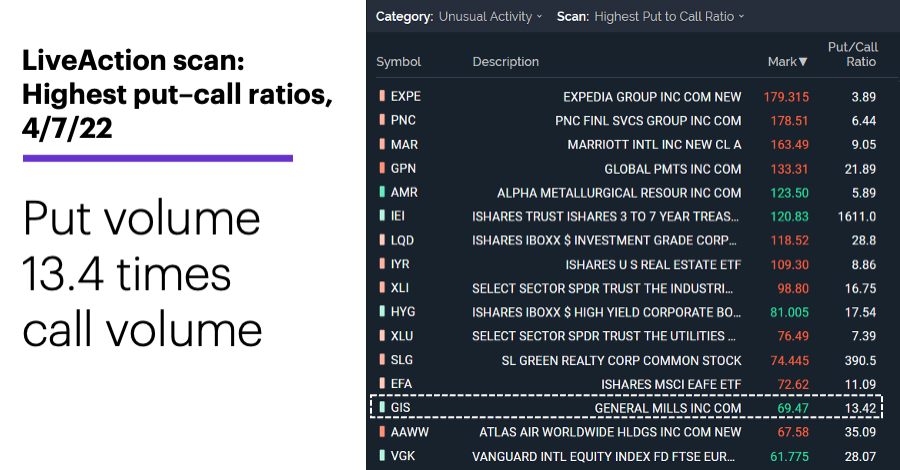 Source: Power E*TRADE. (For illustrative purposes. Not a recommendation.)
---
After selling off to year-to-date lows last month, GIS has rebounded around 12% since March 11. The price chart below shows the stock was in its third day of challenging resistance at its January highs around $70 (the stock's all-time high is $72.95):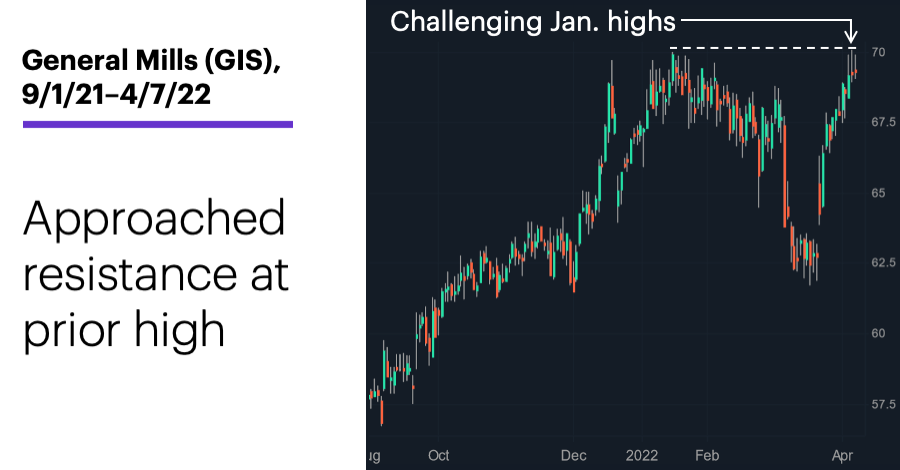 Source: Power E*TRADE. (For illustrative purposes. Not a recommendation.)
---
Meanwhile, with GIS trading mostly between $69.20 and $69.90 yesterday morning, the options chain showed volume of 2,800 in both the April $67.50 and $60 puts—two contracts with significant open interest (OI) that expire in one week: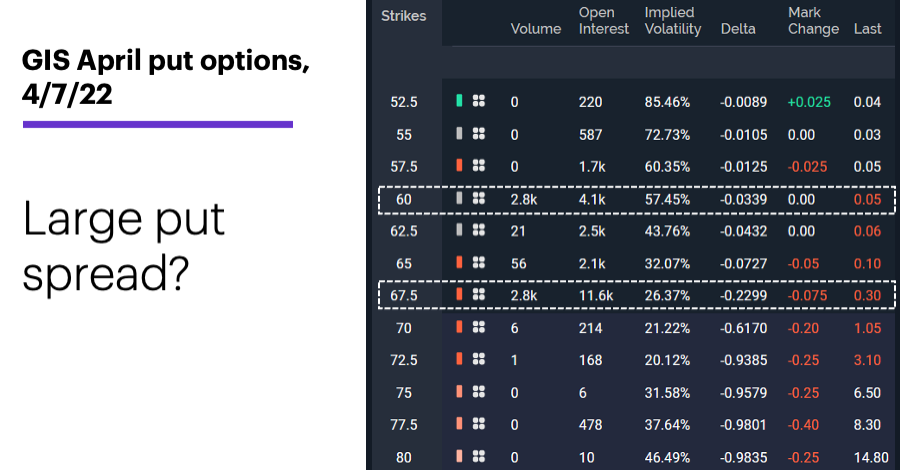 Source: Power E*TRADE. (For illustrative purposes. Not a recommendation.)
---
The fact that OI was higher than volume in both contracts is important, because it means yesterday's big trades could either be a trader getting out of a position (in which case OI will be lower today) or a trader opening a new position (in which case OI will be higher today). Because OI updates only after the end of each trading day, it's impossible to know in real time. But for the sake of argument, let's walk through the rationale that may have been behind the type of activity traders saw in GIS yesterday.
Whenever same-sized trades appear in different options, it raises the possibility that someone is executing a spread. In this case, two puts with the same expiration date but different strike prices suggest a possible vertical (bear) put spread: long one put (typically at the money) and short a lower-strike put.
Basically, the bear put spread inverts the bull call spread strategy discussed in "Investing logic highlights trading strategy:" Instead of benefiting from an up move in the stock, the bear put spread is designed to profit if the stock falls—specifically, enough to offset the cost of the spread. And like the bull call spread, both its potential profit and risk are limited.
For example, if a trader created a bear put spread by purchasing the $67.50 puts and selling the $60 puts (at a net cost of 0.30–0.05 = 0.25, or $25 per spread, using the last trade prices at the time), the stock would need to be below $67.25 (the long strike price minus the spread cost) at expiration for the position to be profitable. In essence, that represents a forecast that GIS will fall at least 3.3% over the next week.
Now, if we imagine a large trader on the other side of our bear put spread, the forecast is reversed: The trader would be collecting 0.25 ($25) per spread, and would keep that premium if GIS remained above the spread's upper strike of $67.50. Of course, both scenarios assume a trader was initiating a new position instead of liquidating an existing one.
There are always two sides to every trade, and in options it's particularly difficult to tell when traders are getting in or out of a market. In this case, today's OI could shed more light on what was going on in GIS yesterday.
Market Mover Update: Gogo's (GOGO) "index bump" hit a bump almost immediately, as the stock sold off more than 14% intraday on Thursday—the day after news the stock was being added to the S&P SmallCap 600 (see "Market medicine").
Today's numbers include (all times ET): Preliminary Wholesale Inventories (10 a.m.).
Click here to log on to your account or learn more about E*TRADE's trading platforms, or follow the Company on Twitter, @ETRADE, for useful trading and investing insights.
---
What to read next...
04/07/22
Two big pharma names pushed to record highs as the broad market struggled.
---
04/06/22
Call volume jumps as financial stock retreats to lowest levels since mid-February.
---
04/05/22
Chip stock's pullback shows parallels between options spread and investing strategy.
---