Bearish or bear trap?
GPN dropped after beating earnings yesterday
High volume and OI in out-of-the-money calls
Stock approached major retracement level
There may have been stocks that made bigger earnings splashes on Thursday (see "Market Mover Update," below), but few saw their options volume surge as much as Global Payments (GPN), which was trading more than 15 times its average call volume around 11 a.m. ET: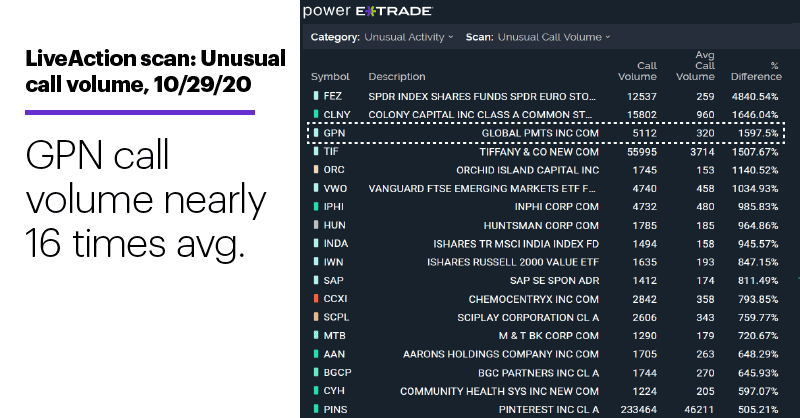 Source: Power E*TRADE
---
Calls were also out-trading puts roughly 17 to 1 in early trading. Truth be told, the digital payments-processing company's typical options volume isn't exceptionally heavy, and almost all of yesterday's activity was contained in a single 3,200-contract print in the December $200 calls—a strike price roughly $42 (27%) above where the stock was trading yesterday morning.
If that was a bet that GPN could rally toward its pre-COVID record high around $210 (a big "if"), there were certainly other existing options positions in the same neighborhood. Most of GPN's open interest (OI) yesterday was in far out-of-the-money strikes—in fact, 96% of the OI in December calls was in strikes of $180 or higher.
For the record, GPN topped its headline numbers, but as noted, didn't blow them out of the water.1 The stock's price action yesterday was interesting, though. After tracking the broad market's sell-off this week, yesterday the stock punched below the 38.2% retracement level of its March–June rally (which it first bounced off of in July) and dipped below its late-April breakout point: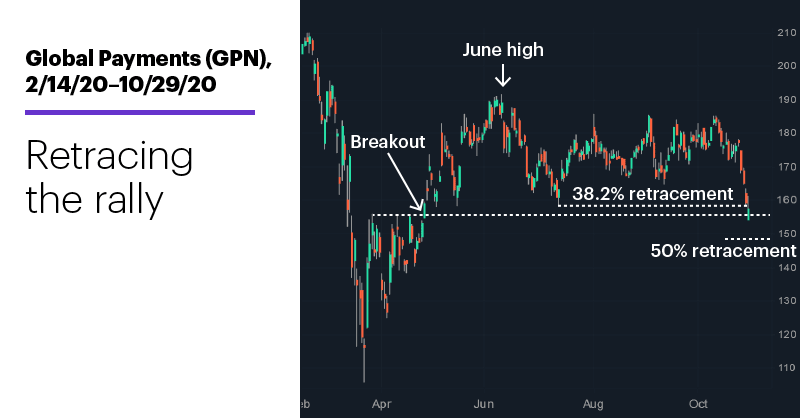 Source: Power E*TRADE
---
Traders often look for possible rebounds after a market tests the support of a breakout level, and in this case many of them are probably aware that the 50% retracement level of the March–June rally isn't too far below (around $148.50).
With the stock currently trading around $10 below the lowest Street analyst target ($165) and $55 below the average target of 209.53,2 bulls may see the potential for GPN's breakdown to turn into a "bear trap"—a quick pivot to high-momentum upside reversal.
If the broad-market jitters that have been in play recently don't erupt into a full-blown "risk-off" moment, stocks like GPN that approach what many traders may see as inflection points could potentially put the squeeze on short sellers.                                                                       
Market Mover Update: Pinterest (PINS) did its part to follow through on the social-media momentum initiated by Snap's (SNAP) earnings-blowout rally last week. After topping its earnings estimate and crushing revenue forecasts yesterday, PINS jumped nearly 40% intraday before closing up 27%. Facebook (FB) and Twitter (TWTR) rallied 5% and 8%, respectively, before releasing their numbers after the bell.

Today's numbers (all times ET): Personal Income and Outlays (8:30 a.m.), Employment Cost Index (8:30 a.m.), Chicago PMI (9:45 a.m.), Consumer Sentiment (10 a.m.).
Today's earnings include: Abbvie (ABBV), Alibaba (BABA), Altria (MO), Exxon Mobil (XOM), Colgate-Palmolive (CL), Chevron (CVX), Honeywell (HON).
Click here to log on to your account or learn more about E*TRADE's trading platforms, or follow the Company on Twitter, @ETRADE, for useful trading and investing insights.  
---
1 StreetInsider.com. Global Payments (GPN) Tops Q3 EPS by 6c. 10/29/20.
2 TipRanks. Global Payments Stock Forecast & Price Targets. 10/29/20.
What to read next...
10/29/20
Wednesday's sell-off cleared the market's path to a technical level that many traders may see as a tipping point.
---
10/28/20
Moves in two enterprise software giants highlight the potential rewards and risks presented by unexpected sell-offs.
---
10/27/20
High-flying wholesaler rallies in the face of yesterday's sell-off. Will traders be putting options in their shopping carts?
---